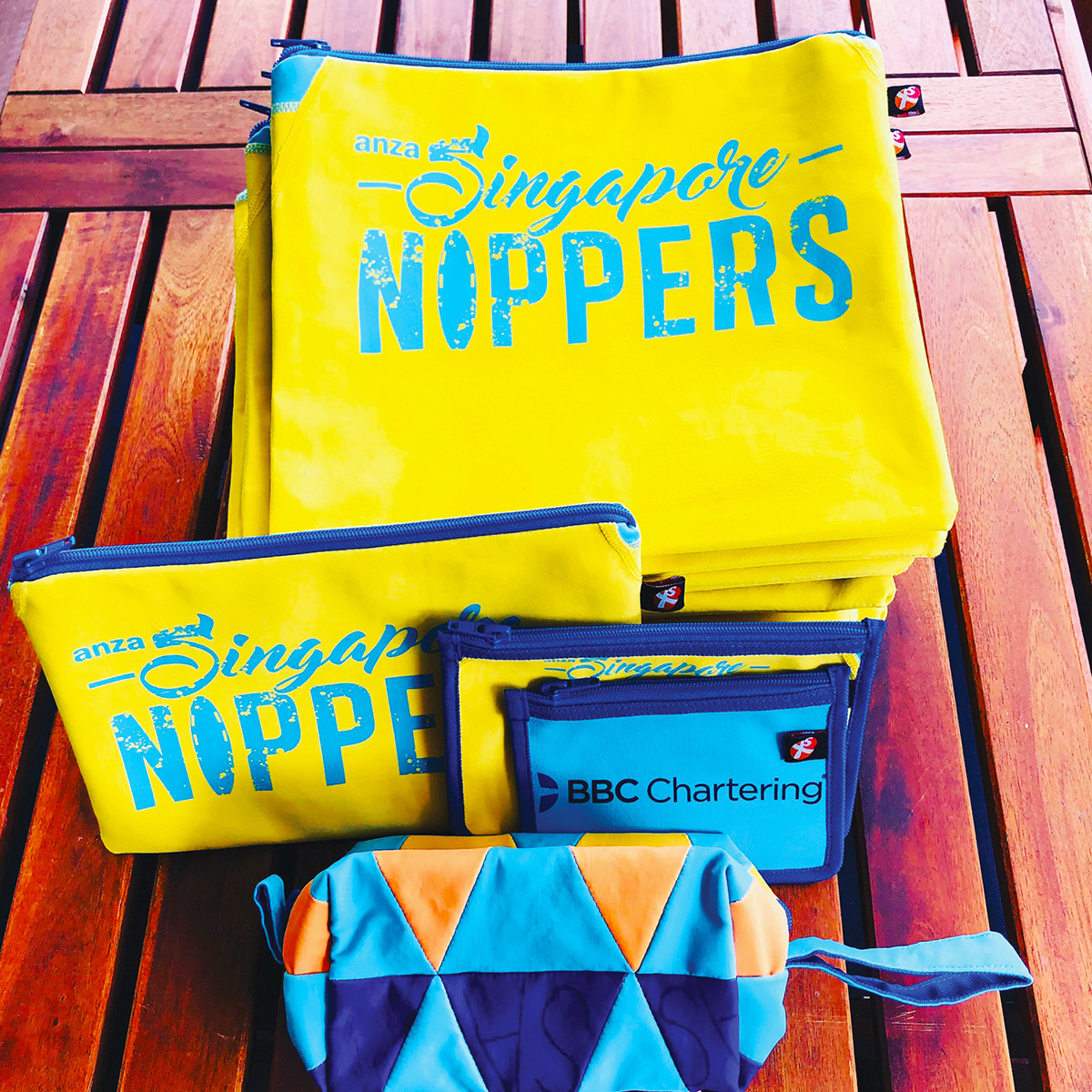 A Singaporean Social Enterprise, Java Eco Project works on sustainability and Corporate Social Responsibility projects to support the education of trash-picker children in Cireundeu West Java, Indonesia. To do this, they specialise in upcycling corporate refuse, such as billboard banners, plastic packaging, upholstery, and other waste such as uniforms. 
The Founder and CEO of Java Eco Project is Australian expat Rinka Perez, an ANZA Singapore Nippers parent and committee member. Rinka helped design the new range of Nippers products to be sold for club fundraising. Old and bashed-up rash tops from the 2019 season were upcycled into unique swim pouches. These proved to be popular with club members leaving Singapore, who wanted a piece of Nippers to take back home.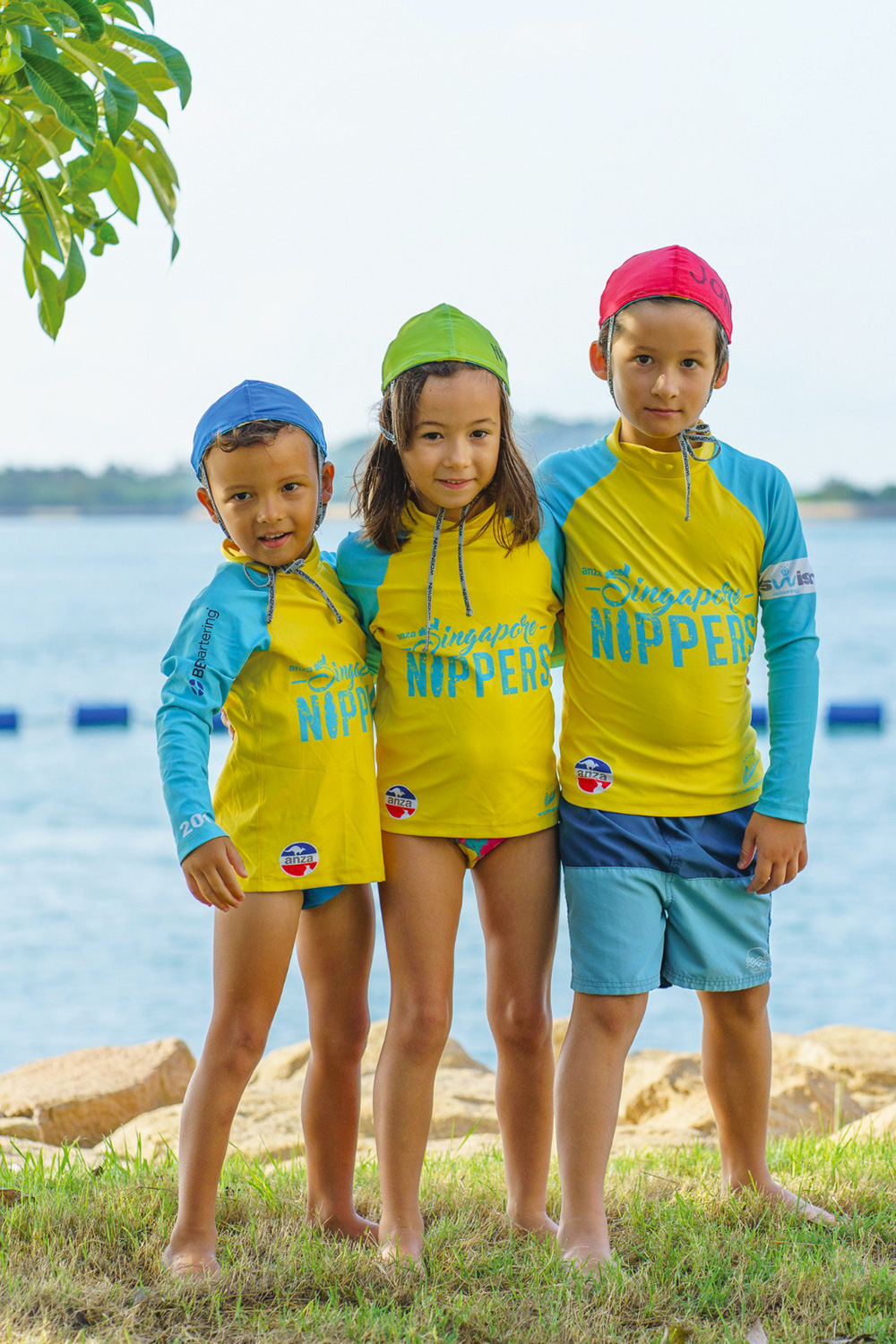 Children's swim caps, scribbled with their names in permanent markers, were dissembled and patched up again to form brightly coloured toiletries pouches. Four swim caps were repurposed into one pouch, distinctively featuring member's names to add charm. Parents recognise their children's names on the pouches and children can keep their swim cap as a new sunscreen or goggle holder for their next season on the beach. 
Each product is made in a fair wages workshop, run by the charity group XSProject, located in West Java. To date, Java Eco Project's charity partner has employed over 200 workers, reduced landfill waste by 50 tonnes and funded the education of over 100 trash children. Their program helps to break the cycle of poverty experienced by trash picker children living in Indonesia by sponsoring their health and education programs. Java Eco Project seeks to gain more childhood education sponsorships from Singapore donors as part of their Social Enterprise goals.   
This eco-friendly initiative with ANZA Nippers has saved over 200 pieces of clothing and a handful of beach flags, otherwise destined for the garbage tip. Nippers Eco Project is also a good example of how the group is engaging its young  participants on the significance of circular economies and how small initiatives can lead to greater things, such as helping a child in need. 
Nippers Branded Merchandise
In addition to the uniform upcycle, Nippers has also released its own exclusive range of branded merchandise from the Java Eco Project range. Featured on jepsg.com, members and the wider public can now purchase ANZA Singapore Nippers branded Eskies, Wine Bags and Lunch Cooler Bags. All made from upcycled billboard banners sourced in Indonesia, this new range helps divert the banners from ending up as trash and also allows everyone to take a piece of Nippers home! 
Fundraising
The profits from these products are all for the purpose of fundraising. ANZA Singapore Nippers is a not-for-profit sports group with all coaches, committee members and other critical staff volunteering their time to keep the club running. Help to support and keep this quintessential lifesaving club going by purchasing from their new upcycled range.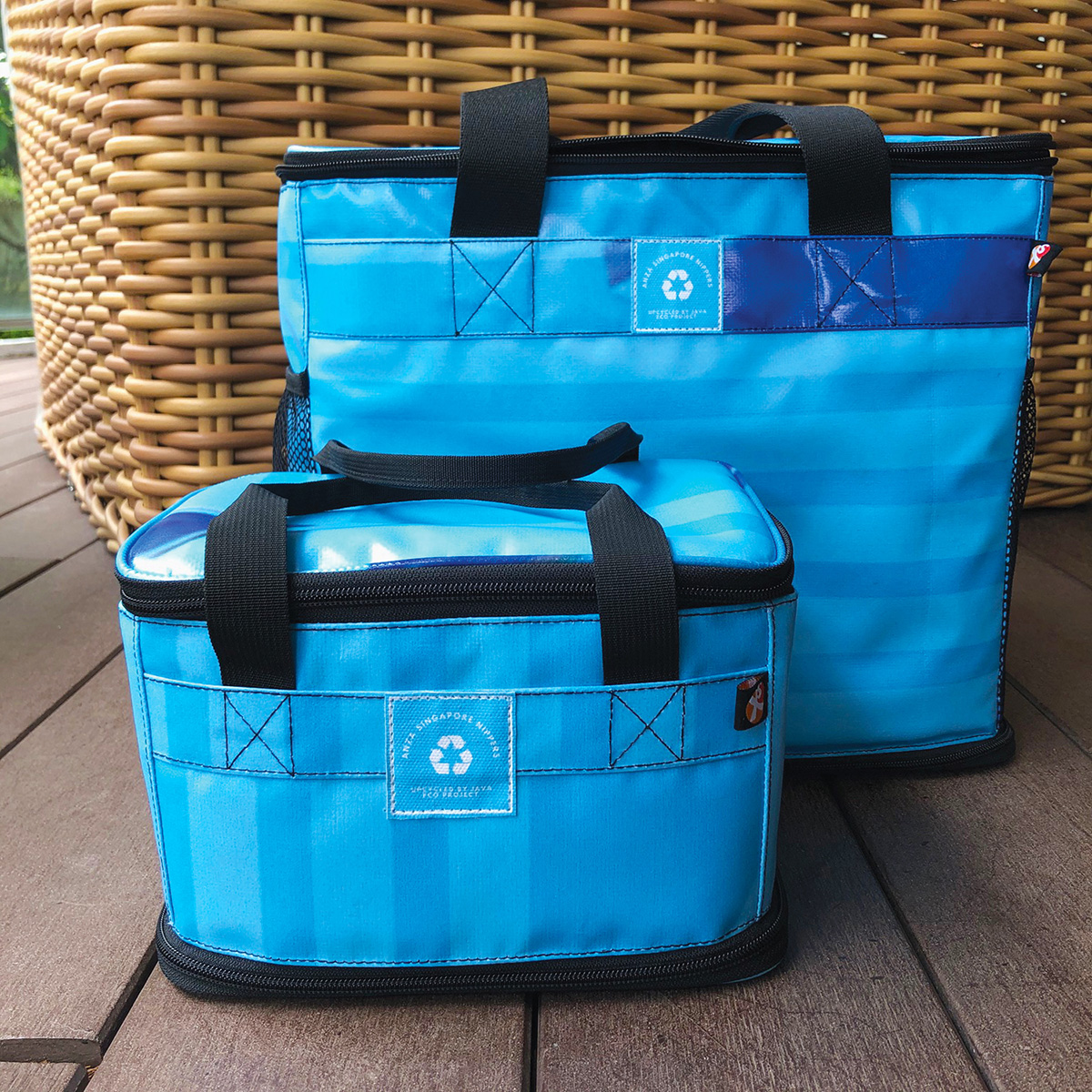 Purchase your Nippers Eco Project upcycled product today at jepsg.com. Items are limited edition, and all funds go back to ANZA Singapore Nippers and Java Eco Project to support both communities in their endeavours to UPLIFT & UPCYCLE. 
Stay up to date with ANZA Singapore Nippers news by following their Instagram @sgnippers, Facebook @SingaporeNippers or at anza.org.sg/sports/nippers