When and why was Image Mission set up?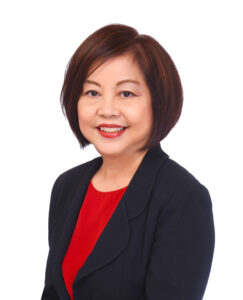 I started Image Mission in 2015 to manage the Dress for Success Singapore affiliate, which is part of an international network of 150+ affiliates. I come from a humble background, my mother had to single-handedly raise eight children and I believe that employment is the solution to overcoming poverty. 
Since then, Image Mission has served more than 780 clients through its two programmes – Dress for Success Singapore and IM Ready – with 30 percent of participants securing employment. We managed this without staff in the first five years, using a pool of dedicated volunteers from both the local and expat communities. In fact, ANZA Action was one of the first organisations I approached for support, and we are very grateful to have had many regular ANZA volunteers.
What do you do for women?
Many of the women we serve come from low-income households or disadvantaged backgrounds. They've been out of the workforce for a long time and often have low self-esteem. Our programmes are designed to cover every facet of our client's journey, from job search to employment and beyond.
The Dress for Success programme provides interview and career coaching as well as professional attire for job interviews and employment. Our boutique has workwear, shoes and accessories that we give to women who have secured a job interview or employment. Clients are referred by community partners, who make an appointment for a styling or coaching session. 
Li Kin conducting an interview skills session
How do the coaching sessions work?
At a coaching session, a volunteer coach provides one-to-one interview or resume preparation coaching. At an interview or employment styling session, the client is fitted by a volunteer stylist who shares dressing tips and selects an appropriate outfit for the interview, adding a finishing touch of professional make-up. Once employed, the client returns to receive a set of workwear to start off their new job.
Do you provide other training?
The IM Ready programme is a structured 4-6 weekly programme to equip clients with the skills, resources, and knowledge to become workforce ready. We now offer this programme one-to-one as well as in a workshop format.
IM Ready begins with a competencies diagnostics assessment so clients can discover their strengths and skills and better align their job search to match these. We then help clients to create a job search action plan, which will also track their progress. Other services include resume crafting/review, interview techniques and image styling.
Both programmes help them improve their confidence – to believe in themselves, their abilities, skills and experience, the way they look. This newfound confidence is most apparent after a makeover session or when they complete an assignment. 
This confidence empowers them to present themselves well at the job interview because they are dressed professionally and have prepared for the interview questions. Getting the job, in turn, boosts their sense of self-worth and gives them the means to work towards achieving financial independence and creating a brighter future for themselves and their family. For many of our clients, this newfound confidence also helps them in other areas of their lives – they are more confident dealing with their children for example.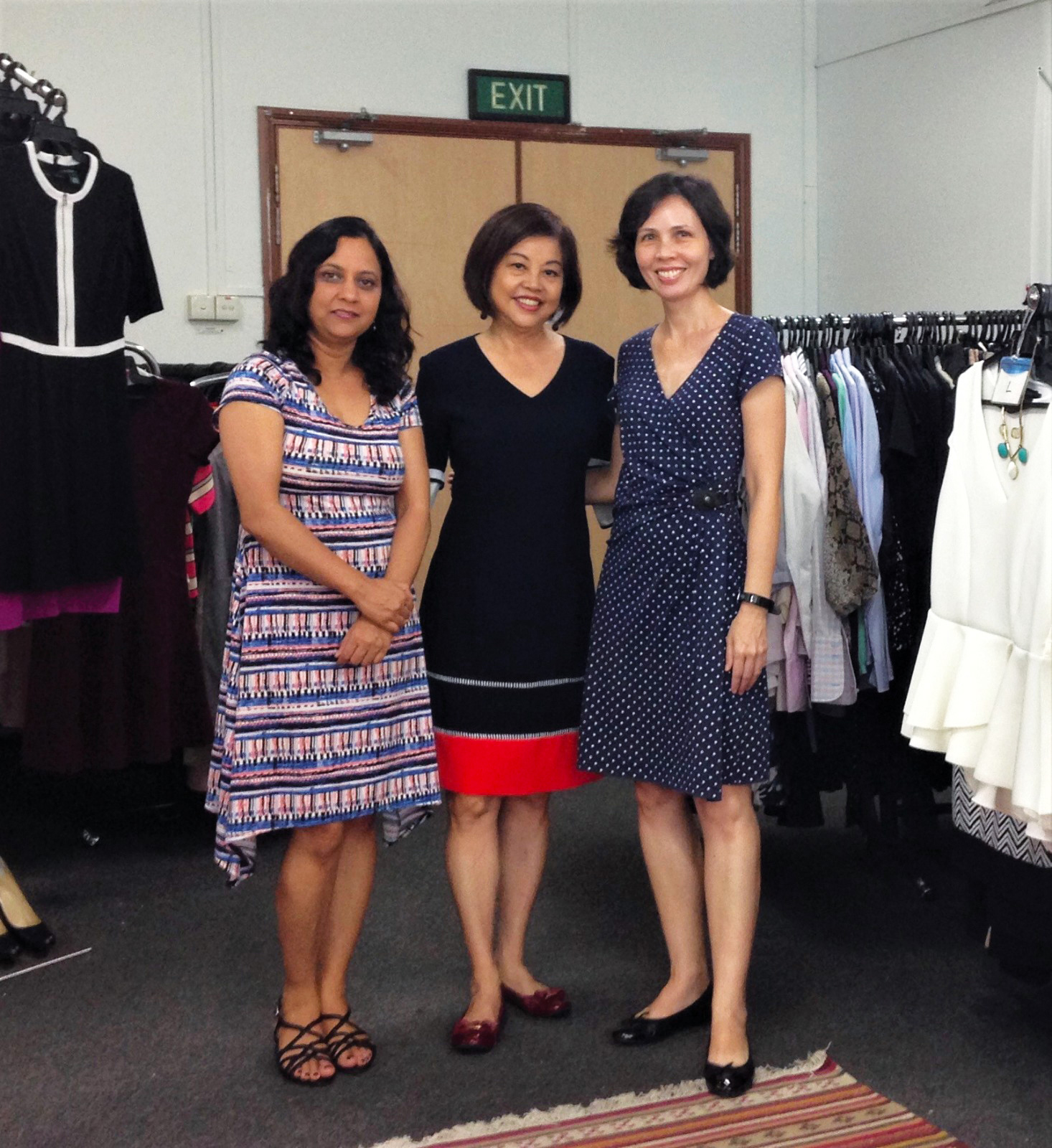 DFS Kathmandu founder with Li Kin (centre) and Elizabeth (right) in 2018
How can ANZA members support Dress for Success?
We are very grateful to the many ANZA members who have supported us over the past six years as coaches and stylists. ANZA members also gave strong support at our fundraising events, especially in our start-up years. 
We're also always in need of volunteers who can help in ad-hoc event management. Whether you can commit to a regular schedule or on a project basis, we'd love to have you. Do subscribe to our mailing list at imagemission.org/contact-us so you'll be updated on volunteering opportunities.
Alternatively, you could champion our cause by adopting us as a charity of your choice for your birthday or celebration!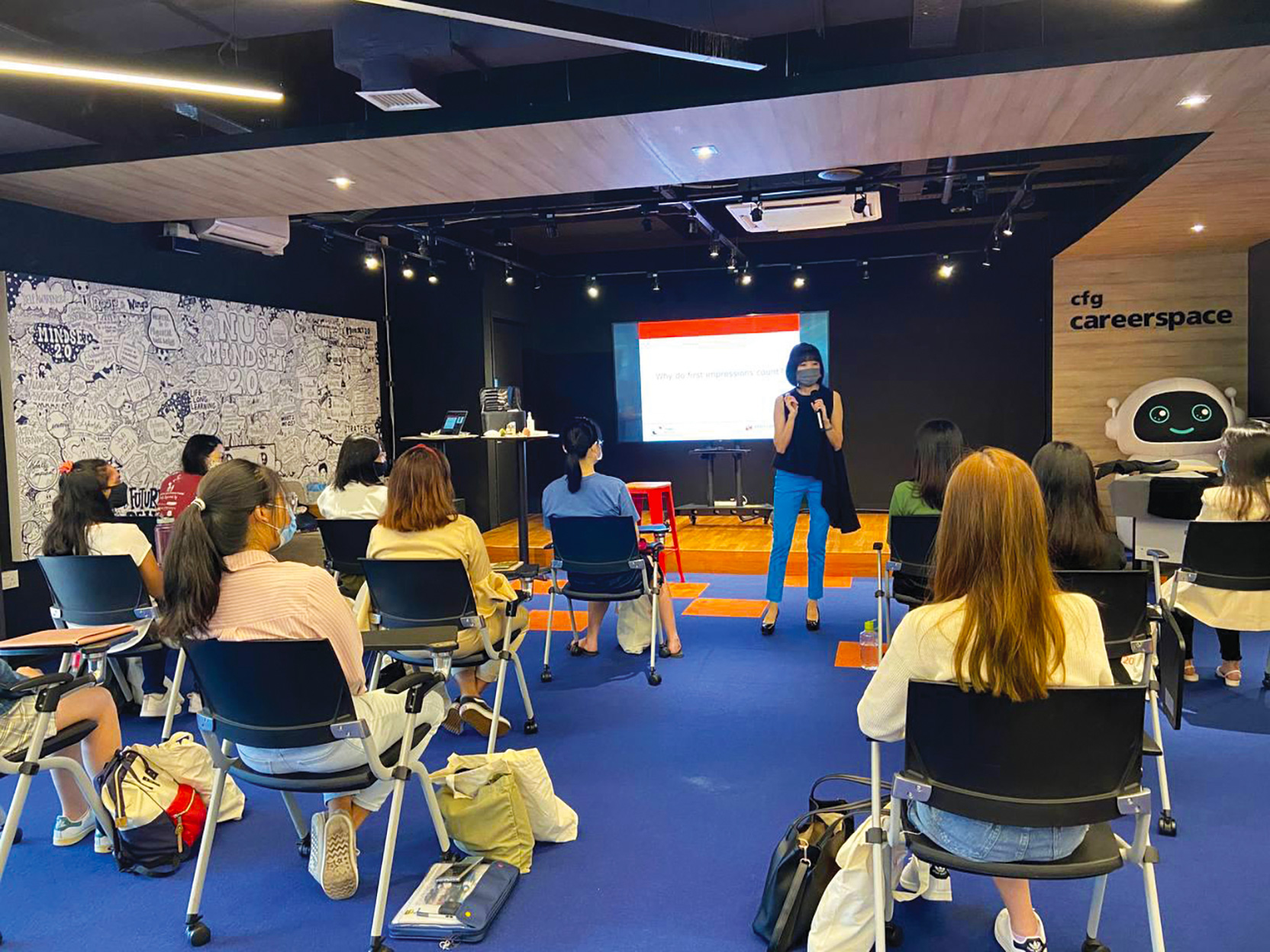 An IM Ready workshop
How has Covid affected women in the work force?
The onset of COVID-19 and the circuit breaker in April 2020 had a great impact on our clients as they are among the most economically vulnerable in Singapore – being disproportionately represented in the retail, F&B and hospitality sectors. 
With kids at home and unable to go to school, women were often the ones who had to sacrifice their jobs for child care, especially single mums. Many of those in contract or part-time roles lost their jobs or had their jobs suspended. 
For Image Mission, we had to quickly move our services online to meet our clients pressing needs for employment support. We redesigned our programmes to suit an online format and trained our career coaches and stylists to facilitate virtual coaching and styling sessions.
This worked out well and the move to virtual allowed us to serve women in need of support, which we continued even after physical sessions resumed. In all, we managed to conduct more than 400 sessions last year, about the same as pre-Covid in 2019.
Any future plans?
We aim to serve 2025 women by the year 2025. One of our new programme initiatives is to engage employment partners who can offer expertise in areas relevant to our clients (e.g. recruitment or insights on the types of jobs/careers available in their industry) or who have job opportunities for our clients.