Don't start the new year without knowing these important dates. With Waitangi Day on 6 February, we remain mindful of the history and timeline behind it. And don't forget to mark the public holidays of the New Zealand High Commission throughout 2022, too. Happy New Year to all!
What's Waitangi Day all about?
Waitangi Day on 6 February 2022 commemorates what is considered to be New Zealand's founding document. As we approach the landmark date, here's some deeper history on what it means for Aotearoa New Zealand. 
History of Waitangi Day
1835: Declaration of Independence Day
34 Northern Chiefs of a United Confederation of Tribes and British Resident, James Busby, signed the Declaration of Independence, proclaiming the sovereign independence of New Zealand. 52 Māori Chiefs had signed by 1839.
6 February 1840: Te Tiriti Ō Waitangi. Treaty of Waitangi
The Crown decided a Treaty was needed to secure trade and influence in New Zealand. Signed between British Crown representatives and Māori Chiefs, the Treaty assured Māori chieftainship over land, villages and treasured assets, as well as equal rights as British subjects. Interpretations of the Treaty differ where the English text refers to the chiefs ceding sovereignty, whilst the English text refers to the chiefs ceding sovereignty, whilst the Māori text uses the word 'Kawanatanga' which refers to governance.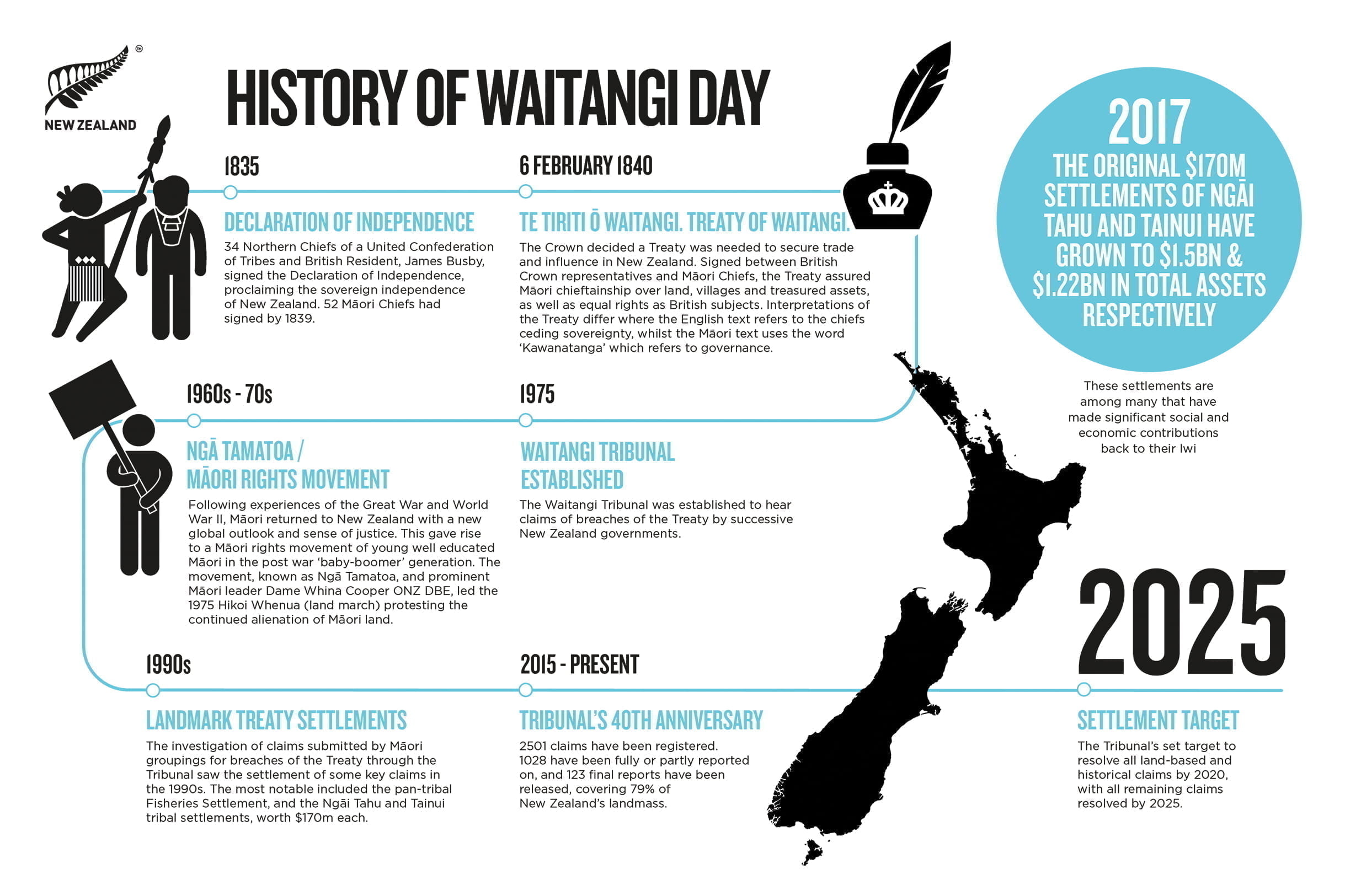 1960 – 70s: Ngā Tamatoa / Māori Rights Movement
Following experiences of the Great War and World War II, Māori returned to New Zealand with a new global outlook and sense of justice. This gave rise to a Māori rights movement of young well educated Māori in the post war 'baby-boomer' generation. The movement, known as Ngā Tamatoa, and prominent Māori leader Dame Whina Cooper ONZ DBE, led the 1975 Hikoi Whenua (land march) protesting the continued alienation of the Māori land.
1975: Waitangi Tribunal Established
The Waitangi Tribunal was established to hear claims of breaches of the Treaty by successive New Zealand governments.
1990s: Landmark Treaty Settlements
The investigation of claims submitted by Māori groupings for breaches of the Treaty through the Tribunal saw the settlement of some key claims in the 1990s. The most notable included the pan-tribal Fisheries Settlement, and the Ngāi Tahu and Tainui tribual settlements, worth $170m each.
2015 – Present
2501 claims have been registered. 1028 have been fully or partly reported on, and 123 final reports have been released, covering 79% of New Zealand's landmass.
2017
The original $170M settlements of Ngāi Tahu and Tainui have grown to $1.5bn & $1.22bn in total assets respectively. These settlements are among many that have made significant social and economic contributions back to their Iwi.
2025: Settlement Target
The Tribunal's set target to resolve all land-based and historical claims by 2020, with all remaining claims resolved by 2025.
Out Of Office: New Zealand High Commission Public Holidays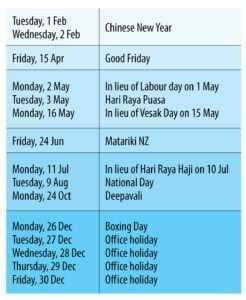 High Commissions need public holidays too. Please note that the New Zealand High Commission will be closed on the following days throughout 2022. New Zealanders needing urgent consular assistance during this period can call +64 9920 2020.