When it comes to things to do in Singapore in June, Asia's i Light Singapore 2022 is right up there! The illuminating event returns to Marina Bay from 3 – 26 June 2022 with a selection of captivating light art installations across the island. Curated to the theme Spark of Light, the 20 artworks by artists from 14 countries have taken inspiration from the colour violet, which signifies the awakening of senses. To celebrate the event, we caught up with two of the international artists featured this year – Angus Muir from New Zealand and Atelier Sisu from Australia – to find out how they got involved and what they're most looking forward to.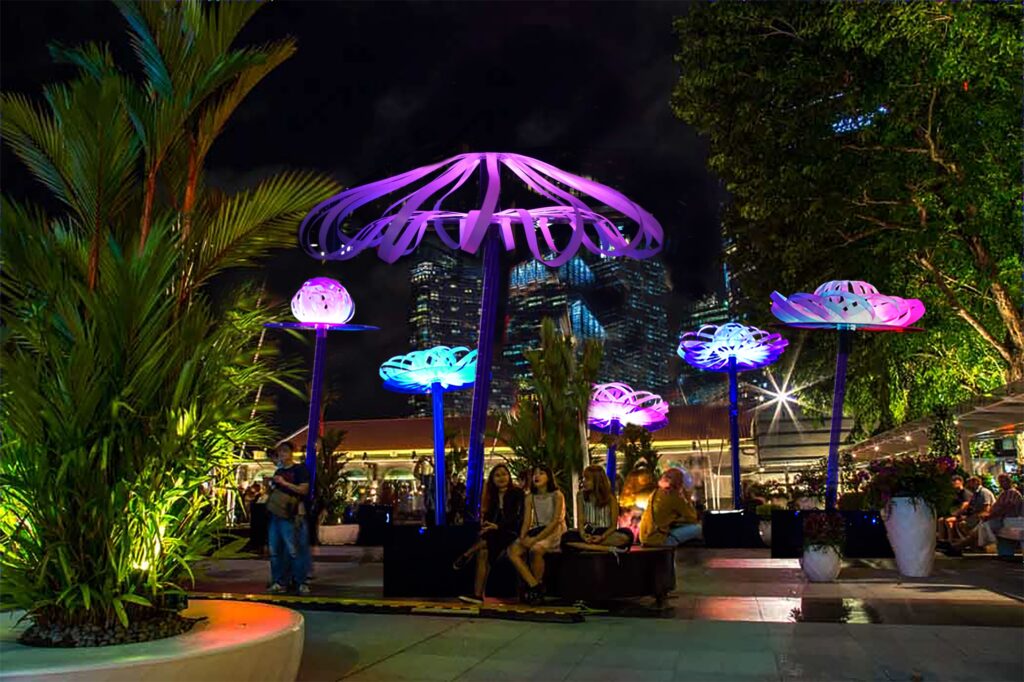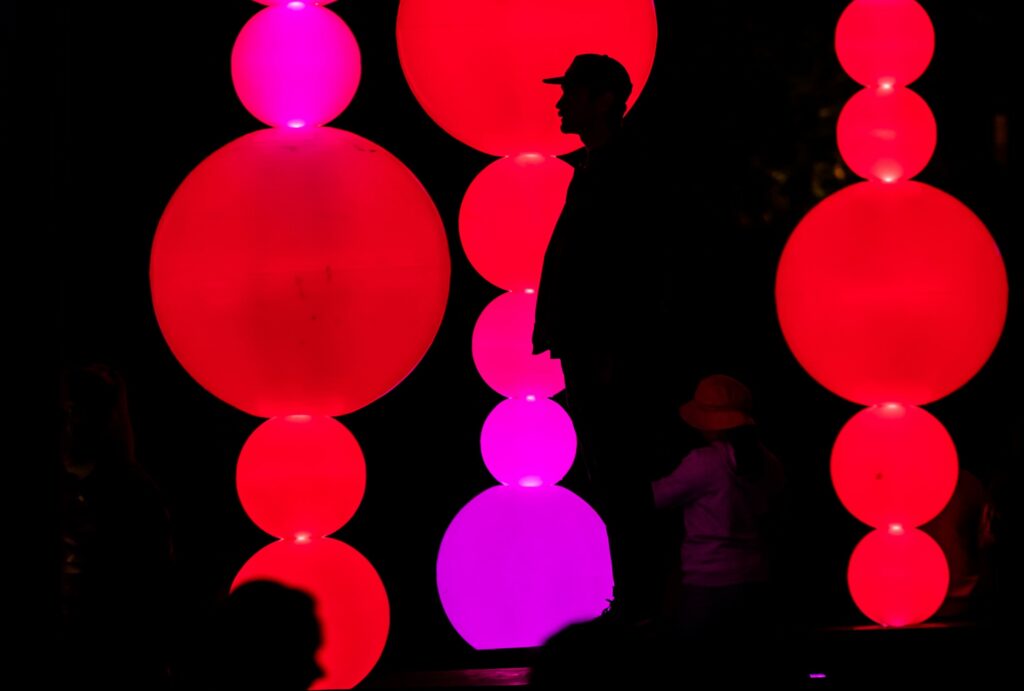 Hi Angus and Atelier Sisu! Is this the first time you're participating in i Light Singapore 2022? 
Angus Muir: This is our third time! We were excited about coming back for i Light Singapore in 2020, and 2021, but Covid wasn't allowing that!  It's great to be back in Singapore, one of our   favourite cities.
Atelier Sisu: Yes! This is the first time for us. It's been a few years in the making – the artwork was actually scheduled to be part of the 2020 event. Unfortunately, due to the pandemic, this was unable to go ahead. We're thrilled  to finally be part of it. Singapore is such an iconically beautiful city and it is a real pleasure to bring our work here. 
Please talk us through your installations for the festival …
AM: Shish-ka-buoy is an installation of pure joy and colourful delight bundled up into a mesmerising skewer of illuminated spheres. The ever changing gradients of colours almost appear like a spherical sunset going down on a dark street. We spent a long time perfecting the installation and hope that it draws people in like moths to a flame.
AS: Florescentia is an existing artwork that was originally commissioned by Vivid Sydney. i Light Singapore will be its first debut in Asia. The word 'Florescentia' is the Latin word for blossoming. Florescentia is defined by its kinetic personality – standing three metres off the ground, the heads of each of the Florescentias rotate, thereby manipulating the petal profiles so that the work expands and contracts, emulating the opening and closing of flower petals. We refer to this movement as a photosynthesis ballet, mimicking the blossoming of a flower. 
You've both used recyclable materials for your pieces. How important is it for you to stay as sustainable as possible?
AM: I think it's incredibly important to be as sustainable as you can in this day and age. We always focus on materials that are recycled, or can easily be recycled. For us we create works that last for many years. This installation has been exhibited over 30 times. I think creativity stands apart from the use of recycled materials, if anything, using sustainable materials can be more challenging and requires a lot more thought and energy.
AS: Minimising any environmental footprint is always key when creating a public artwork. We work closely with Megara Australia to create many of our artworks, Florescentia being no exception. The rotating and twirling profiles of the work are made from 100% Australian Carbon Neutral polypropylene. This material has strength, flexibility, good light diffusing qualities, is able to withstand constant kinetic manipulation for long durations and is environmentally friendly. 
How did you get your installations from NZ and Oz over to Singapore? 
AM: Our installations travel by sea. It takes around five weeks to get over from NZ. Shipping is pretty busy right now so we had to allow some extra time. Once it arrives, the equipment is sent to site, where we then rebuild it on site. Everything packs pretty small and is very modular.
AS: Florescentia travelled to Singapore dismantled, in two very large road cases. When we arrive in Singapore it will take us around two days to reconstruct the artwork, while ensuring that it is curated to the space in a site specific way. 
Which other artists or parts of i Light Singapore are you excited to check out while you're here?
AM: We're looking forward to seeing everything! We know a few artists already, but it is nice to meet new ones.
AS: We're particularly eager to see the work 'Fireflies' by Toer Studio. This is also a kinetic artwork that emulates the magical movement of fireflies in the night. We are of course excited to see Angus Muir's beautiful Shish-ka-buoys again. While we have had the pleasure of seeing them displayed in New Zealand, they're always a crowd favourite and beautiful against the night.
How will you spend your spare time in Singapore?
AM: We are going to spend five days exploring the city after we set-up. We love the architecture, food and shopping!I love getting out for an early morning walk and watching the sunrise over Marina Bay, then watching the sun go down from a nice rooftop bar! You will definitely find us in a mall from 11-2pm hiding from the heat – hahaha! 
AS: One half of the Atelier Sisu team, Zara, has spent quite a lot of time in Singapore over the years while performing in Holiday Ice Shows at Novena Shopping Center. We're really looking forward to visiting some of her favourite places (Newton Circus and Jumbo's for some long awaited Chilli Crab!). We're also going to head to the National Gallery and Gardens by the Bay, in particular the beautiful Cloud Dome within the gardens.
Please tell us about some of the artworks you've illuminated back in your respective homes … 
AM: We've spent a lot of time exhibiting in New Zealand. We've been involved with LUMA for six years in Queenstown, which is an incredible location. We've also been in light festivals and events in most major cities in New Zealand, Oamaru, Dunedin, Christchurch, Nelson, Wellington, Kapiti Coast, Hastings, Napier,  Taupo, New Plymouth, Gisborne, Tauranga, Hamilton, Auckland and Whangarei. For me, my absolute dream space is the beautiful landscape of New Zealand. 
AS: Atelier Sisu's work in Australia sits within the intersection of art and architecture. Coinciding with i Light Singapore, Atelier Sisu is activating Walsh Bay on Sydney Harbour with the artwork, Ephemeral Oceanic as part of Vivid Sydney. The artwork is a partially water based, larger-than-life bubble scape and we're thrilled to be working on Sydney Harbour.
Don't miss i Light Singapore 2022 from 3 – 26 June 2022.