Sustainable dining has never been more popular or important. As part of a Singapore Chef Special to highlight the plight of cleaner eating and climate change, we speak to top chefs in Singapore who are using their Australian backgrounds to drive sustainable dining ahead within the F&B industry here on the red dot.
In the second part of our series, we chat to Chef Rishi Naleendra who trained in various Australian kitchens, and was the Chef de Partie at the world-renowned Tetsuya's in Sydney. Today he's the Chef-Owner of FOOL, Cloudstreet and Kotuwa in Singapore.
'My time in Australia gave me a creative freedom which is evident in the food at FOOL and Cloudstreet'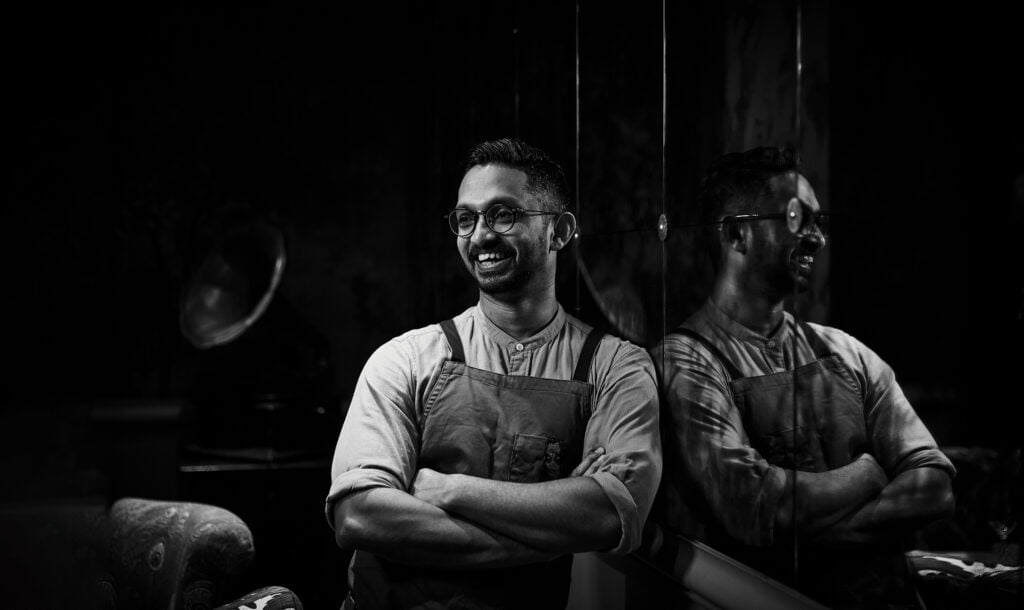 Tell us about the concept for FOOL …
It was inspired by the amazing and diverse wine-bar scene in Australia, and designed to bring a very different wine and food experience to the diners in Singapore. We not only wanted to challenge the status quo, but also debunk the stigma of stuffiness around wines.
What does sustainability mean to you?
It has always been the core of what we do, be it from culinary offerings, staffing, and the business as a whole. Our wine list is mostly made up of wines from passionate and quality winemakers who practice sustainable winemaking. We have a large portion of organic and biodynamic wines. Supporting local farms and producers on our food menu is something we have strongly believed in and practiced since day one.
How do you keep FOOL as sustainable as possible?
When the pandemic hit, we were forced to delve into takeaways and deliveries. As such, we sourced biodegradable takeaway containers made from sugarcane pulp and only used paper bags for transporting food. We did away with straws, but have biodegradable ones on standby. In our cocktail programmes, we're receiving our alcohol using the ecoSpirits system, a new spirits distribution technology by Proof & Company that reduces the carbon footprint of the entire spirits life cycle – from field to glass to landfill.
How do you minimise waste?
From utilising the whole animal to using the rinds from fruit, we try our best to keep our waste to a minimum. With the quality of ingredients we use, we cannot afford any wastage, hence we need to be creative with how we use our ingredients. In addition, our food trimmings are kept and used in our staff meals or used to create tasty snacks for staff.
What are your hopes for sustainable dining here in SG?
We need bigger corporations on board. Singapore is a small country and there is not much land for farming. Vertical farming is developing here for plants and vegetables, but for animal farming there is not enough land for a sustainable resource on a large scale. For mass produced meats, huge chain eateries and fast food chains, cell-based meats or cultured meats might be the future. There is a long way to go but I believe the industry as a whole is moving in the right direction.
Where should our readers go in Australia for sustainable food?
Sunda Dining (sunda.com.au) in Melbourne focus on Southeast Asian cuisine, but use Australian ingredients. Also, Yellow Sydney (yellowsydney.com.au) serve a great full vegetarian menu.