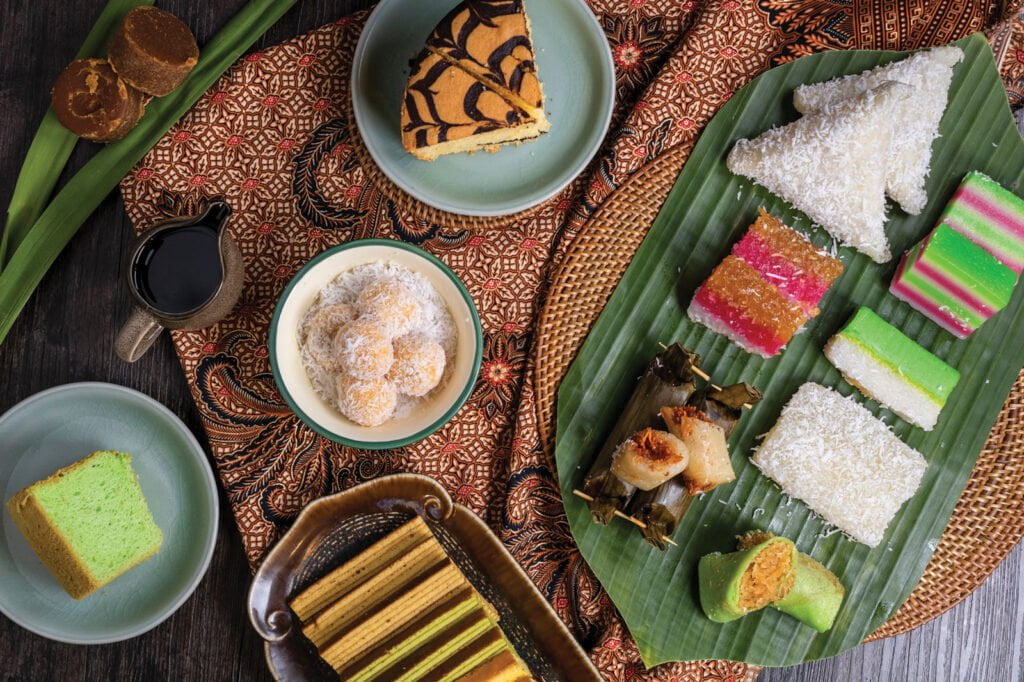 APAM BALIK ('turnover pancake'), a Chinese-style peanut pancake also containing sweetcorn, presented folded over.
BURBUR CHACHA, enjoyed warm or chilled, this colourful Southeast-Asian dessert contains sago pearls, banana, sweet potato and yam with coconut milk, in a porridge-like consistency.
An icy cold Peranakan favourite, CHENDOL is made with pandan-flavoured green noodles, soft red beans, coconut milk, palm sugar and crushed ice.
DURIAN PENGAT, mousse of durian cooked in coconut milk and sugar, with full flavour and aroma.
EGG TART, deliciously classic egg custard encased in round-shape puff pastry Portuguese-style, and presented in diamond-shape short crust pastry, Chinese-style.
Nutritious, uplifting, colourful FRESH FRUIT such as tropical choices mangosteen, guava and rambutan, hit all the right buttons.
GORENG PISANG, or fried banana fritter, is firmly established in Singapore as a crowd-pleaser.
HALWA, a popular Indian Muslim dessert/snack. The orange-colour version typically uses grated carrot, rice flour, brown sugar, ghee and nuts.
ICE KACHANG from Malaysia features ice-shavings drizzled generously with various colourful syrups and condensed milk, accompanied by sweet red beans, golden sweetcorn, palm seeds and jelly cubes, presented as a kaleidoscopic tower.
Malay preserved fruit, JERUK, encompasses sweet and spicy tastes, including apricot, mango and plum.
KUEH are colourful cakes made with rice flour and coconut milk, like ang ku kueh (red turtle cake; steamed, red colour, turtle-shape, peanut-filled cake); kueh lapis (layer cake); and ondeh-ondeh (small, one-bite, sweet potato balls, rolled in shredded coconut, filled with palm sugar syrup).
LADOO, a ball-shaped Indian festive treat made up of chick pea flour, cashews and a sprinkling of raisins.
Chinese steamed glutinous rice balls, or MUAH CHEE, are covered with sesame seeds or peanuts, soft and chewy.
NUTS are highly nutritious. Popular ones here include peanuts, pistachios, gingko and chestnuts.
ORANGE CHIFFON CAKE, circular, statuesque, light and airy, zesty with hints of cardamom.
PAYASAM, from South India, is a creamy milk-based thick pudding made with rice or vermicelli, nuts, sugar and fruit, savoured hot or cold.
Hard-boiled, petite QUAIL EGGS are easy to pop into mouths. My grandchildren's go-to snack.
RASMALAI, Indian cream-cheese balls, are served with chilled milky syrup.
Always tempting, SUGEE CAKE, the iconic golden-hued Eurasian delight, dense yet light, is made with semolina flour and crushed almonds.
TAU SUAN, a Chinese mung bean syrupy dessert, is especially good with yiu tiao (see below).
URAD APPALAM is a deep-fried, small, round and crunchy Indian snack.
VADAI are savoury, deep-fried, round Indian cakes, contain ground lentils, green chillies and ginger.
Enjoyed with tim sum, steamed jelly-like slices of WATER CHESTNUT CAKE are served warm.
XIGUA, the Chinese name for watermelon; refreshing, red in colour when sliced, and thirst-quenching. Make popsicles with watermelon puree.
YIU TIAO, also called yu char kway, is a deep-fried Chinese cruller, enjoyed dipped in coffee or with tau suan.
Zzzz – sweet dreams.
If you're suffering from a low mood, ANZA is always ready with a listening ear and strong shoulder, providing encouragement during stressful times.