From Australian fare to local TCM-inspired dishes, Singapore caters every palate. For a taste of Taiwan, pop into Typhoon Café. With its casual vibe, the café has built up a reputation not only for its dishes such as traditional oyster omelette, succulent steamed barramundi, fragrant herbal soups, golden chicken fritters, egg fried rice and the classic Taiwanese dish lu rou fan (braised pork rice bowl), but also especially for creative desserts and artisan teas.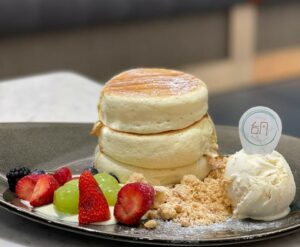 Yummy soufflé stackers
Fluffy soufflé stackers ($17.90) take the spotlight with their cotton-cloud effect, including flavours of strawberry; Taiwan milk tea and bubbles (with tapioca pearls); and added honeycomb ice cream – Instagram worthy. Waffles, parfaits and cheesecakes also appeal.
An extensive drinks menu features exotic fruit varieties, as well as all-the-rage bubble milk teas. Signature fruit teas ($8.50) served hot or cold, highlight mango, summer berries and tropical passion fruit. Taiwan's tea culture can be experienced by imbibing white ginger pear blend, and Pu'er osmanthus with natural peach gum. Bubble milk tea aficionados are catered to with black tapioca pearls or grass jelly toppings, using oolong tea or red tea, warm or chilled (starting from $6.90). If you prefer, sip a smoothie, a nutritious soya bean drink or coffee.
VERDICT: Good for a quick, satisfying lunch, tea-time treats or a family dinner embracing diverse Taiwan cuisine, taking colourful photos for happy memories.
Typhoon Café
1 Stadium Place
#01-35 Kallang Wave Mall
Singapore 
397628
Telephone 67021752, www.typhooncafe.com.sg