When the new season of Nippers started back in March, most Covid-19 restrictions were still in place. But when the fences around Palawan beach disappeared overnight (no more pre-booking a beach slot in advance – yay!), we hoped good times were ahead! Finally, at the end of April, restrictions on group sizes were relaxed which allowed us to open membership to the many children on our waitlist – some of whom had been eagerly waiting for over two years to join us.
As the ANZA Nippers community is growing and children and parents are now able to socialise, it's a joy to see friendships forming and age groups working together as a team again. Hotly anticipated is the return of our social events: the first parent night is set to take place at the end of May (practice your trivia and dust off those dancing shoes) and the events team plan to relight ANZA Nippers barbecue fires later in the year.
We look forward to a great season ahead at Nippers and experiencing that beautiful community feel that's makes our Sundays at Palawan so special. One thing's for sure: it's going to get busy at the beach!
The Voices of Nippers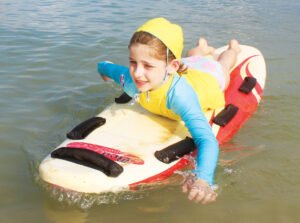 GINEVRA (U6)
Time with ANZA Nippers: I just started this year.
Favourite bit: Floating like a starfish on the water. We collect rubbish to prevent animals from eating it and dying. We also race on the beach and compete on who gets the stick first.
Advice for potential recruits: You should absolutely join. It's super-fun!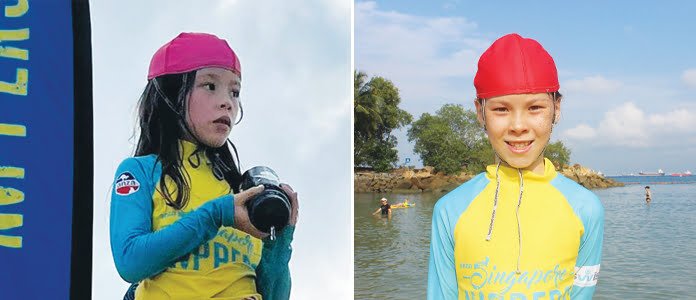 BRIGITTE (U7) 
Time with ANZA Nippers: Going up for two years.
Favourite bit: Learning about the ocean, playing in the water and seeing my friends.
Advice for potential recruits: I would recommend joining because you can learn about the ocean.
Apply sunscreen, bring your water bottle and don't forget your thongs because the sand is hot on barefeet.
OLIVIA (U10)
Time with ANZA Nippers: Almost five years.
Favourite bit: Seeing my friends and playing with them.
Advice for potential recruits: It's important to know how to save someone in the ocean and how to look after yourself in the water while having fun as you learn.
Always shuffle your feet when in the water to let the sea animals know you're around. This prevents us from being hurt by them.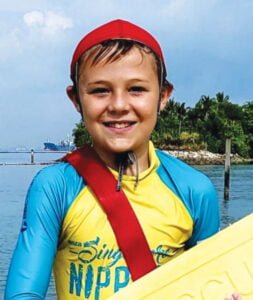 MASON (U10)
Time with ANZA Nippers: Only one season as I moved to Singapore nine months ago. Back in Australia, I'd been part of North Curl Curl Nippers since I was five years old.
Favourite bit: Board riding and being with my mates.
Advice for potential recruits: Join! It's great fun on a Sunday with friends. And because there are no waves, it's easier with boards and to swim.
ANZA Nippers: All You Need To Know
ANZA Nippers offers kids aged 5-13 the chance to participate in surf lifesaving activities in Singapore, and enjoy the beach in a safe environment. Sessions are held each Sunday from 8.45-10.30am at Palawan Beach, Sentosa and are run by a wonderful group of parent volunteers.
We have two seasons: March to June and September to December. Children can only register if they can swim independently and they meet the swim assessment criteria. We carry out swim assessments at our first session of the season for all participants to get an overview of everyone's strengths.
U6 – Swim 10m any stroke & 10 sec survival float
U7 – Swim 25m any stroke & 30 sec survival float
U8 – Swim 50m freestyle & 60 sec survival float
U9 – Swim 50m freestyle & 60 sec survival float
U12 – Swim 100m freestyle & 90 sec survival float
U14 – Swim 200m freestyle & 120 sec survival float
Fees to join ANZA Nippers are currently SGD330 per child per year (pro-rated for children joining later in the year). This includes the cost for the Nippers uniform. If your child is interested in joining, register on ANZA's website at anza.org.sg If you have any questions, please don't hesitate to contact us at Singapore.Nippers@gmail.com. For press and media enquiries please contact Kat at sgnipperscomm@gmail.com
Instagram @sgnippers
Facebook @SingaporeNippers