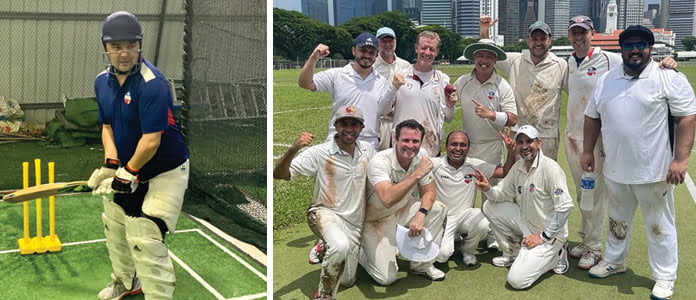 Cricket in Singapore has really had a tough time. Despite the game being played by 24 people spread over a very large field, we're only just able to dust off our (greying) whites once more. Unfortunately, many fields are still closed, which means there are now some 150+ teams fighting over limited resources. For ANZA Cricket, the impact is that we can continue our league teams, Bushrangers and Diggers, but the social side, Dream Team, has fewer games scheduled. However, all is not lost! With 31 games scheduled and only three completed by the end of May, the season is well ahead of us. It has never been a better time to join our group.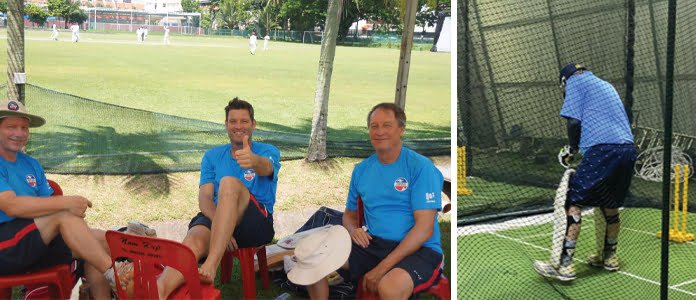 Singapore Cricket comprises seven divisions with 15 teams each. ANZA Cricket plays in Division 4 and 5 (although there is little difference between lower divisions and higher ones). Bushies had one match washed out when our gun batsmen, Guy Hudson and Sandesh Gavade were in flying form, but during the next match Bushies just couldn't
get going.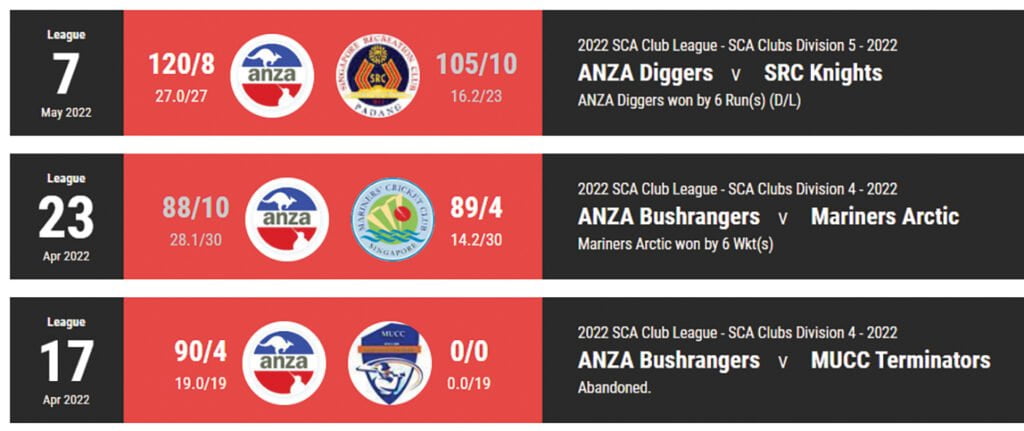 Diggers started off the season on the most difficult wicket in Singapore, tip-toeing their way to 120 on the back of Blasie Habgood scoring 40 runs and whacking two big sixes! After strangling the opposition to 105 in replay (DL Target of 112), we've jumped to the top of the table. Hopefully we will still be there when you read this!
NETS stuff to know
Nets kick off each Wednesday at Turf City from 7pm. We assemble 5-10 people who enjoy rolling the arm over through our WhatsApp chat. It's not a problem if you don't want to play games. Everybody is most welcome.
A word with Graeme Gardiner, ANZA's Cricket Coordinator
"ANZA cricket is one of the founding sports of ANZA – it truly is part of our history. We're mostly (very handsome!) middle aged men who've taken time off the game and are back to enjoy the comradery, fresh air and fun that cricket can bring. As we have multiple teams and nets, there's something for everyone. Women and juniors are welcome to join nets anytime. For me, the cricket here is not as serious as it is in Australia or New Zealand, and many friendships are formed. It may feel scary to join, but you'll find it's really a great community!"
SCC Youth Development
As yet, ANZA doesn't run a junior team, but Singapore Cricket Club offers a
youth development programme for kids aged 5 – 10. With a variety of sessions running weekends and mid-week, the Cubs Cricket environment is "all about fun and enjoyment through our brilliant game of cricket." The SCC's Cricket Academy welcomes teens aged 13-16. Interested? Drop us a line at CYD@scccricket.com