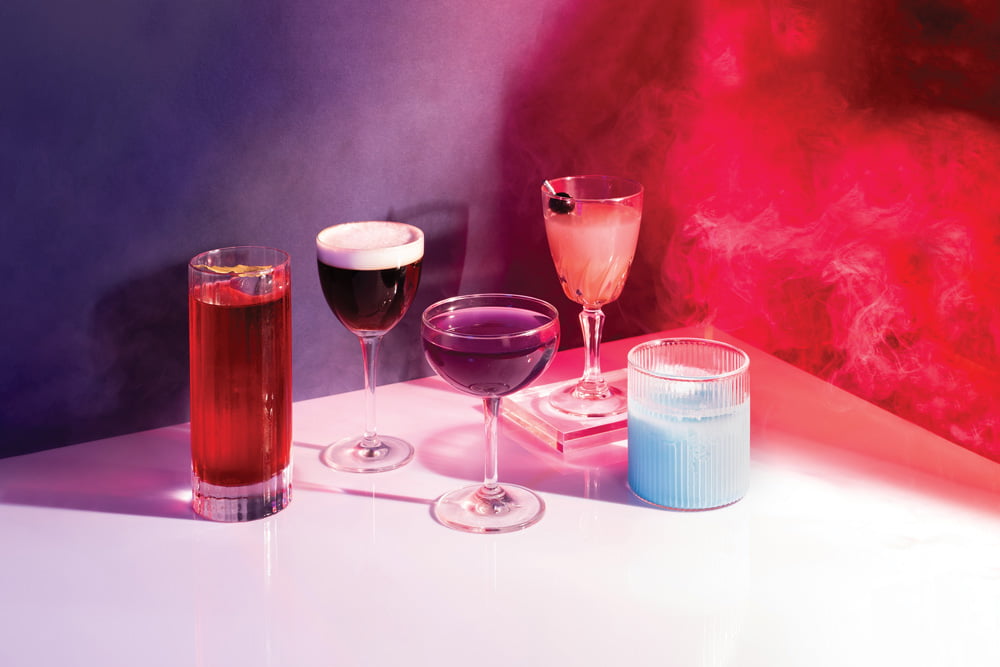 The celebrated 28 Hong Kong Street bar recently invited us to the launch of its new cocktail menu. As a member of the Top 50 Asia Bars list, they certainly know a thing or two about creating exemplary cocktails. But this charismatic speakeasy, discreetly located in an unremarkable 1960s shophouse, is not one to rest on its laurels, which is why the team have created a new menu where guests can "hop" around uniquely different bars in one place.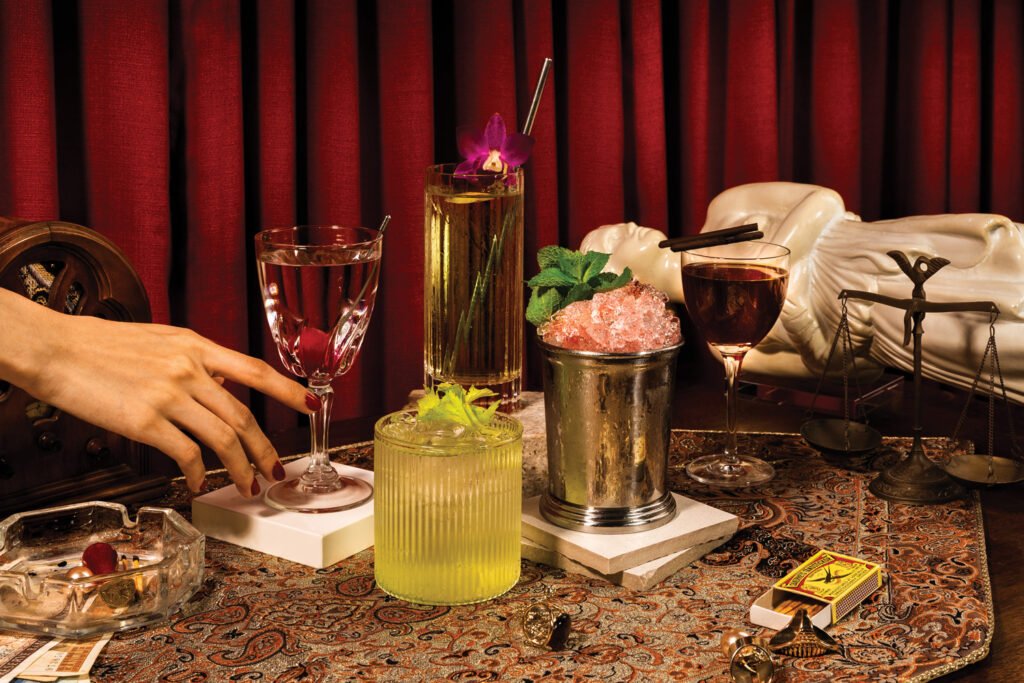 The new 28 concept menu is divided in four parts: Sin & Misery at the Oldham, Brenda's Bad Hand, Halogen, and 28 HongKong Street. A whopping 32 cocktails are included, presented by labels such as AMASS, Michter's, Bacardi, Bombay Sapphire and Maison Ferrand. While enjoying the food and drinks, guests can scan the Spotify code on each menu and jam along with 28s special music picks.
From The Oldham Hotel's Sin & Misery (representing an intimate and 'elegantly wasted' hotel bar), we were served a refreshing and savoury Brick Lane Martini. This traditional mix featured Hendricks & Hendricks Orbium Gins, Secco Vermouth and Red Onion, but it was the Brick Lane Seasoning that gave it an intriguing but subtle twist. Another interesting option was a MidTown Manhattan, a boozy blend of Remy Martin VSOP Cognac, Rich Sherry Elevated Ratafia and Amaro.
After "Sin and Misery" we moved on to Singapore's best Honky Tonk with Brenda's Bad Hand. This part of the menu speaks dearly to whisky lovers. Made with Michter's Bourbon, Monkey Shoulder Whisky brown butter, salted Maple and smoke, the smoke and brown butter notes summon a nice country breakfast in cocktail form. Another option was the Pickleback Sour, a somewhat richer and intriguing mix of Michter's Rye, Mancino Bianco Vermouth, Cucumber, Dill and Albumen.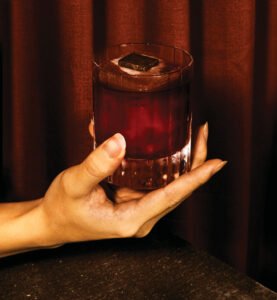 The next stop in our journey was Halogen. Sceptical at first, I wanted to leave this part to the 'younger kids' but this blend of fun, techno and disco was a crafty way of retaining 28's laid-back vibe. We were presented with two options: a Hue Bluwaiian and/or a Vodka-Cran-22, a mix of Plantation Pineapple Rum, coconut, Blue Curacao, Sherry, and lime. Our second choice was a throwback to the 80s with the Vodka-Cran-22, a winning combo of Reyka Vodka, Cranberry, Mancino Bianco Vermouth, bay leaf and pink peppercorn.
To close the evening, it was time for a tribute to 28 Hong Kong St with two amazing choices: Black Forest Negroni and the Fancy Champagne Cocktail. My choice was the Black Forest Negroni and it was one of the best I've had in some time with perfect ratios of Diplomatico Mantuano rum, Campari, cacao nib, Mancino Rosso Vermouth, Taylors Ruby Port and Dry Cherry. The Fancy Champagne Cocktail was an elegant mix of Ferrand 10 Generations Cognac, nori black sugar and Telmont Champagne served elegantly in a champagne flute. The balmy mix gained strong accolades from the table.
VERDICT: Fans of 28 HongKong Street and cocktail enthusiasts must make a date to visit or reacquaint with this place. The new four concept bar is only going to support its already sparkling reputation as one of the world's best.
28 Hongkong St
28 Hongkong St, 059667
28hks.com