In honour of its third anniversary, Heart of Darkness is having a party! Get set for a free flow of award-winning beer and /or food from an all-new menu featuring bestsellers from Saigon. The two offerings consist of free flow of Heart of Darkness craft beer for SGD 88++ on Saturday 24 September, and four beer pairings for SGD 30++ as an add-on to food bookings on Sunday 25 September. The second option is free flow of food for SGD 58 ++ on Sunday from the all-new modern Tex-Mex-inspired menu including bestsellers from Heart of Darkness flagship restaurant in Saigon.  
Tex-Mex twist
We were lucky enough to be at the presentation of some of these delicious best sellers along with the award-winning craft beers. Heart of Darkness' latest menu is inspired by the popular and hearty "Tex-Mex" cuisine but with a great Asian twist, using local farm fresh ingredients. According to HoD GM, "the menu aims to thrill the palettes of globetrotting Singaporeans and expats and introduce  American-inspired comfort food with a modern Asian twist in terms of preparation and cooking techniques as well as visual vibrancy." 
We tried several of the dishes featured in this new menu that were paired with some of award winning brews. First up were the nachos, the quintessential Tex-Mex classic. Crispy tortilla chips topped with nice creamy guacamole, sour cream, cheese sauce, jalapeños, pico de gallo and cilantro.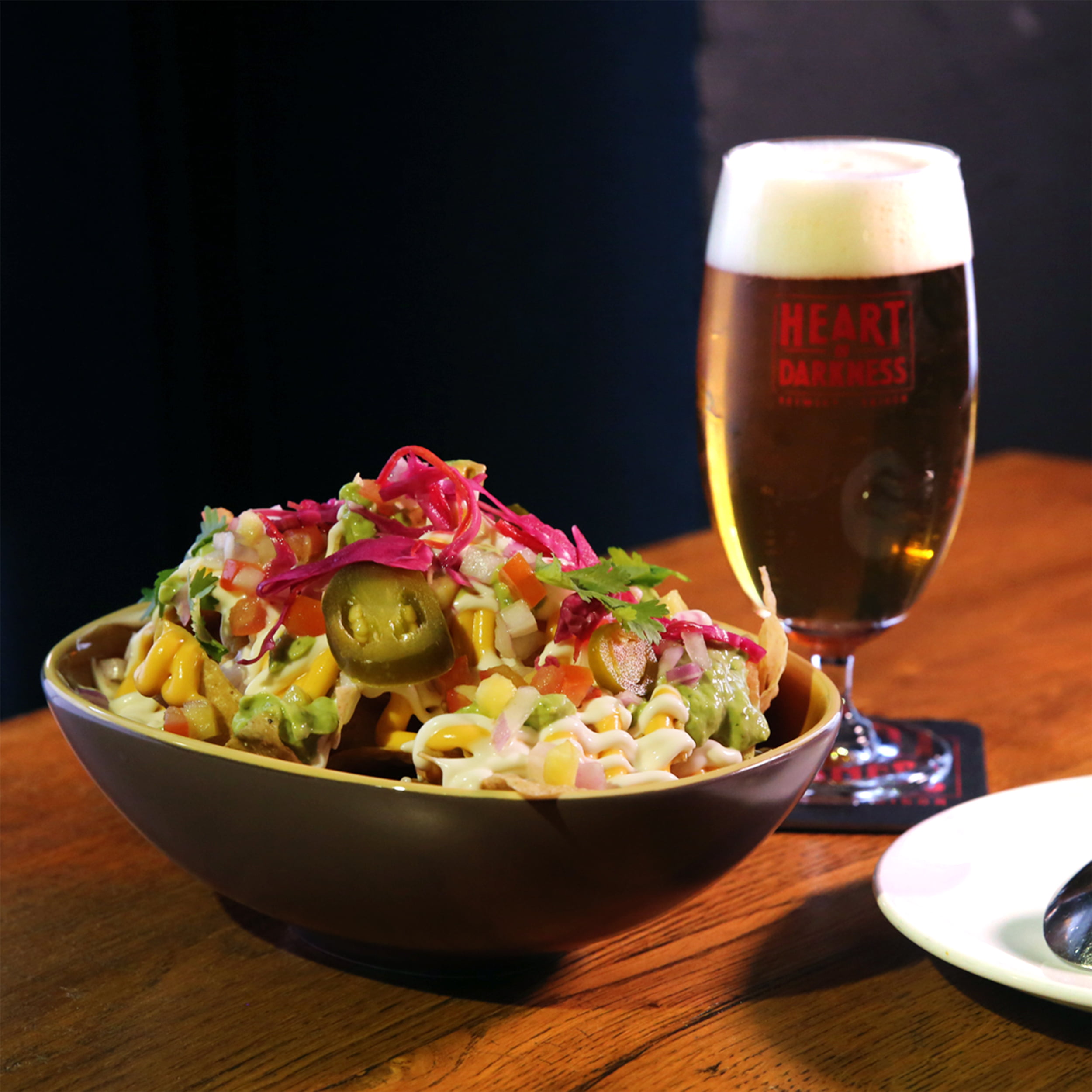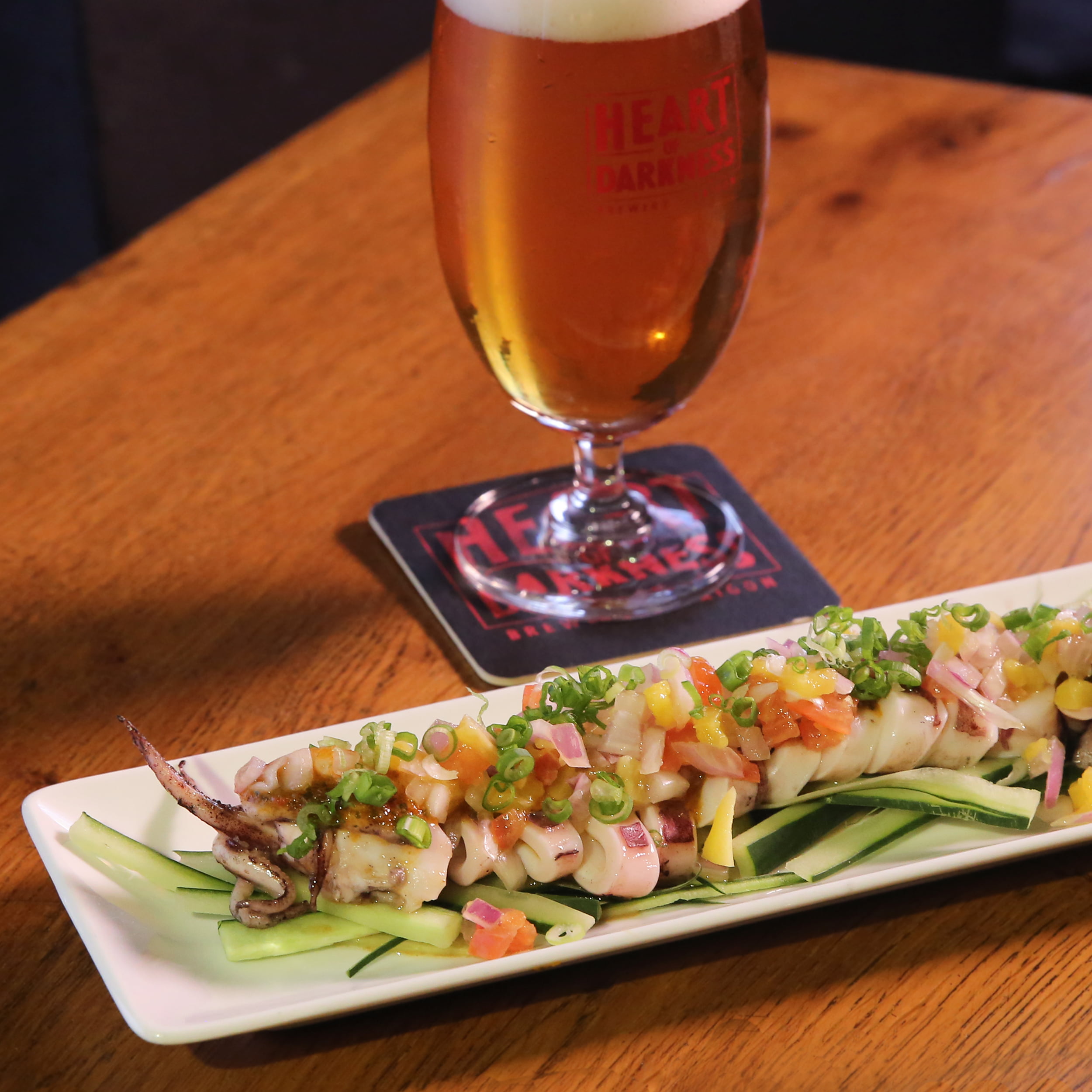 Along the way, we were presented with two glasses of the Dream Alone Pale Ale and Kurtz's Insane IPA. The Dream Alone Pale Ale was citrusy and light, and probably my favourite of the two. It had pleasant notes of peach, citrus and berries. The Kurtz's Insane IPA is fruity with hints of grapefruit with a nice bitterness at the end. I'm not a big IPA fan, but I actually enjoyed this one given the lightness and soft hops. These two brews were perfect with the citrus in the Ceviche and the spiciness of the Grilled Calamari
The Ceviche dish, an Asian interpretation of the Peruvian dish, featured barramundi as the base with the fish  first in-house cured for two-hours with lime juice, lime leaves and coconut water. The cured fish is then dressed vibrantly with red onion, pineapples, jalapeños and cilantro; a splash of coconut cream for added texture and comes with squid ink tortilla chips. A great Asia-Peruvian combo, it was a winner at the table. 
We stuck to fresh seafood for our next dish with the Chargrilled Fresh Calamari.  A great dish of chargrilled whole fresh squid presented with pico de gallo, fresh cucumber and mango. A deliciously spicy Thai chimichurri added another layer of familiar flavours across cultures, but be warned, the chimichurri ranks high on the heat scale.
Asian wings
Whilst in Asia, wings are a must so we tried the Wing Selection with five different marinades: Banana Mango Jalapeno Sauce, Caramelised Fish Sauce, Curry Tomato Sauce, Ginger Teriyaki Miso Sauce and Spicy Buffalo Sauce. We couldn't decide on which one was the tastiest. However, I would say the spicy buffalo sauce was nowhere near close to the original American recipe. But all the wings are deep-fried to perfection, crispy and succulent packing a punch of deep flavours. 
Between the wings and the beef, the next round of beers arrived. This time we had Director's Chocolate Stout, the Excited Magpie Dry Irish Stout and another round of the Kurtz's Insane IPA. The Magpie Irish Stout did not try to replicate the other famous Irish stout, but the Irish Stout moniker is well-earned; it had a nice roast and pleasant bitterness and contrasted the creamy mouthfeel. The Director's Chocolate Stout was the perfect companion for both the Char Siew Beef Ribs and the Churros. However, my absolute favourite was the Irish Stout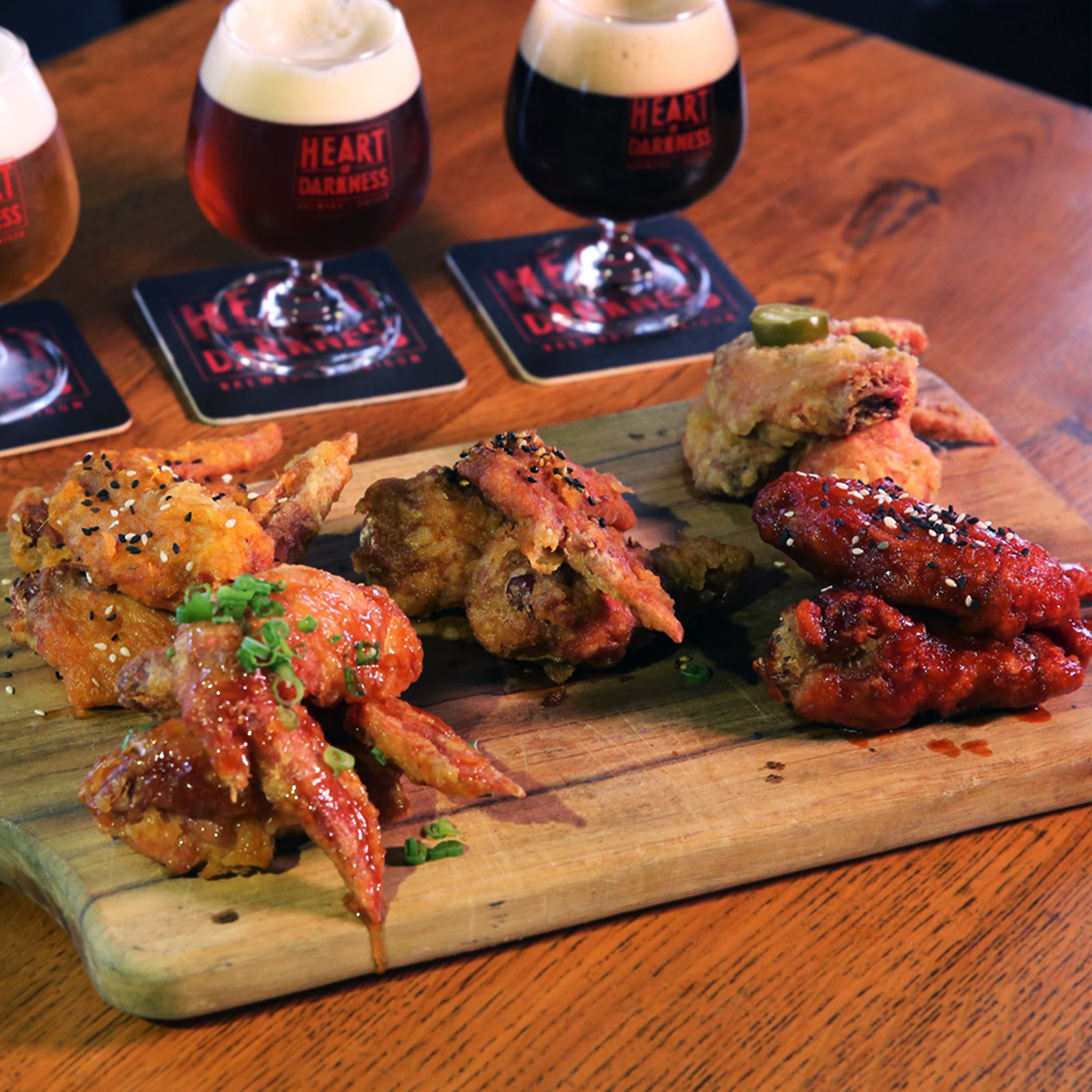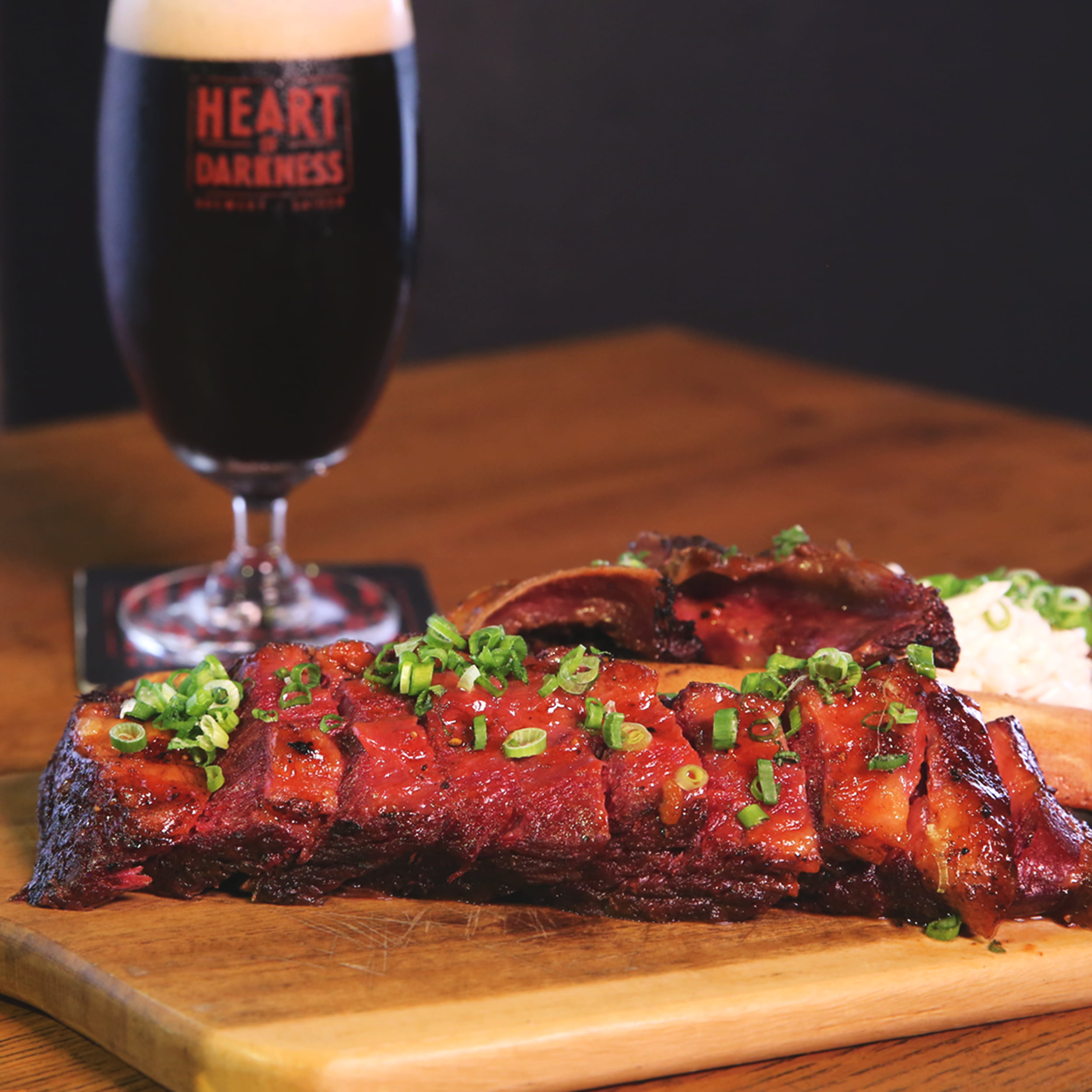 For our final dish we had the Chargrilled Char Siew Beef Short Rib. A superb hearty dish that is a well-deserved key highlight of the new menu: 750g bone-in beef short ribs is sous vide for 14 hours in a special Heart of Darkness BBQ marinade. Flavours of the marinade melded with fat and natural juices of the meat to make the dish an unmistakable must-order.
With our short ribs we had the Okonomiyaki Fries. Fries are always a good idea and this version does not disappoint.  East meets West, fluffy and crunchy fries are dressed with Okonomiyaki Sauce, Japanese Aioli, Bonito Flakes, Nori, Green Onion and Sesame Seeds. Perfect companion to the Char Siew beef short- ribs 
The final touch was the Churros for dessert. Little can be said about crispy fried dough sprinkled with cinnamon sugar and thick luscious dark chocolate on the side. We had to ask for another round of the Director's Chocolate Stout to go along with the dessert. 
Verdict: Heart of Darkness delivers once again with consistently delicious food and great craft beers. These two celebratory offerings is a great excuse to return to this fun venue.
3rd Anniversary Party @ Heart of Darkness
Date: 24 (Saturday) and 25 (Sunday) September 2022
Address: 1 Keong Saik Rd, 089109
Tel: +65 6208 7940
Reservation:heartofdarknessbrewery.com.sg/pages/reservation