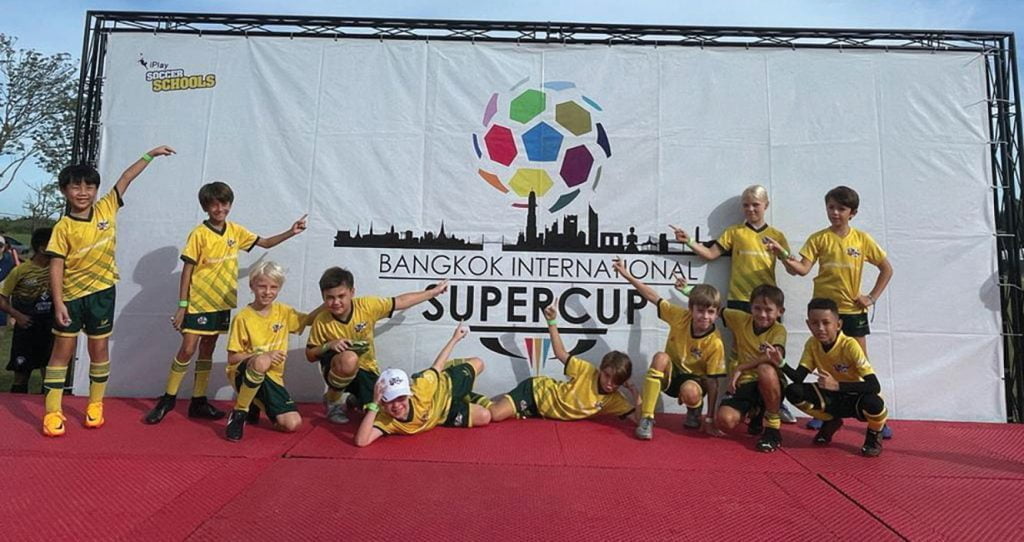 After three months of Sunday matches in the JSSL Singapore National Youth League, two of ANZA Soccer's youngest competition teams still had enough fire and energy to enter an overseas tournament.
The Bangkok International Supercup returned in December 2022, drawing teams from countries including India, Malaysia, the Philippines, Japan, and Singapore.
For the 23 ANZA families involved, the excitement began in October, as we started planning for our first overseas tournament in three years. Parents came together to celebrate our ANZA roots by creating our own 'merch' including matching kits, matching parents' shirts, and an ANZA duffel bag – all personalised with the names and numbers of the players, of course!
Competitive energy
We arrived in Bangkok with two 12-player ANZA teams: our fierce all-girls team made up of 2011 and 2012 Matildas, and our enthusiastic boys team composed of 2013 and 2014 players. Between the two teams there existed alliances and rivalries – alliances between ANZA teammates and friends, and rivalries between three sets of siblings! Three older sisters and three little brothers joined their teammates and 20 other international teams to compete for the Cup, Plate, and Bowl over two packed days of football.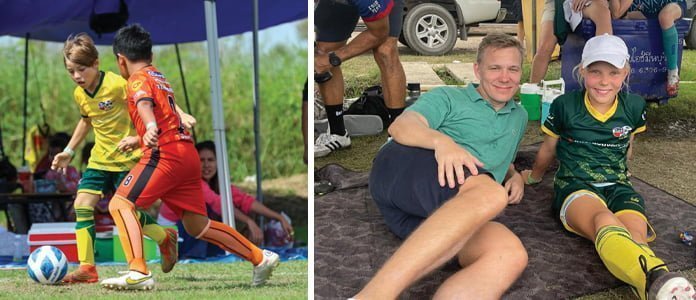 On Saturday morning, the tension was palpable, but it quickly turned into anticipation and competitive energy. Everyone loved gathering in front of the hotel with their freshly washed kits and ANZA bags. As their Thai chariots (aka the team buses) arrived, the excitement led to a noisy and boisterous journey to the pitches. The coaches' pep talk was thrown out the window and replaced by loud singing and cheering, especially from the girls! In typical ANZA style, we all went with the flow and arrived just in the nick of time for kick-off.
Game on!
After six 25-minute matches spread across eight hours in the hot sun, we were all exhausted (especially the cheerleading parents on the sidelines!). With the fantastic result of both teams finishing well enough to play for the Cup the following day, everyone was keen to return to the hotel and take a dip in the cool pool before staying up late chatting, playing, swimming, and exchanging memories.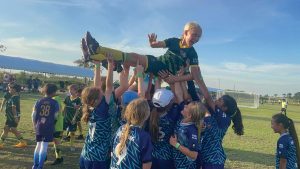 Sunday morning began with even more of a frenzy as the players readied themselves for the playoff competitions ahead. For five hours of knockout games, our two ANZA teams supported each other wholeheartedly, as they had the entire weekend. Then, suddenly, they found they were rivals and would play the last match of the tournament against each other! Overheard on the sidelines from one dad, whose daughter was goalie for the Matildas and whose son was an attacker for the U9 boys, was "George, do not score against your sister!" Of course, that didn't stop George from trying!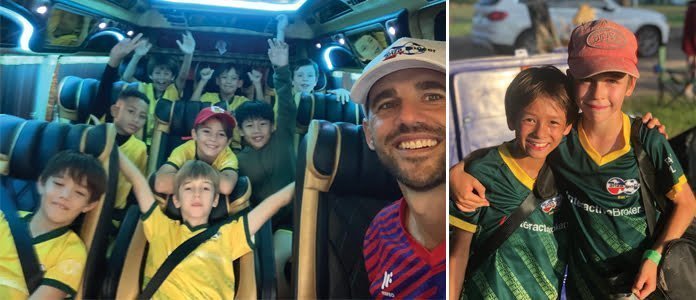 Both teams played their strongest, most courageous match of the weekend, with the boys clinching the U9 Cup championship with a close 2-1 win. More importantly, after playing 10 matches over two days, all 24 kids discovered the true spirit of soccer during that last match. They found out that it wasn't all about being number 1, number 2, or even avoiding coming in last. The Bangkok International Supercup showed everyone that football is an international language of sports and that no matter where in the world you are, and no matter where you're from, soccer can unite our planet.