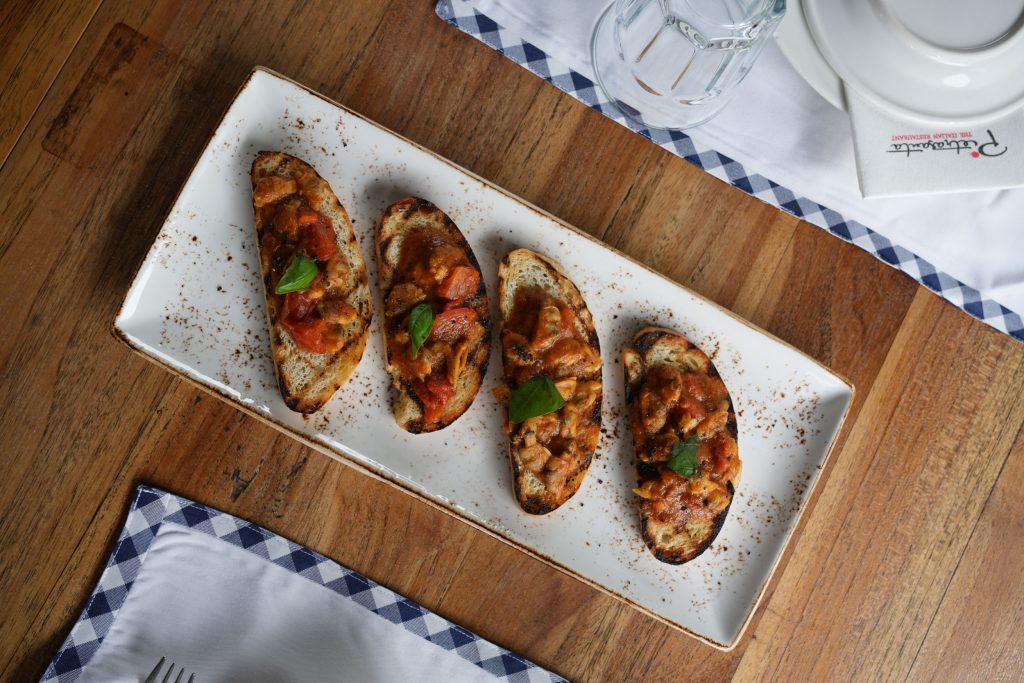 Italian cuisine is one of the most loved choices while dining out on the red dot and Ristorante Pietrasanta is one of the most recognised go-tos. Renowned for dishes that honour its Tuscan origins, and big on robust flavours and authentic ingredients, Pietrasanta's new menu continues to honours its Italian roots with more homemade sauces, imported hams, fresh greens, and of course, handmade pasta. The best bit? We had the opportunity to give the updated menu a try!
Our journey started with Bruschetta Con Vongole E Pomodoro ($22.90), juicy clams cooked in a rich tomato sauce and served with garlic parsley on top of grilled fresh bread. Along with the Tagliere Toscano ($28.90), generous slices of cold cuts including Parma ham, mortadella, and salami, further layered with parmesan cheese on a tomato bruschetta.
Next up was the Insalata di Cavolo Nero ($20.90), an organic Lacinato kale salad made from Tuscan kale (also known as black kale) dressed up with raisins, almonds, apples, and a punchy blue cheese. The bright, refreshing flavours evoked a sunny taste of Italy in a bowl.
If you're looking for something hearty, try the La Ribollita ($15.90), a traditional vegetable soup native to Tuscany. Kale, cabbage, beans, potatoes, and tomatoes are simmered to a sweet, crisp fragrance before crispy croutons are added for a bite.
Pasta selections
Our pasta selections included Pici Cacio E Pepe ($24.90), one of the four famous Roman dishes giving a nod to Tuscany with house-made pici pasta, a thick hand-rolled pasta hailing from Siena, doused in a rich sauce of fresh pecorino cheese, and generously seasoned with pepper. This was followed by an old favourite from Ristorante Pietrasanta's early days, Tagliatelle Al Nero Di Seppia Ai Frutti Di Mare ($28.90), featuring dark squid ink spaghetti pasta fragranced with white wine, coloured with ample seafood and silken with olive oil.
For the Secondi Piatti we opted for the Secreto Alla Griglia ($38.90), a prime-cut black pork shoulder that will satiate the appetite of the most voracious meat-eater and comes with sides of roasted potatoes and a mesclun salad. Pizza lovers will be delighted to discover a new pizza has been added to the menu: the Burrata E Pomodorini ($28.90), a delicate pizza crust with generous toppings of creamy mozzarella cheese, rocket salad, fresh tomatoes, and Pietrasanta's secret burrata cheese.
As with every good Italian meal ours ended on a sweet note, and since we were trying the new additions, we opted for the  Profiterols ($17.90), light and airy choux pastry puffs, filled with daily churned milk gelato from sister brand GelatiAmo, drizzled with a rich chocolate sauce, and for a final note the traditional Tuscan end of Vin Santo E Cantucci, a sweet wine with intense caramel and hazelnut flavours.
Verdict: Pietrasanta's new menu keeps its Tuscan soul intact and some classic dishes remain. We wouldn't be surprised to see some of these additions become new classics at this popular restaurant. Pietrasanta is one of the best Italian cuisine ambassadors in the Lion City.
Ristorante Pietrasanta
1 Fusionopolis Way, #01-08 Connexis, Singapore 138632
Tel: 9863 9253