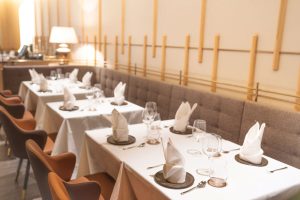 It's a sad time for 'The Land of the Smiles' in Singapore. The closure of the Golden Mile complex on Beach Road means major changes for many eateries who pride themselves on serving genuine Thai food. Thankfully, if it's traditional fare you're looking for, there are alternative locations available, namely Sarai, a new Thai restaurant (formerly Patara Fine Thai Cuisine), which is sitting pretty in the more-snazzy Tanglin Mall.
Falling in line with the mall's new upgrade, Sarai is fancy but friendly with blush-hued decor and teal accents. But don't be deceived by its delicate palete. This is a place that knows how to do authentic dishes with a classic Thai taste, cooked straight from the heart.
Indeed, Sarai aims to take diners on a journey of rediscovering homely Thai cuisine through sophisticated dishes that remain true to their roots. This is easy to achieve thanks to the exquisite skills of Sarai's Isan-born Chef Lisa who has spent more than 27 years perfecting northeastern national cuisine with a spin, and their new Exploration Menu, $58 (a four-course offering of one Amuse Bouche, two starters, three mains, and a dessert), is all set to take our tastebuds on a bona-fide Thai trip. We begin with an Amuse Bouche of Lab Gai. Spicy and sour minced chicken sits demurely within a chunky cucumber cup and makes for a refreshing palate cleanser with which to start proceedings. Starters comprise Nam Prik Ma Kae, a tomato chili dip with endives, Thai cucumber and jicama; Moo Ping, a medley of homemade grilled pork marinated with Thai herbs; and Mun Hu Plee, an assorted banana blossom cake with spicy dip. The latter was the resounding favourite, serving up creamy mouthfuls of banana flower encased in a crispy fritter.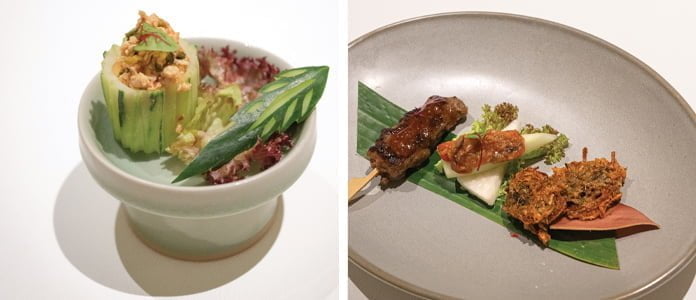 Each main comprises three different platefuls. The Grilled Australian Wagyu sirloin in aromatic panang curry sauce (Panang Nua Yang) was tender and sweet without being too spicy or heavy. Tom Klong Pla, a warming bowl of smoked barramundi soup and sweet leaf bush added to the cosiness of the food which felt unpretentious, satisfying and surprisingly comforting. A signature spicy Thai kick came in the form of a chunky portion of cod presented with chili lime and garlic sauce – a great contrast to the more earthy dishes. Pandan panna cotta with coconut foam and sesame wafer (Jelly Bi Tuey) did the duty for dessert and was deliciously light and silky to taste, an enticing sesame wafer on the top presented a crunchy and savoury contrast.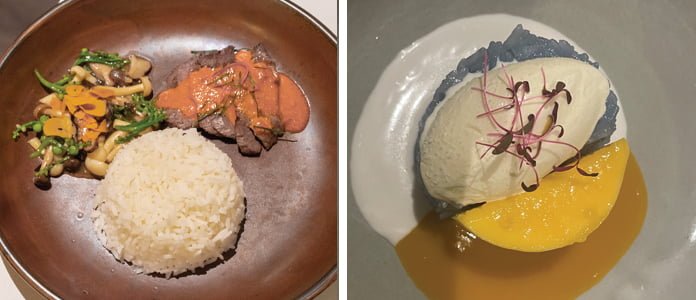 While Sarai creatively re-spins Thai staples, it's not shy to showcase some standard crowd pleasers too. We were lucky to sample the Mango Sticky Rice, which was one of the best we've tasted (and we've tasted a lot!). Featuring smoked coconut cream, a tangy ginger mango sauce and home-made jasmine rice ice-cream, it felt refined, but also reassuringly familier.
VERDICT: Sarai is a welcome newbie to Tanglin Mall's stylish revamp, showcasing a menu proves that experimenting with tradition does not have to mean compromising on homecooked taste.
Sarai
 #03-122 Tanglin Mall, 163 Tanglin Road, 247933