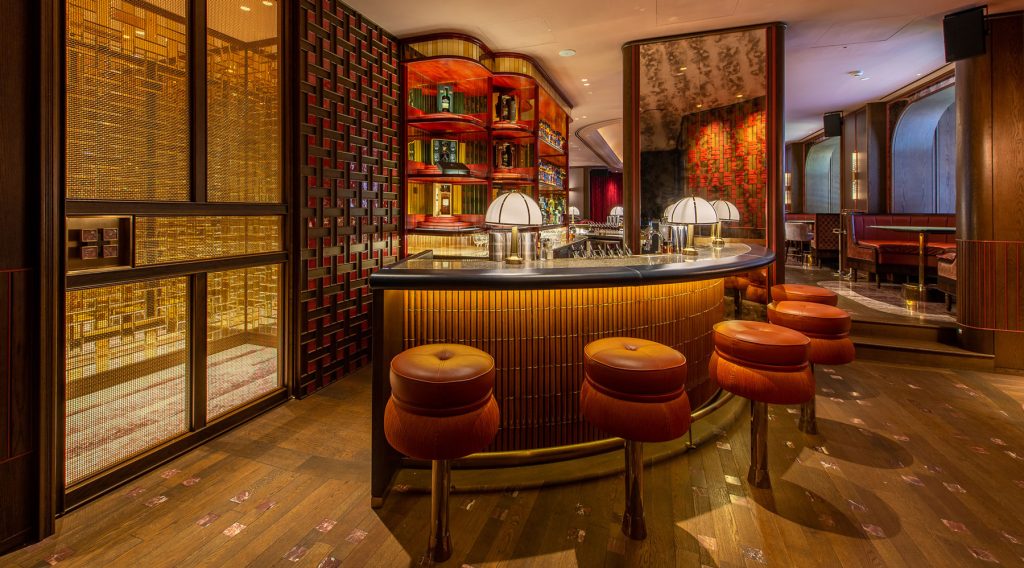 Located in a cosy nook in the Intercontinental Singapore Hotel, Quaich Bar Wanderlust is designed as a globe-trotting lounge, taking its guests around the world via a menu of signature cocktails and dishes inspired by different countries. In keeping with the Quaich 17-year tradition, an extensive collection of at least 100 world whiskies accompanies you on your journey. Also taking the trip are 19 thematic cocktails ($25) that aim to evoke feelings of faraway lands.  
THE TAKE-OFF
Taking flight on an easy-drinking note is Miyeok Guk – a savoury tipple with its peculiar shake of Ottogi seaweed washed vodka, Makgeolli, Citric Acid with three lingering drops of Sesame Oil and a spritz of peaty tang perfume. Meanwhile, the Mexican-tinged Jorge Smith perks the Moscow Mule with Jalapeños infused Vodka, Ginger Syrup and Bitter Lemon in crushed ice that is especially refreshing post-work.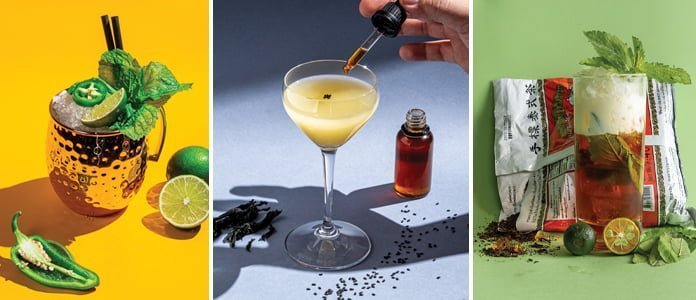 MID-FLIGHT TIPPLES
Pacing the ride, the Mojito-meets-Thai Milk Tea Sawajito offers a citrusy spin of the creamy favourite by building Cha Yen-steeped Rum, Peppermint Syrup, Calamansi Cordial, fresh Thai Basil, soda and a side of Half-and-Half. For lovers of gin-based cocktails, the Roses Are Red, Grapes Are Green is a satisfying blend of three different gins (Nordes, Hendricks, and The Lakes Elderflower), Italian Bergamot Liqueur, Sauvignon Blanc, Citrus and a splash of soda. It's the perfect response to the usual requests for something "sweet, refreshing, fruity and floral".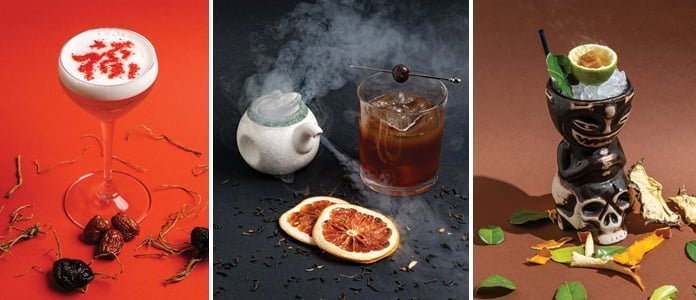 CRASH LANDING
Moving on to spirit-forward concoctions, Teagroni, an express pass to India, is a blend of Gin, Masala Chai-steeped vermouth, Génépi Liqueur and Cherry Heering that come served in a teapot with a piping hot illusion of Liquid Nitrogen.
Rounding off the night, the Triple Happiness revisits the classic Whisky Sour with its traditional Chinese twist of Dried Prune-infused Bourbon, Citrus Blend with a mellowed sweetness from Red Dates and Ginseng Syrup. This cocktail is garnished with a strawberry powder stencil of the Chinese character, "", to denote feelings of bliss when sipped – especially for the Whisky Sour lovers, this concoction is the ideal tipple before bed.
WHISKY SELECTION: FROM HIGHLANDS TO AFRICA
Whisky enthusiasts will be thrilled to discover house exclusives including Bunnahabhain 12 years (Scotland), Currach Atlantic Kombu Seaweed Cask (Ireland) Tipperary Watershed (Ireland), The Lakes Colheita SIngle Malt Whisky (England) and Three Ships 10 years (South Africa). A key highlight for rare whisky seekers will be the Frank McHardy Series, a limited-edition series in collaboration with whisky legend and Springbank Distillery's former Production Director Franck Mchardy.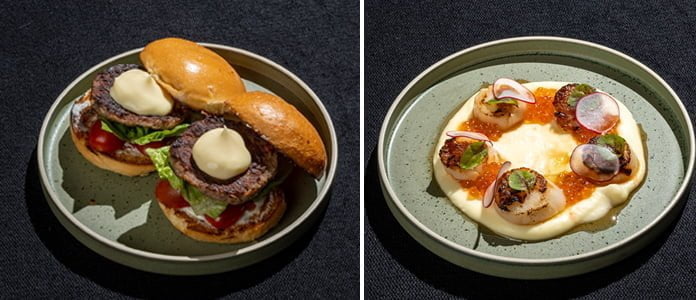 THE FOOD: BITES AROUND THE WORLD
Keeping in line with the global journey, Chef Corwin Leong offers interpretations of dishes from around the globe.
Sectioned into Sharing Plates (6pm – 10.30pm) and Munchies (6pm – closing) for the peckish, highlights include: Tuna Ceviche ($23), Grilled Octopus Legs ($28), and Seared Hokkaido Scallops ($25). Meaty options include Pocket Beef Burger ($23) and Hakka-styled Nan Lu Pork Belly ($16).Those craving fried foods can explore the the Fried Brussels Sprouts ($16) or comfort food fried staples such as Calamari ($16) with house Kaffir Lime Aioli.
VERDICT: Overall, Quaich Wanderlust deserves a visit. For the more playful crowd, the whimsical cocktails are innovative and delicious without betraying its classic origins. It's also a great place to go for an evening as a group without having to yell across the table to be heard! 
Quaich Bar Wanderlust
 80 Middle Rd, Level 1 InterContinental Hotel, 188966