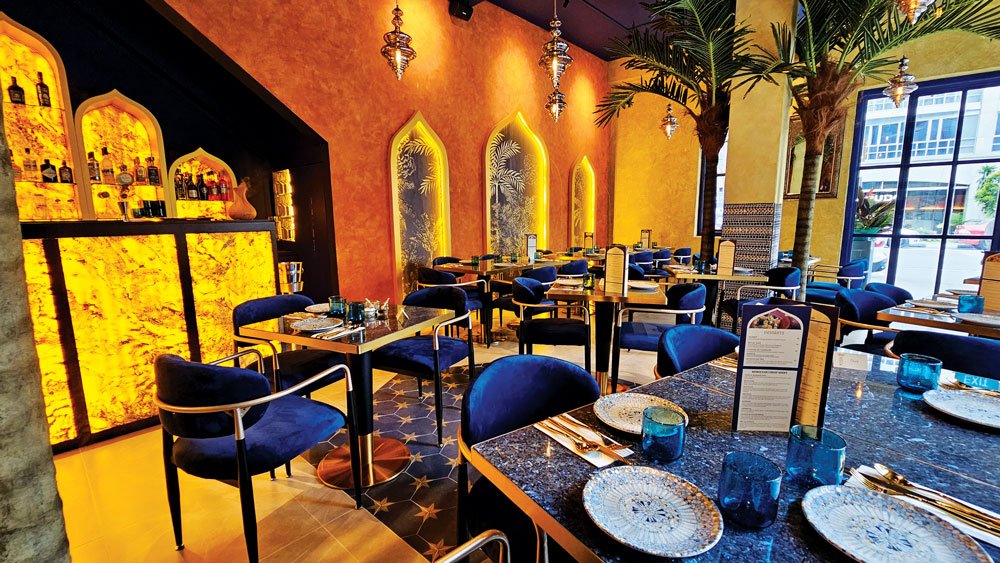 Oh, magical Morocco. The Mediterranean melting pot where African, Arabic and European cultures are entwined, gorgeous daylight and golden sunsets swathe the cities, maze-like souks and alleyways pull you sideways, and the roofs of riads conceal spots made for evening martinis and mysticism. How far away that world feels from Singapore, but also how near thanks to new Moroccan tapas and cocktail bar, Tajine.
For a country that – like Singapore – is big on food, sharing dishes, intriguing flavours, and puts its heart, soul and culture into cooking, Moroccan food is not particularly familiar around these parts despite the parallels. Indeed, Tajine is perhaps the most well-known Moroccan recipe, but we'll get to that later as we start proceedings with a Mesmeric Potion, a light and refreshing cocktail with gin-infused grapes, thyme, orange bitters, and tonic. Settling into deep blue seats set against soft lighting, arabesque walls, enormous indoor palm trees and a playlist straight out of North Africa, the holiday vibe is on!
Helmed by Executive Chef Remy Carmignani, who used to work at luxury hotel La Mamounia in Marrakech, the sharing dishes start immediately with perfectly pillowy warm pita; batbout, a traditional fire-grilled bread; and vibrant salads and dips. This mixed platter of delights (S$58) features six small bowls including Zaalouk (grilled eggplant seasoned with paprika and parsley), Chlada (chilled lentil salad with cucumbers and orange blossom water), Khizou Mchermel (cooked carrot with preserved lemons), and Bessara (creamy, light fava bean hummus drizzled with extra virgin olive oil). Our can't-stop-dipping-it favourite was the Gar'a M'asla, a smooth roasted butternut pumpkin puree with orange.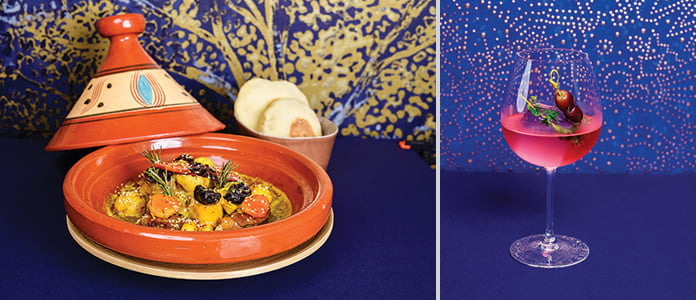 The nibbles continue with wild caught Atlantic sardines in a lightly fried filo triangle, served with Muhammara sauce, but the bar was raised higher with the Spinach and artichoke pastillas. This Moroccan savoury pastry pie looked innocent from its filo-pastry exterior, but inside packed sweet and savoury spinach, artichoke, whipped ricotta and chickpea. A wood fired oven-finish and sprinkle of powdered sugar and cinnamon made for a unique taste sensation and potential new go-to snack.
For meat-eaters, Kefta comes in the shape of biteable pieces of grilled black angus beef served with harissa sauce (a fiery chilli paste made with dried chilli peppers, garlic, cumin, coriander, caraway seeds). The Tangia Marrakchia, slow-cooked lamb shoulder with an almond pistachio crust and mint sauce, is melt-in-your-mouth delicious.
It was at this point we were thankful to be dining en masse as the dishes keep on coming, just in larger sizes! The authentic Couscous Royal is served with fluffy hand-rolled semolina cooked with lamb merguez, lamb chop, spring chicken, kefta, onion tfaya, and chickpea, complemented by a silky lamb and chicken bone broth.
Of course, the pressure was on when it came to tasting Tajine's namesake. We tried the Milk Fed Veal Tajine, aka a slow-cooked North African stew, which was a mouthwatering mix of veal shank osso buco with bone marrow, prunes, apricot, organic saffron, almonds, and hints of honey and sesame. Due to what must be some kind of stomach-stretching miracle we had space for dessert, a frozen sorbet spiked with almond syrup, orange blossom water and candied lemon.
Inspired by Morocco's rich tea-drinking culture, we ended on a sweet note with a punchy Mint Tea concocted from bunches of fresh mint which provided a fructose high all the way home.
Verdict: Tajine is about meeting, relaxing, sharing, and celebrating life over hearty Moroccan food. It's perfect for groups of friends or family who love digging in together – just don't blame us if you come to blows over who's hogging the dips!