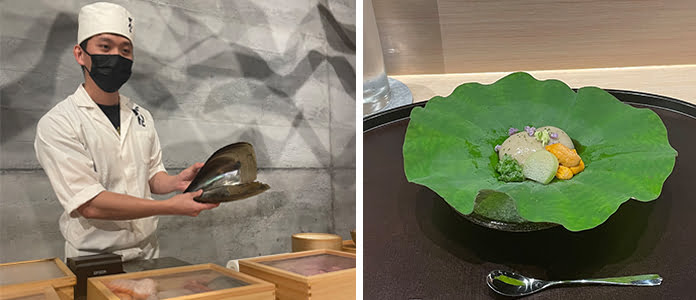 Ganko's journey began in 1963 when Atsushi Kojima founded a modest 15-square-metre shop in Juso, Osaka. Kojima-san affectionately chose the name "Ganko," meaning  "stubborn" and was his nickname during his student days. Ganko Sushi Singapore, inspired by this legacy, was brought to life under the visionary guidance of Master Consultant Chef Murasawa Hiroyoshi who also worked his culinary magic at the Hong Kong branch.
Prepare to embark on a culinary journey like no other as Ganko Sushi introduces its latest gastronomic masterpiece: a 15-course sushi omakase experience that celebrates the ever-changing seasons and elevates the palate with unparalleled flavours. At the heart of this culinary adventure is the unwavering commitment to top-notch seafood, a testament to Ganko's unyielding dedication to quality that has catapulted it to international acclaim. Leading the charge is Ganko's Japanese head chef, whose personal interactions with seasoned buyers at the bustling Osaka Fish Market ensure a continuous influx of fresh treasures flown in from Japan, not once, not twice, but thrice a week, ensuring an unrivaled level of freshness.
For a surprisingly accessible price of just $130 per person, indulge in the sheer opulence of premium seafood through Ganko Sushi's exquisite 15-course omakase extravaganza. What sets Ganko apart in the art of sushi creation is the exclusive use of Chidori Vinegar in their Niigata rice. This extraordinary vinegar, renowned for its mellow and mild profile, dispels the sharpness commonly associated with ordinary white vinegar, all thanks to a centuries-old brewing recipe that has stood the test of time.
Osaka Fish Market
In the dynamic culinary landscape of Singapore, Omakase menus are a prevalent delight but not always deliver an outstanding experience. However, we were fortunate to experience the unveiling of Ganko's Omakase 15-course menu (S$130/person) and Ganko, true to its essence, did not fail to impress. Ganko's Japanese head chef personally places orders with at the Osaka Fish Market ensuring consistent supply of fresh catches flown in from Japan thus ensuring a fantastic array of dishes.
Omakase means "I leave it up to you, and as such we entrusted the chef's expertise and creativity to take us in a culinary journey of his own creation. The rice itself was a revelation, with Ganko's use of premium Chidori Vinegar in their Niigata rice, a 200-year-old brewing recipe, infusing it with an unforgettable flavour that complemented the freshness of the fish impeccably.
Our culinary odyssey commenced with the delightful Teapot soup, setting the stage for an array of exquisite fish delicacies. The line-up included Shrimp (Botan Ebi), Sea Urchin, White Eel, Horse Mackerel, Seared Rockfish (a personal favorite), and, of course, the luxurious Otoro. The meal culminated with a delectable serving of succulent cantaloupe melon and white grapes.
VERDICT: Ganko's 15-course Omakase not only offers exceptional quality but also remains reasonably priced in the fiercely competitive Singapore dining scene. With its commitment to sourcing fresh catches flown in from Japan thrice a week, Ganko Sushi is a must-visit when sushi cravings strike, providing an unparalleled dining experience.
Ganko Sushi, 9 Penang Rd, #01-01, 238459