Alliance Counselling is a team of multilingual counsellors and psychologists based in Singapore since 2009. We provide professional support and guidance to men, women, couples, children, teenagers and families. Alliance also offers educational institutions partnering, clinical supervision, corporate workshops and psychological assessments in a safe and confidential environment. We speak English, French, Spanish, Portuguese, Mandarin and Cantonese.
EMDR THERAPY is an internationally respected form of treatment that resolves faulty beliefs which come from traumatic incidents. Beliefs like "I'm not good enough", "I'll fail", "I need to be perfect" or "I'm powerless" can be processed away in just a few sessions.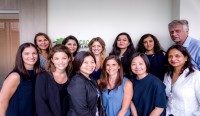 15 Scotts Road, #09-04, Singapore 228218
We provide counselling & psychotherapy support to children, adolescents, couples and families. We also offer a wide range of psychometric and personality assessments for both children and adults.
Our team is highly qualified, experienced and multicultural, including clinical psychologists, educational psychologists, counsellors and social workers.
We speak English, French, German, Dutch, Bahasa, Hindi and Mandarin.