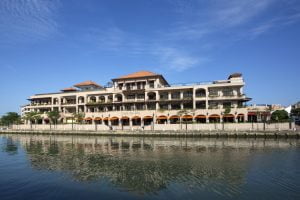 Casa del Rio (Spanish for 'Home by the River') is a mansion of opulence, rising majestically from the riverbank and located minutes away from Jonker Street. Casa del Rio is part of The Boutique Collection by HPL Hotels & Resorts. Its architecture pays tribute to many cultures that have influenced Melaka, including Portuguese, Arabic, Dutch and Straits Chinese.
The warm colors of magenta, yellow and ochre over terra cotta blend with wrought iron railings and ornamental lighting to provide a warm touch of the Mediterranean. All 66 rooms and suites at Casa del Rio are beautifully decorated and designed Mediterranean style with Peranakan (Straits Chinese) touches.
Offer valid till 31 October 2020.
Enjoy an additional 10% discount on Bed and Breakfast offers, Amor el Rio Package, 3D2N Heritage Walk Package or Family Package.
Promotion Code "ANZASG"