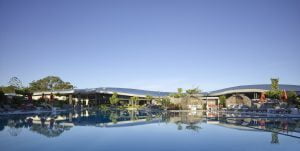 Byron Bay's only absolute beachfront resort, 193 private villas dotted throughout the resorts 50 acres overlooking ocean, forest, lake or pond.
An architectural masterpiece, the central pavilion is shaped to reflect the sand dunes along the resort's two kilometres of beach frontage. The pavilion is a tribute to landscape and is home to the restaurant and bar with views across the communal sunken fire pit, lagoon pool and beyond to the sand dunes.
Other resort features include an adults exclusive pool, a spa, poolside cafes, beach lounge, rainforest walks, gym, tennis courts and horse stables.
Bookings to be made directly with hotel.
Offer valid from 1 January to 31 December 2020.
10% Discount on website accommodation when booking a minimum 2 nights stay.