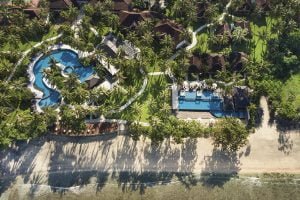 A tranquil resort nestled on a pristine beach in Mangsit village on the island's west coast, amidst abundant greenery between lush tropical mountains. The gardens are spread over 15 hectares and contain palm trees and colorful flowers attracting butterflies. Located within 5 minutes of Central Senggigi and nearby to shopping, dining and night life areas.
Offering spacious guest rooms, beach bungalows and 2 bedroom family apartments, these rooms are all equipped with IDD lines, AC, tea and coffee making facilities, safe deposit, hair dryer, cable TV and mini bar. All décor throughout the resort reflects the local crafts of Lombok combined with a warm and inviting residential feel.
Also available is an outdoor function area for up to 1500 people, floodlit tennis court, health club, spa and massage, beauty salon, children's club and shopping gallery, sport activities, beach volleyball, billiard, mountain biking, water sport and diving sports.
2 night minimum stay required.
Bookings to be made directly with hotel.
Offer valid till 31 March 2021.
A discount of 10% on website accommodation prices.