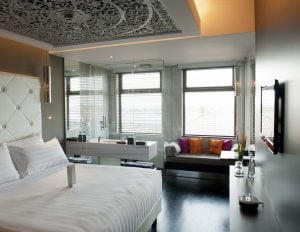 Welcome to the L Hotel Seminyak
You will discover she is more than just a boutique hotel in Bali, she is in fact a Quintessential Brand amongst Bali's top luxury hotels. The moment you arrive, you'll be greeted by your warm friendly Balinese butler, the hallmark of the brand. Our bespoke personalised butler service seeks to pamper you in every way you wish. Highly personalized and dedicated.
Exquisitely designed 5-star suites, all 30 rooms come with plush interiors, cradle you in chic comfort whilst being charmed by the stylish modern décor. Located in the trendy enclave of Seminyak, Bali's foremost popular precinct, L Hotel is the gleaming new gem of quintessential hospitality, and is only minutes away from the Petitenget beach, Potato Head, Ku de ta and rows of shops and eateries.
2 night minimum stay required.
Booking to be made directly with hotel.
Offer valid till 31 December 2020.
Discount of 10% on website accommodation prices.
8L Jalan Petitenget, Kecamatan Kuta Utara, Bali 80361