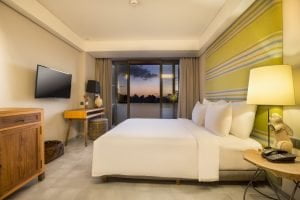 Tijili Hotel Seminyak is a relaxed, bohemian style hotel, bearing tribute to all things creative. Filled with original design elements and artwork, Tijili is a pleasure to experience with every corner opening up to new plays of texture, color and light.
The hotel offers a wide assortment of rooms, including pool-side rooms with easy access for a swim, facade rooms close to street-side activities, large corner rooms and spacious 52-square-meter Junior Suites. All rooms come with complimentary Wi-Fi access, cable television and other standard amenities for your comfort.
Bookings to be made directly with hotel.
Offer valid from 1 January to 31 December 2020.
10% Discount on website accommodation prices when booking a minimum 2 night stay.