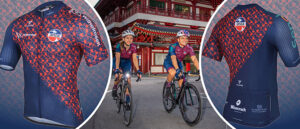 ANZA Cycling is proud to sport kit by Cuore.
Having tried many different kit manufacturers over the last 20 years, we were delighted when everything came seamlessly together with CuoreofSwitzerland – from the ultra-comfortable fabric and fit, to the exacting attention-to-detail with our (sometimes rather fanciful) design briefs, Cuore kit continues to earn rave reviews from our members.
Please note, the Club does not hold any stock as Cuore 'Teamshop' opens 3-4 times per year for online ordering.
Teamshop will next open in November/December 2021. Please check the ANZA Cycling Facebook page for details at that time.
Please search the ANZA Cycling Facebook Group for more info regarding the next order window.
Items available include our current season, 'Cycling Singapore since 2001' Club kit in the full range from jerseys and bib-shorts to socks, caps, arm covers, après-bike casuals and even cold climate gear!
The 20th Anniversary design features an artful 'magic eye' amalgamation of the three images that have defined the jersey over the last few years, the Kiwi, Kangaroo and Merlion, to provide a stylish, club-focused backdrop upon which to highlight our sponsor's logos. Stripping away the jersey, members are privy to a 'hidden' brief history of the origins of the Club on the back panel of the bib shorts and a reminder of the Code of Conduct which lies tucked away inside the comms pocket of the jersey.
Kit is made to order through Cuore online Teamshop, which is open for a 10 day window every 3-4 months. Orders are collated and put into production once Teamshop closes, to be dispatched to individual members for delivery around 8 weeks later.
Please note:
Prices are in Hong Kong dollars (HKD).
Kit purchases are the reserve of current financial ANZA Cycling Club Members*.
Check the ANZA Cycling Facebook Group for the Teamshop password.
Sizing
Please use the sizing chart on the Cuore Teamshop website for fit guidance.
Jerseys and bibs in a few sizes are available to try at the ANZA office. Please call before visiting to check that someone will be available to assist:
261a Beach Road, Singapore 199541. Telephone 6291 6301
Hours: Monday-Friday, 9am-5pm
* Orders are verified by Membership Services before production. If you're not a Club Member but fancy sporting our kit, the solution is obvious – join up today!
To do so, first Join ANZA, then join ANZA Cycling.