ANZA Soccer Sessions COVID-19 Protocols
(updated 22 June 2021)

We rely on the ANZA Soccer community to comply with these requirements in good faith, for the protection of all participants and the continuation of our ANZA Soccer programmes. Please read our own protocols here, and the government guidelines and requirements further down.
Most Important Government Requirements
While the protocols below are extensive, the most important rules are summarized here. Parents should go over these with their children. Not only do these requirements promote health and hygiene, but government inspectors and The Cage's managers routinely observe our operations, and if they see ANZA Soccer participants disregarding the rules, we could face serious consequences. 
Everyone participating must stay 3 meters away from others in general, and 1 meter away from group-mates once placed in their 5-person group, except during play when transient contact closer than 1 meter is allowed.

These safe-distancing rules apply everywhere during the sessions, including in the carpark and while walking to and from the pitches. All ANZA parents should be ready to give children reminders if they see them walking/standing/sitting closer than 3 meters in any of these areas.

Everyone staying at the pitches must sign in and out, using TraceTogether-only Safe Entry as the government and Cage mandate. Adults and children should all use their own tokens or phones with TTOS app.

Please note that check-in procedures have changed, and parents may no longer check in their children using the parent's phone/app

, as all children aged 7 and older are now expected to have their own token (or phone with TTOS app) that stays with them throughout the session. There are no exceptions to this rule. Children younger than 7 who do not have a token should bring proof of their age (NRIC/FIN card or copy).

Everyone must wear face masks when not playing, and no one should touch others or share water bottles or snacks.

Everyone must follow the designated entry and exit routes to the pitches and follow coaches' and volunteers' instructions on when/how to get into small groups and when to leave the pitch.

It is vital that there be NO mixing between players who are in different groups of 4 or 5 while in the parking lot, on the access routes, or on the pitches.

All efforts will be made to remove possibilities for small groups to interact, in order to maintain the social distancing rules.

Each zone on the full-size pitches (1 zone equals 1/2 of a full-size pitch unless advised otherwise for a specific session) may have up to 30 persons max present during a session, grouped as follows:

Groups of max 4 players and 1 coach (in blue top); in this case the coach may intermingle with the 4 players, as together they add up to the max allowed per group (5 persons); however, the coach in this case may not intermingle with other players throughout the session.

Groups of max 5 players, with 1 coach (in blue top) per 2 groups and this coach staying 3 meters distant from both player group at all times (i.e., "sideline coaching" only).

1 or more safety management officers (SMOs), including an AGC (in red top) and/or safety management officers (SMOs) (in yellow tops). AGCs/SMOs should stay 3 meters from everyone on the pitch. 

other assistants (groundsmen, medics) if present during the session as needed while keeping within the 30-person per zone limit.

NO SPECTATORS ALLOWED

To summarize, the allocation of persons per zone (½ pitch) must follow these two important rules:

The total of 30 persons per zone is not breached

Each group playing together may have max 5 persons, including any coach that is closer than 3 meters during the session.

Each undercover pitch may have up to 10 participants each: 

8 total players, in 2 separated groups of 5

Each group of 5 includes 4 players and 1 coach

Coaches should stay 1 meter from players at all times, and the 2 groups must stay 3 meters apart.

1 other volunteer (AGC or SMO) total across the 3 undercover pitches (whether ANZA has one or more undercover pitches). This volunteer should stay 3 meters from everyone on the pitch. 

Under amended government guidelines introduced from 8 May, 2021, staggered group start/finish times will have to be observed when having 2 zones on 1 11-aside pitch. Therefore the following schedules will be implemented:
WEEKDAY SCHEDULE (resuming 21 June, 2021)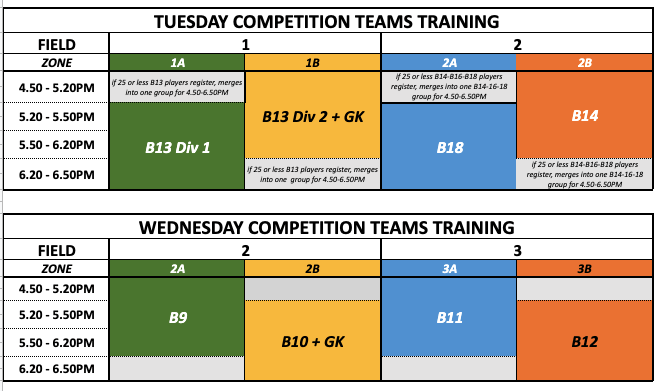 Before Your Training Session
Players age 7 and older should bring: handphone with TraceTogether-only Safe Entry (TTOS) app OR TraceTogether token. Players younger than age 7 should bring a proof of age (NRIC/FIN card or copy). Please see point 3 above for specifics—parents may no longer check children in with the parent's handphone.

All players should wear or bring a mask, water bottle, shinguards, sunscreen, hand sanitiser. We recommend a bag with a zippered compartment to keep the phone/token/proof of age safe during practice. Volunteers will keep an eye on the bags.

Players should arrive 10 minutes before their start time.

With very limited exceptions, spectators will not be allowed at the training sessions. For example, children with serious medical conditions may have one parent stay; please contact your AGC/CTC beforehand, to be counted in the adults-per-pitch limit. 

Please ensure that the age group's AGC, CTC, or Safety Manager has up-to-date contact information for you, in case they need to reach you during a training session. 

Players must be ready to play (correct clothes/shoes on, shinguards on, sunscreen applied) before checking in. Players needing to change/prepare should do so somewhere before the check-in area and 3 meters from others.

Entering and Exiting the Pitches

Pitch map with entry/exit routes is
HERE
.
ANZA Soccer and The Cage Sports Park have determined appropriate safe entry and exit routes for each pitch. Everyone must follow the routes carefully and maintain social distance from others while walking. 
Players must go directly to this check-in area, where The Cage staff will take temperatures and help them to check in to the facility. If there is a line to be screened, those waiting must maintain a 3-meter distance from each other (or between carpool groups) at all times.

Any parents who are volunteering or observing (medical necessity only) must also complete check-in and temperature screening.

Attendees will not be allowed entry if they are not within the healthy-temperature range. 

Parents may walk children to the check-in area to ensure safe check-in. They should then leave The Cage—no waiting around the pitch area please! Note that it is an offense in Singapore to sit in a parked car with the motor idling. 

AGCs/CTCs/Safety Managers will inform participants of how and when to join their session groups. Once with their small groups, players should stay 1 meter apart from their groupmates, while maintaining 3 meters from those of other groups.

Participants should leave the pitches by the approved routes promptly when their sessions finish. Walkers should maintain 1 meter distance from groupmates and 3 meters distance from others at all times. Coaches and/or volunteers should walk with children to maintain these rules. No one should linger unnecessarily on the walk out or in the carpark. All ANZA parents should be ready to give children reminders if they see them walking, standing, or sitting closer than 3 meters in these areas.

During the Training Sessions
Non-coaching volunteers (in red AGC shirts or yellow shirts/vests) should stay in areas away from the players and maintain a 3-meter distance between themselves at all times.

If anyone displays symptoms of cold or flu during practice, they will be sent home.

Goalies in designated goalie-training groups/sessions will be coached by a dedicated professional coach. They will be instructed in proper safe-distancing depending on whether they will move into another group later in the session. 

Hygiene: No sharing of water bottles or snacks, no unnecessary contact (handshakes, hugs, high-fives, fist-bumps, etc.), and avoid handling the ball or equipment (except for goalies with gloves on). Handwashing and hand-sanitising is encouraged.

Seating: Leave at least TWO seats between yourself and the next seated person. Do not sit in areas roped off by The Cage, as these are intended to maintain distance between groups.

Water and belongings should be kept with each group on the pitch, to avoid groups mingling during breaks. 

At the end of the session, small groups will be dismissed to the exit route directly from their areas, to avoid mingling with incoming pitch users or other player groups. Volunteers and spectators should walk out with the players to maintain order and spacing.
Parent Volunteers Needed! 
For this programme to adhere to the necessary guidelines, we will need a number of volunteers per age group, per session. All volunteers should arrive 15-20 minutes before their sessions to be ready for incoming players.
AGC, CTC, or Safety Manager:

For each age group/session, an AGC/CTC or designated Safety Manager will oversee procedures and compliance, communicate with volunteers and parents, and respond to questions.

SMOs

: 

Temperature-screener and check-in manager

: The Cage will be handling these tasks, but in cases where they notify ANZA Soccer that they will be unable to do so, a volunteer will complete these tasks. These volunteers will then stay at the session to assist with any matters that arise and help maintain social distancing at all times.

Greeter/ foot-traffic director

: Another one or two volunteers (per session, not age group) will be needed to help direct foot traffic at the start of the session, so that entry/exit routes are followed and shortcuts discouraged. 

Parent coaches

: Parent coaches will manage small groups during Saturday sessions and some training sessions. AGCs/CTCs will coordinate parent coaching needs. 

Combining volunteers: When a number of age groups will be using the same pitch at the same time, temperature screening and traffic directing roles may be combined resulting in a lower overall requirement of volunteers. Older age groups may also need fewer volunteers. 
Not enough volunteers: In case of insufficient volunteers for any session, the session will be cancelled. Therefore, if you are able to help, please let your AGC/CTC know. We remind parents that by signing up for ANZA Soccer you have agreed to volunteer your time to help the programme run.
Government Guidelines and Requirements and ANZA Soccer's Responsibilities
The government has set out very specific guidelines for community sports activities. As per the COVID-19 Safety Management Plan of The Cage, Turf City, the Safety Related Responsibilities for organised bookings by ANZA Soccer are delegated to ANZA Soccer and we rely on our parents, players, coaches and volunteers to comply fully with this protocol.
Government Oversight and Inspections
The government may inspect our operations at any time. If a session is found to be in violation of the guidelines, ANZA Soccer and/or The Cage may be warned, sanctioned, or shut down. Therefore, we must follow the rules to the letter, and anyone willfully violating the guidelines will be dismissed from the session and may be disallowed from future sessions. Parents, please remind your children about the rules and expectations before each training session, and set a good example by complying with the rules yourselves, as well. 
If you see any non-members monitoring our sessions, be friendly and emphasise what a great effort it takes by many parents to create as safe an environment as possible for our children to enjoy their favourite sport again. If anyone wishes to speak with the person in charge, refer them to the AGC/CTC/Safety Manager overseeing your pitch or to Coach Yakob please.
No Photos/Videos on Social Media Please
Please refrain from posting any photos or videos from ANZA Soccer sessions on social media at this time, as we have heard of cases of overzealous netizens who scout for perceived violations and report them to the authorities.