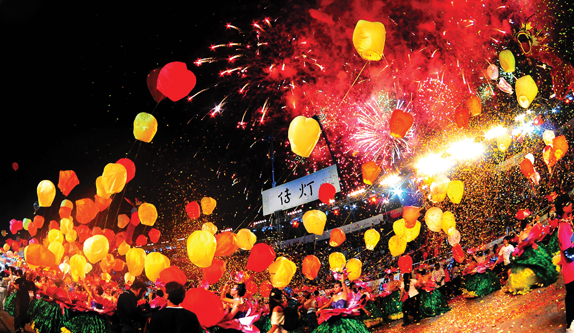 Photo courtesy of the Chingay Parade.
WHEN:
Chinese New Year preparations begin early in the year, but official public holidays for the event are usually over two days. This year, the official public holidays fall on Thursday 19 February (Chinese Lunar New Year's Day) and Friday 20 February. (See page 57 for more on regional celebrations for Chinese New Year).
WHO:
The Lunar New Year is celebrated in China and by the Chinese diaspora all over the world.
WHAT:
One of the highlights of Singapore's cultural calendar, Chinese New Year sees Chinatown and other parts of Singapore come alive. A number of customs are observed during this time, such as the wearing of new clothes to signify the New Year; cleaning the home to 'sweep away' any bad luck and to make way for good luck; bringing family together; and giving hongbao (red packets). Anyone who has been in Singapore for Chinese New Year will be familiar with the music, sights and festive food smells all over the city. Lights and entertainment are plentiful in Chinatown, including fireworks and lion dances.
The first day of Chinese New Year is the most important, revolving around welcoming deities and to honour one's elders by visiting them on this day. The second day of celebrations is also dedicated to family visits, while the third day is considered an unlucky day to visit family or to have visitors.
Many subsequent days of Chinese New Year are celebrated in various ways, with Renri on the seventh day and the Lantern Festival celebrated on the 15th day (not to be confused with the Mid-Autumn lantern festival later in the year).
The festivities carry on after Chinese New Year, culminating in the annual Chingay Parade, which this year will be held on 27–28 February.