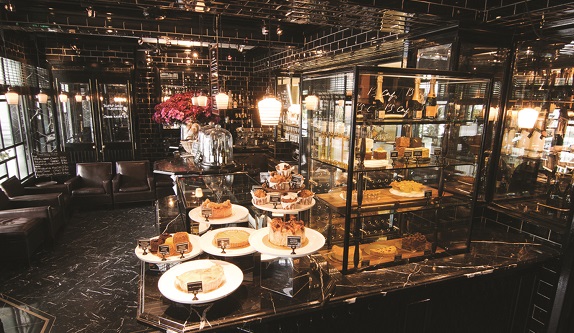 Perched at the top of Send Poh Road in the ever-growing hipster vibe of Tiong Bahru, PS Cafe Petit has the appeal of its established upper-class PS Cafe kin in Ann Siang Hill Park and Paragon, encouraging diners to take their finely made meals home.
All orders are served in nice black paper boxes, but there's no rush to leave during this visit. The look outside shouts a dining experience, but the small gold signs on each of the black wood tables inside remind diners that seating is first come, first served.
The reflections of light bouncing from the gorgeous set of black tiles on the walls and roof of the restaurant gave brightness to the room, adorned with champagne bottles on shelves and wine bottles in cupboards. Every bottle had an information card and a price tag attached to it, offering diners the chance to browse as they waited. The fashion and design magazines left on hooks were those you'd find at a Melbourne café.
The first four pizzas on offer were vegetarian, and while there's an alluring set of tempting meat-focused pizzas – like the fennel sausage ($27) and Hungarian winter salami pizza ($28) – the Green Goddess ($25) was the winner. Broccoli, peas, French beans, spinach, green capsicum and crisp sugar snaps, with a great smoky pesto base and topped with shaved mozzarella and chevre.
The waft of truffle oil in the air became a sign that the truffle shoestring fries ($12) were next on the menu to be chosen. You can't escape the smell, even though the garlic flatbread and mushroom cheese are the only other items with truffle oil. Slightly salted, the fries had enough crunch on the ends for satisfaction, with the shavings of grated parmesan and parsley to equally distribute on your fork – though in takeaway boxes, there's pressure to stick to knives and forks when eating, even with fries.
To counter the guilt of fries, the 'Petit' House Salad ($10) came with pomegranate gems, sliced red cabbage, cucumber pieces, cherry tomatoes, lentil sprouts and salad leaves. The container of prune, sherry and balsamic dressing is generous, though it's easy to forget taking the rest home is allowed and intended.
Aside from the wine list on the walls, the beer selection offers more than your lagers and pilsners, including the hoppy Hitachino Dai Dai IPA beer ($14), with hints of orange on the palette.
You'll have friendly service, though with electronic buzzers to let you know when food's ready, there's not much interaction past the food and drink orders.
PS Café Petit Tiong Bahru
78 Guan Chuan Street
9226 7088
pscafe.com