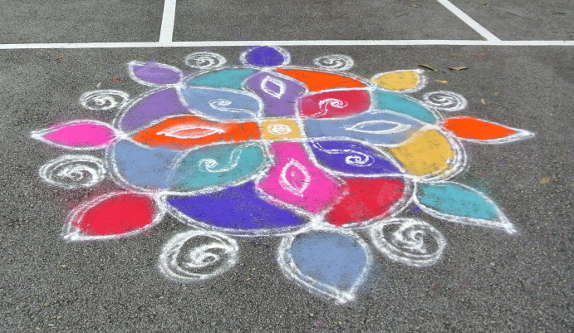 Rangoli is a type of art originating from Nepal, India and Bangladesh. Rangoli is created using coloured sand, rice, flour and even flower petals to make beautiful patterns on flooring typically around the time of Deepavali.
As global citizens, the students of Melbourne Specialist International School recently extended their learning through lessons about other cultures and countries. With Deepavali approaching on the calendar, learning and practising Rangoli was a great way for the children to increase their global knowledge.
Vijaya Mohan, renowned Rangoli artist and Art Therapist, came to MSIS to conduct a workshop for the students and teachers. Vijaya started learning the art of Rangoli at the age of five and has been working with special needs children for the past 15 years.
The students dressed in Deepavali clothes, enjoyed Deepavali music and dancing, took part in a fashion parade and sampled traditional butter rice on banana leaf with poppadum.
Learning continued when Vijaya showed the children how to create beautiful Rangoli artworks with coloured sand on the school playground. The students embraced Vijaya's Motto: "Use your fingers as your paint brushes and the floor as your canvas and enter the Wonderful World of Rangoli". The students decorated the playground with their own Rangoli masterpieces.
Learning about diverse cultures with special needs children supports inclusiveness. Individual students gain a better understanding of others in the world, which helps the individual to feel more confident and thus experience less personal stress. MSIS Staff also got involved in the learning of Rangoli which helped them to develop their own cultural awareness.
Melbourne Specialist International School (MSIS) is a special needs school located in Loewen Road suitable for students aged 3-21 years. The curriculum at MSIS combines education, therapy and well-being for each pupil. Each individual child's needs are taken into consideration with an education program tailored for them.
Melbourne Specialist International School
http://msis.edu.sg/