The Perth actor gives us a heads up on what to expect at his upcoming show – part of the Fresh Fringe series at M1 Singapore Fringe Festival.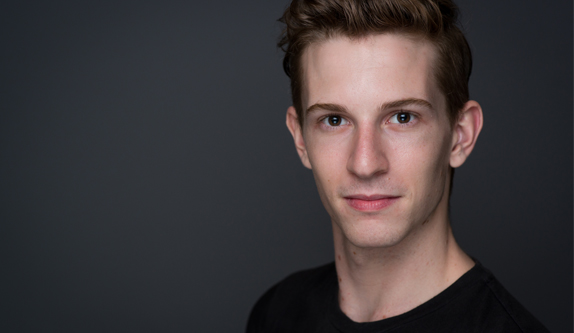 What brought you from studying at UWA in Perth to join LASALLE in Singapore?
It had been my goal to go to drama school, so though I was enjoying my studies at UWA and quite passionate about Classics, I felt like I was marking time there a little bit. Then one of my close friends moved up to Singapore with her parents, and I went up to visit, and we looked at the LASALLE campus together.
I auditioned early in the next year, and particularly after speaking to Edith Podesta, the Programme Leader at the time, I felt like the nature of the training at LASALLE was unique and rigorous, and would help to open up my world and my perspective in a way that might not have happened if I had stayed in Australia.
Had you been to Singapore before coming over to study?
Besides the short trips with my friend in the six months or so before starting at LASALLE, I had been to Singapore with my family in (I think) December 2005. Honestly I remember very little of that trip. I have vague recollections of Orchard Road and Sentosa Island, which by mid-2011 were probably quite different.
You've written Chrysanthemum Gate yourself. Could you give a little explanation of what it's all about?
The show is about shadows of colonialism, games of appropriation, sexual racism, an apparent clash of 'empires', and playing dress-up. It's about [co-star] Chanel and I tearing ourselves down a peg or two. The main thrust of the narrative is of a man and a woman meeting in a hotel room in Singapore to have sex. From there, it sort of implodes.
What brought you to write a piece about contemporary rituals of Singapore's sexuality, power and race?
Chanel and I wanted to make a work together, and there was a previous play we had been working on with a few other people, called The Other Woman, that dealt a lot with sexual power and the value assigned to race. That work had sort of fallen through – we had decided that it wasn't ready for production and had all moved on to other projects – but we were still interested in exploring some of those themes. We both felt, having had different experiences of it, that mechanisms of race and racism are highly visible when it comes to sex and dating.
This is very much the case in my experience of Singapore, though it is very apparent in Australia, and all around the world. People are not ashamed to be blatantly racist within the arena of sex and dating. So we wanted to put it all on the surface – use our two bodies and all of the associations around our two bodies – and make a theatrical game out of it.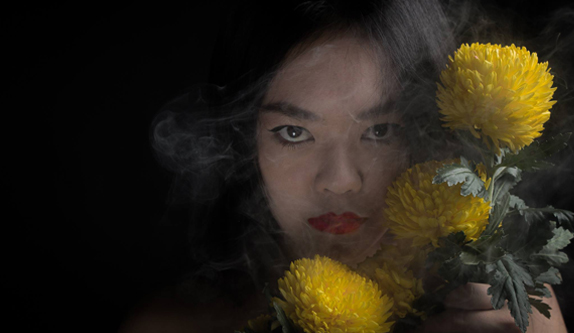 Colleague and co-star Chanel Ariel Chan. Photo credit: Jon Cancio
You've teamed up with an old classmate, Chanel Ariel Chan for this show. What's it been like to put this performance together?
Having worked together for a number of years, Chanel and I have a common vocabulary when it comes to performance and theatre-making, and a great deal of trust and shared experience. After graduation in April 2014 we continued to work together and after I relocated back to Perth towards the end of 2015 we knew that we still wanted to collaborate. So we started developing this work, her in Singapore and myself in Perth, for Perth Fringe World Festival 2016.
Because of our friendship and working relationship, we were able to stage the show in a short and intense span of rehearsal. And looking at the work afresh for M1 Fringe, after such a long break away from it, was really a joy. I think we can play to one another's strengths quite well, and we can critique each other without egos getting in the way, and most importantly, we don't sacrifice the element of fun. Because of course theatre collaborations can be stressful, and rigorous, and challenging, but if they're not also fun, they're probably not worth it.
What are you beginning to favour when it comes to creating work for the stage: direction, writing, or performing?
All and none of the above. I think it is possible to do all of them, as many theatre artists do, and considering the economic realities of making theatre, limiting oneself at an early-career stage will not help make a living. All of them offer different challenges and drive me insane in different ways, so variation is also probably a good thing.
What do you think of the Singaporean arts scene compared to Perth?
The Singaporean scene is so racially and linguistically diverse, which is very exciting as an audience member, and I would like to see more work that crosses linguistic boundaries, like a lot of The Necessary Stage's work or Wild Rice's recent Hotel. But that is something I miss in Perth, which also has a very diverse population, but not necessarily a diversity that is always reflected in its theatre scene. The other thing, I guess, the elephant in the room in Singapore, is the spectre of approval versus censorship that hangs above all theatre work, which we do not – apparently or visibly – have in Australia.
Funnily enough, I would suggest that this threat, this resistance, actually inspires much more political and provocative work from Singaporean artists than I generally see from Perth theatre-makers (with a few exceptions, as always). I think it would be much rarer to see a work in Perth that is political in the way that so many Singaporean theatre-makers are driven to be. That is probably a generalisation. Otherwise, I would say that both scenes are filled with practitioners and creators that I admire and love and want to work with. And I hope to connect a few of those people and find more opportunities for collaboration.
What do you enjoy the most about the Singapore Fringe Festival?
This year we have seen a lot of push-back against this particular theme, and the programming of the festival, and I will refrain from speaking about whatever people might be taking issue with the programme, but I will say that to me, it proves just how vital and important this kind of work is. Why are we afraid of our own bodies, of the differences between our bodies, of being vulnerable and 'naked'? I am excited to be amongst bold work that might confront me with my fears or vulnerabilities, or with perspectives or lives totally different from my own.
I can't praise Artistic Director Sean Tobin enough, I think every year his programming is excellent in its mixture of local and international work, and this year is no exception. So, I enjoy that the festival is dynamic and vital enough to provoke a strong response, and only wish that some people could allow that provocation to come from an open-minded, open-hearted engagement with the work, instead of their fear of what it might be.
What do you hope audiences will take away from seeing Chrysanthemum Gate?
Whatever they like; entertainment, a new perspective, offence, an interesting dream that night. If all they take away is the programme leaflet, that's okay too. I try not to be too prescriptive about that kind of thing. I'd hope they'd want to have a conversation afterwards.
Chrysanthemum Gate is part of the Fresh Fringe show playing at M1 Singapore Fringe Festival 2017 on 14 January.