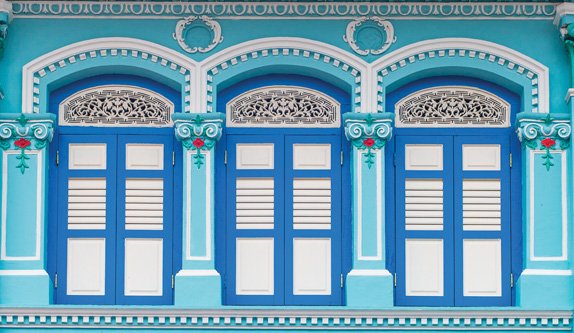 Called to the Barre
420 Joo Chiat Road, 427641
calledtothebarre.com
Kick start your morning here with a plie or two. Opt for a Barre Basics class for total beginners which will have you working on isometric exercises on the barre and mat; or go for the aptly named Barre Burn which is 60 mins of fat-burning intensity. Either class will leave you feeling strong and empowered. Tutu optional.
Sinpopo
458 Joo Chiat Road, 427671
sinpopo.com
Putting the kopi-K back into Katong, pull up a chair here for coffee catch-ups or plug in to the Wifi for an office away from the office. The staff are charming and chatty and before you know it they'll have whipped up a plate of moreish crab wantons for you to nibble on.
Rabbit Carrot Gun
47-49 East Coast Road, 428768
rabbit-carrot-gun.com
The brunch menu which runs from 9 'til 3 covers all tastes such as the BAS sandwich (a stilton take on the classic Aussie BLAT), and the gamekeeper's shooting breakfast. There's a sculpture of a bulldog in the bar and a huge canvas of Bowie; plus also lots of little English dishes to stave off the hunger and the homesickness for the Home Counties. Our Editor settled right in.
Sugar(ed)
79 East Coast Road, 428784
sugared.com
Keep it sweet at this totally organic body-sugaring studio. This all-natural hair removal will have you spic and span in next-to-no time and all done in a serene space that smells of mint and cucumber. They've also just introduced something called a v-acial, pressing on us the importance of skincare; everywhere.
The AC
420 Joo Chiat Road, 427641
@theattabycollective
A carefully curated home for independent labels, go armed with your credit card as you're going to want to shop, shop, shop. Personal favourites were the Spanish espadrilles in a geranium red, one of the striped Tara's World ponchos and a bright 'n' breezy beach bag from Elsye & I.
Cat Socrates
448 Joo Chiat Road, 427661
catsocrates.com
This shop is perfect for last-minute presents as it's full to the brim with books and notelets, cards and locally designed jewellery. The other huge draw is a little stroke and a purr from Zoo-Zoo, the resident Cat Shopkeeper who likes to follow you around the store before rolling over to show off his belly.
The Green Hydrant
32 Joo Chiat Place, 427756
greenhydrant.sg
Wander into this little juice bar on Joo Chiat Place and get talking. It's not just a quick hydration stop off; there's much more science behind it. The team here will tailor a juice for you – whether you need an immunity boost or a combat for too many late nights. Tastes great, looks great; great for you.
Boo-Ti
84 Joo Chiat Place, 427801
boo-tiparlour.com
A recommendation from a Joo Chiat local, this little nail bar is a cool respite on a hot day. Heavy draped curtains, aubergine-dark walls and super-luxe products make this a little different from your usual nail bar. Nip in for a quick manicure at only $18 – they have a deal on for mums and their kids at the moment – or relax with a facial from $68.
Got an afternoon free too? Open the November issue of the magazine and flick to page 20 for a whole lot more to see and do in Joo Chiat. Or look at the online version of the ANZA Magazine, here.