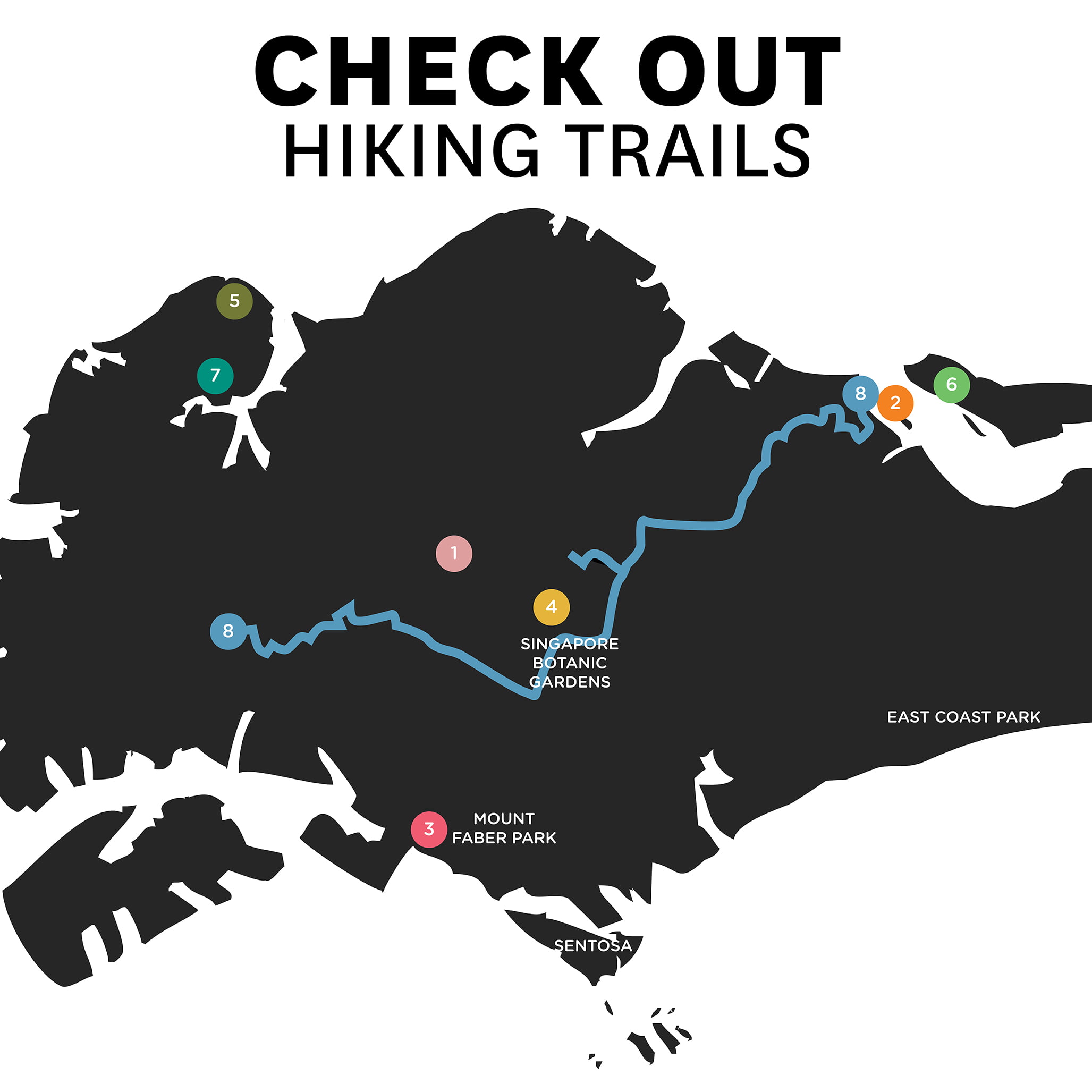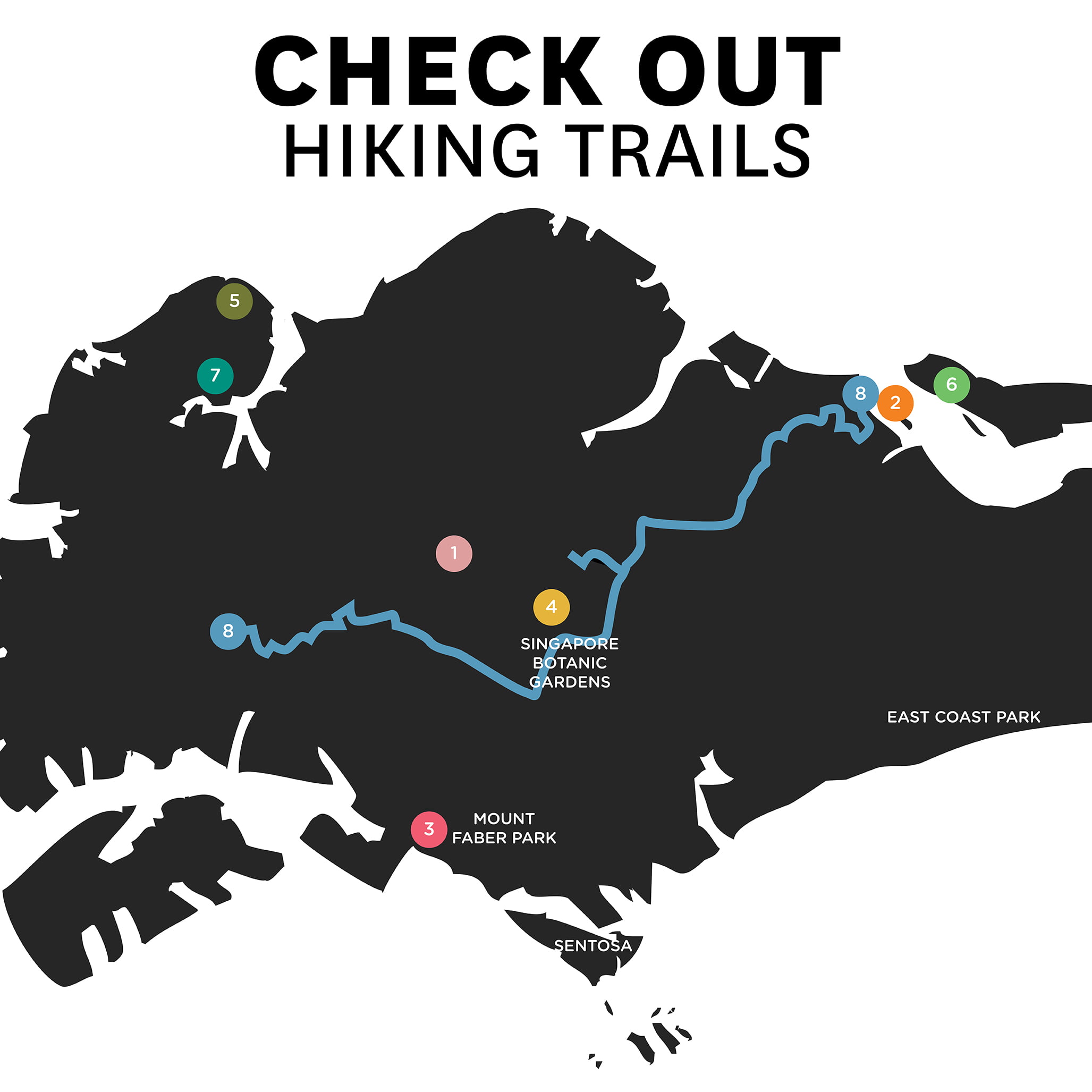 1. Chestnut Nature Park
Chestnut Ave, 679514
Split into North and South regions, Chestnut Nature Park is Singapore's largest nature park, spanning 81 hectares. Hiking trails are clearly marked, with a 2.1km track in the South and 3.5km in the North. Wander through majestic ficus trees, durian trees and ferns. Get a glimpse into the past, with remnants of old kampong dwellings. Look out for endangered bird species and reptiles. There's also an 8.2km mountain bike track, if you prefer to whizz through the landscape on two wheels.
2. Coney Island
Beside Punggol Promenade Nature Walk
Coney Island, or Pulau Serangoon, is a 133-hectare island, located off the northeastern coast of Singapore. The island has lots of signposted walking trails and a newly built boardwalk. Explore a wide variety of habitats, including coastal forests, grasslands, mangroves, and casuarina woodlands. There are also 80 species of birds, pretty butterflies, and other wildlife.
3. Labrador Nature Reserve
Labrador Villa Rd, 119187
The Labrador Nature and Coastal Walk takes you through three main areas: Alexandra Garden Trail, Berlayer Creek and the Bukit Chermin Boardwalk. Birdlife is thriving in the reserve, which was also an important World War II site. Check out a machine gun post and artillery pieces or take a guided heritage tour. Tamarind Hill restaurant is set in a historic colonial bungalow within the reserve, offering the perfect hilltop escape to enjoy a cool drink or Thai-Burmese meal.
4. Bukit Brown Cemetery
A cemetery might seem an odd place to take a hike, but Bukit Brown is no ordinary burial ground. Located in a 200-hectare tropical forest bordering Lornie Road and parts of the Pan-Island Expressway, it was established as a public burial ground for the Chinese in 1922. The Wayfinder is a self-guided walking trail along 25 culturally significant tombs, all with a fascinating history. For more information go to singaporeheritage.org/bukitbrownwayfinder
5. Sungei Buloh Wetlands Reserve
301 Neo Tiew Cres, 718925
The Sungei Buloh Wetlands are a biodiversity wonder, with 202 hectares of mangrove swamps, mudflats, ponds and forests. Singapore's first ASEAN Heritage Park boasts a variety of hiking trails, up to 3km long. Discover 140 species of birds, and other native inhabitants like mudskippers, crabs, shellfish, water snakes, spiders, monitor lizards, and otters. Take a spot at observation hides or rent binoculars to bird-watch. Spot mudskippers, monkeys and climbing crabs on the mangrove boardwalks.
6. Pulau Ubin
Board a bumboat at Changi Point Ferry Terminal
This lush, granite island boasts abundant greenery and wildlife and is one of Singapore's last surviving 1960s style kampongs. At 1,020 hectares, there is no shortage of hiking trails, including the Tree Trail – which winds through old coconut and rubber plantations, as well as banyan, banana, cocoa, jackfruit, and durian trees. Ubin is also home to Chek Jawa Wetlands, one of Singapore's richest ecosystems – where you can get up close with mangroves and a coastal forest ecosystem. Need a heart starter? Hike 75m up Puaka Hill for a breathtaking panoramic view.
7. Kranji Marshes
11 Neo Tiew Lane 2, 718814
Home to 170 species of birds, 54 types of butterflies and 33 different kinds of dragonflies, this 57 hectare freshwater marshland is home to unique biodiversity. Take a short stroll in the 1km public area or book a 3km (two-hour) guided tour in the core conservation area, via NParks website. Look out for birds and reptiles, such as woodpeckers and monitor lizards.
8. Coast-to-Coast trail
Up for a challenge? The 36km Coast-to-Coast (C2C) Trail cuts across the island and links Coney Island in the northeast to Jurong Lake Gardens in the west. Walk through quarry lakes, rustic forests, and some of the best parks and nature reserves in Singapore, including Bukit Batok Nature Park, MacRitchie Reservoir, Bishan-Ang Mo Kio Park and the Botanic Gardens. You'll have to use roadside paths and park connectors to get there, it'll take at least seven hours, and you'll need plenty of water and snacks!
For information on all the walks mentioned, go to nparks.gov.sg