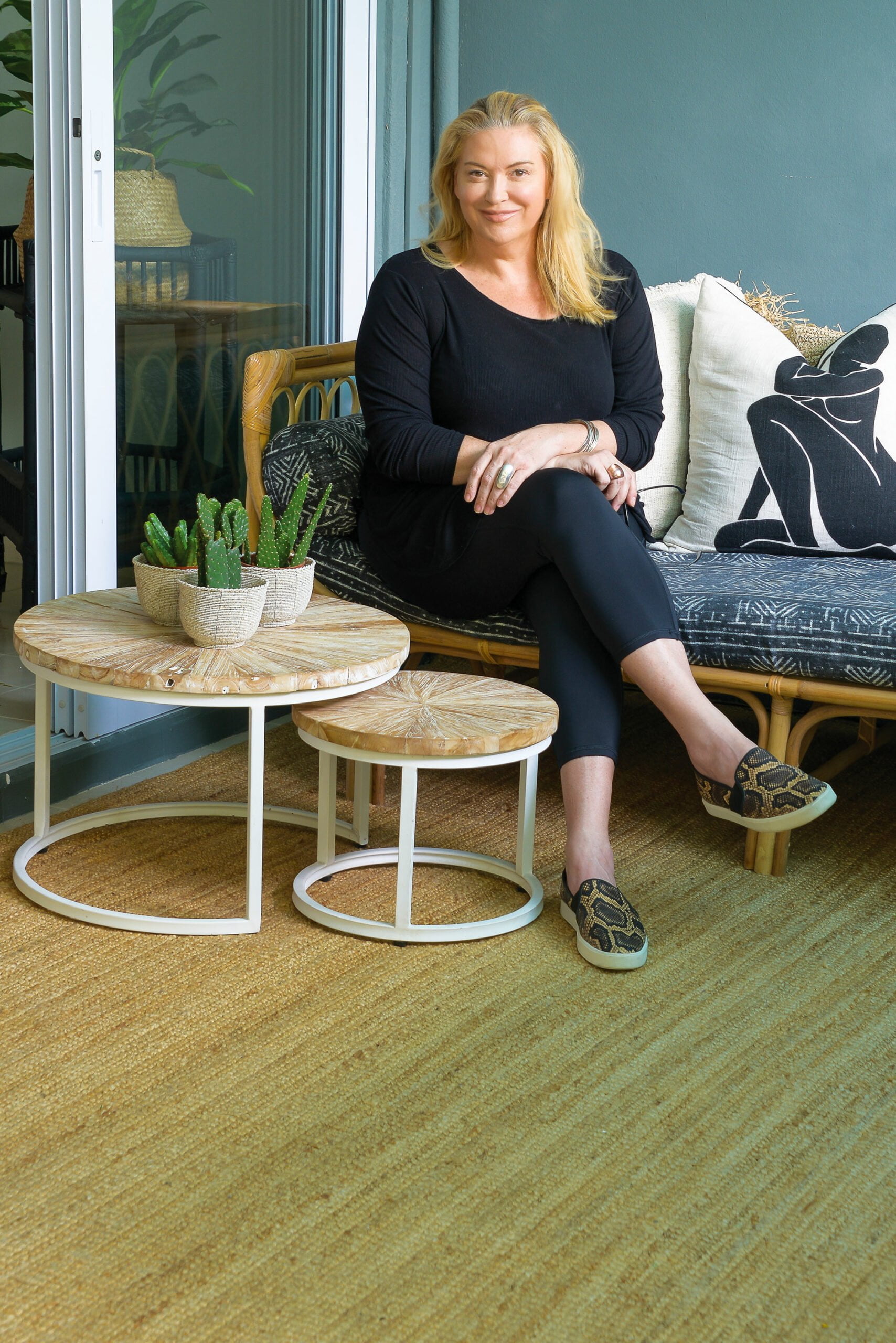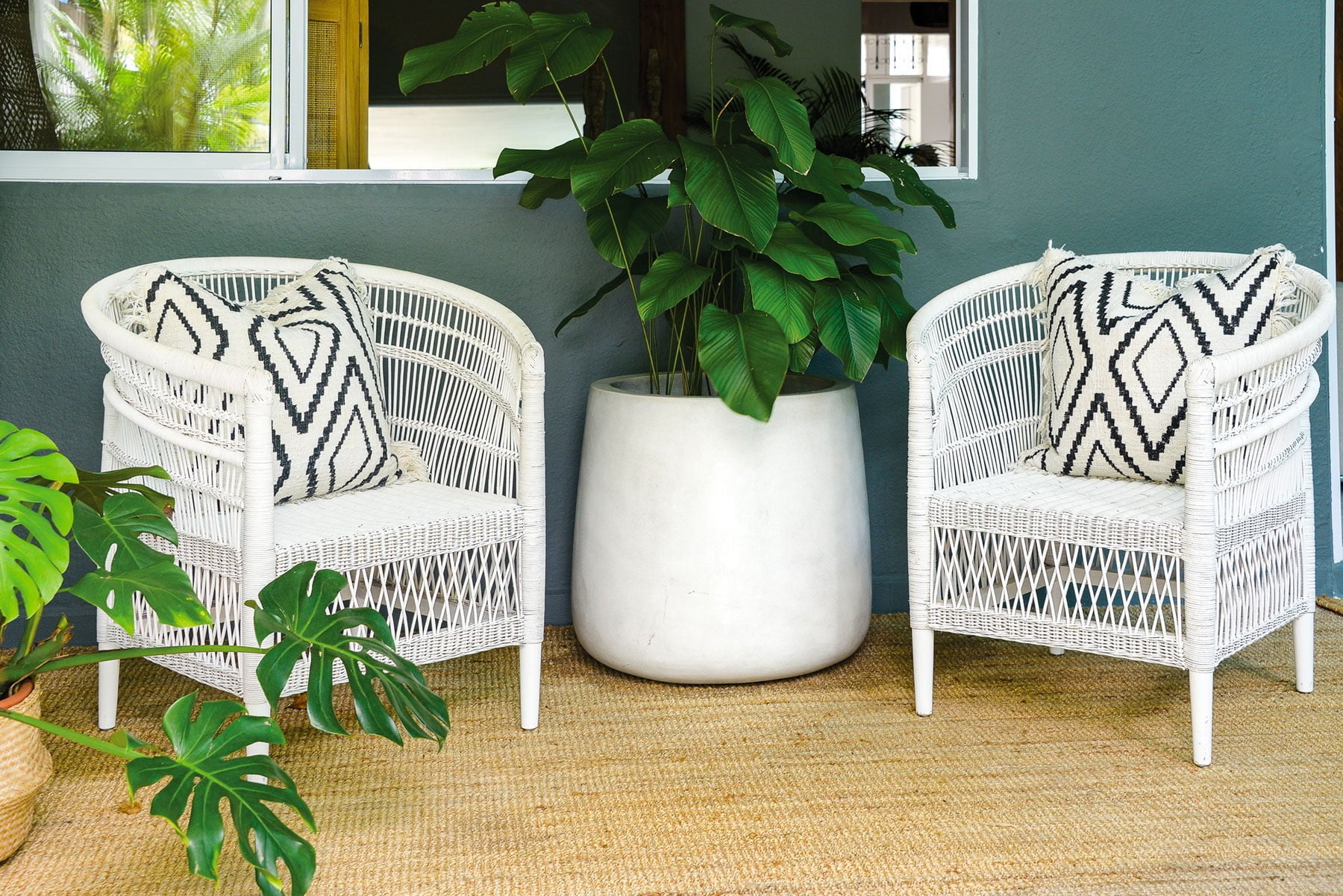 The unassuming front entry to Karin Rysgaard's double storey terrace home gives no clues to the hidden treasure that lies inside. Located in the quiet Eastern suburb of Kembangan, Karin's leafy front garden opens into a relaxed, island-inspired space, with tribal tones and enviable pieces collected from around the world. Beautiful, carefully selected homewares (many sourced from Island Living) offer contrasting textures and tones. Think hand-stitched fabrics, sustainable rattan, teak furniture, weaved baskets, polished copper, carved stone, and soothing shades of sea blue and green in the printed wallpaper, paint colours and artwork.
The Co Founder and Creative Director of Island Living and Founder and Head Designer of Cocoon Styling, Karin has a deep understanding of what makes a home work – from the flow of her open kitchen, to inviting, airy bedrooms, oversized timber dining tables, and the outdoor room of her enviable shaded terrace. It's this area that encapsulates Karin's style best– the raised plunge pool, cushion strewn day bed, and relaxed sitting area invites sundowners with friends and Sunday lunches.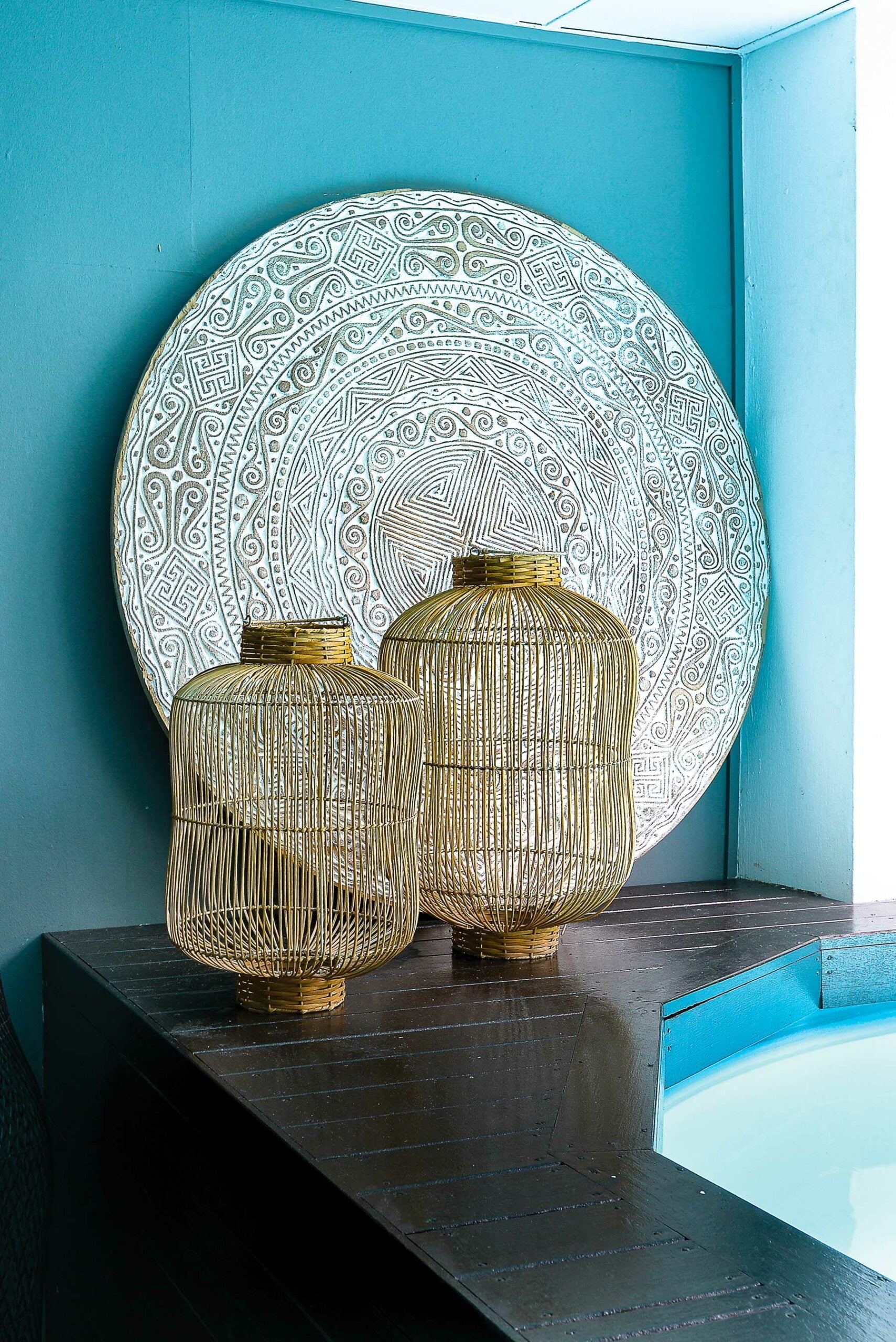 Why did you choose this house?
We decided to move to the East Coast six years ago as my daughter was attending the nearby Overseas Family School. I had several friends on the east, and they all loved living over this way so thought we'd give it a try. The result, we love it! I can't imagine not living on the east anymore, it has a real community feel.
Where else have you lived?
Prior to this home, we lived in a fantastic large bungalow on 7000sqf of land in the Thomson Rd area. Being a keen gardener and qualified horticulturist, this was a wonderful property to get my hands dirty. As my original business here, Cocoon Styling, grew, I had limited time to give such a property the attention it deserved, so we decided to make the change to the east.
What changes have you made?
I took over the property in a very run-down state. I negotiated a good deal on the rent and a long lease. This gave me an opportunity to extensively renovate the home. I completely gutted and remodelled both bathrooms, and added a rented pool from Hayward Pools. We replaced all the interior ceilings, and opened a wall in the kitchen to allow flow through ventilation. As result we don't require any air con in the ground floor kitchen, living and dining spaces. We've also repainted, added gorgeous subtle palm printed wallpaper, and created full privacy around the pool and across the front of the house with palms and foliage.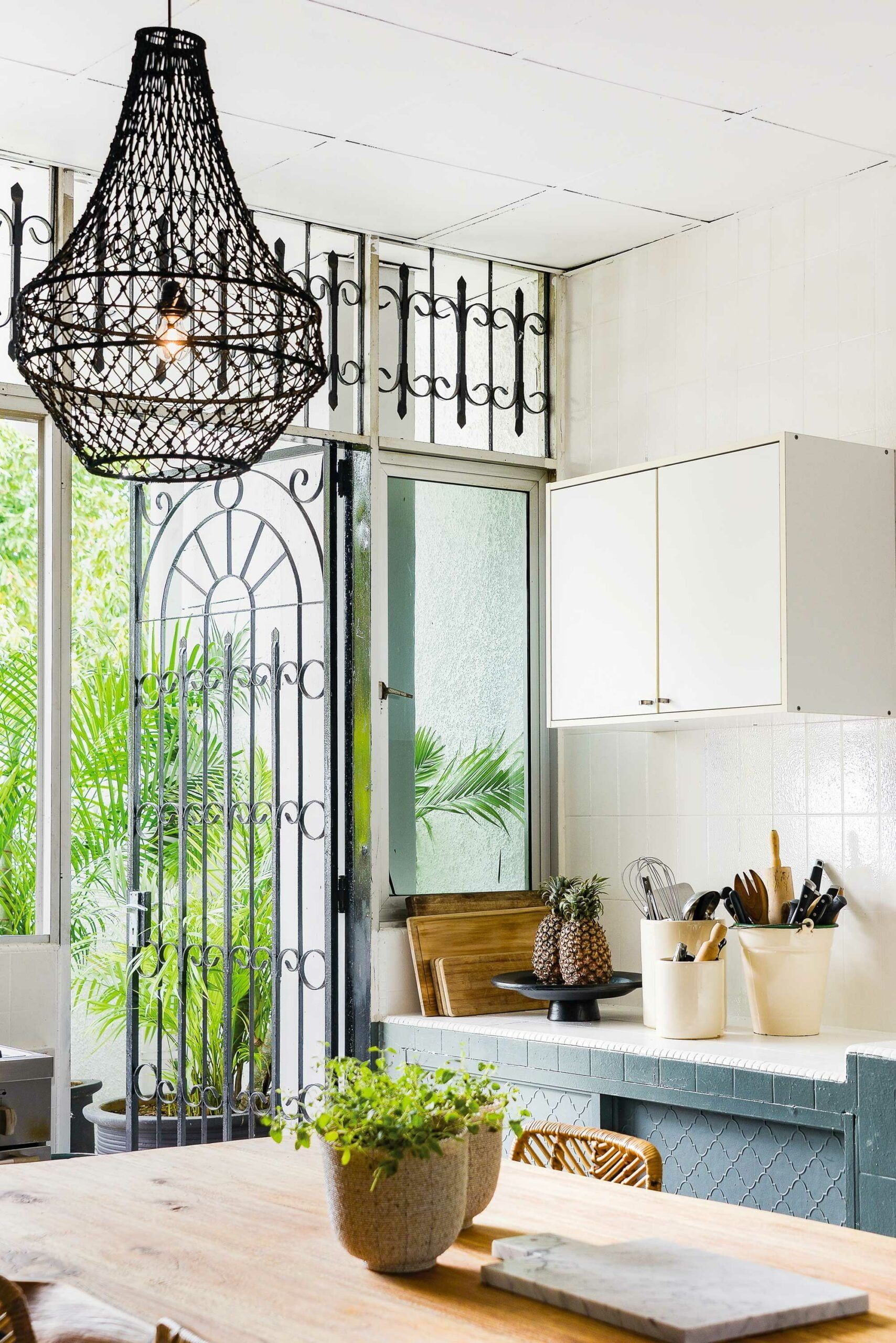 What appeals to you about the neighbourhood?
The MRT is just down the road, which has been great for my daughter to get to and from school and visit friends. Kembangan is an older area and very quiet, so being able to park right at my front door is a bonus.
What are your favourite local haunts?
I love training at the F45 studio in nearby Siglap. We also go to Baker & Cook in Opera Estate for delicious weekend breakfasts, and the new P.S Cafe on the East Coast has been a real treat. I'm also really looking forward to Little Farms opening their new outlet in the east soon too. I never get tired of wandering around funky Joo Chiat, browsing new little boutiques, and seeing the old shophouses.
What is this home's history?
It's owned by a lovely elderly Singaporean gentleman who lives a few doors up the street. I believe it was built in the 1960's and was the first landed property he purchased after selling his HBD. He told me he's had very good luck living with his family in this home. Let's hope his good luck rubs off on us!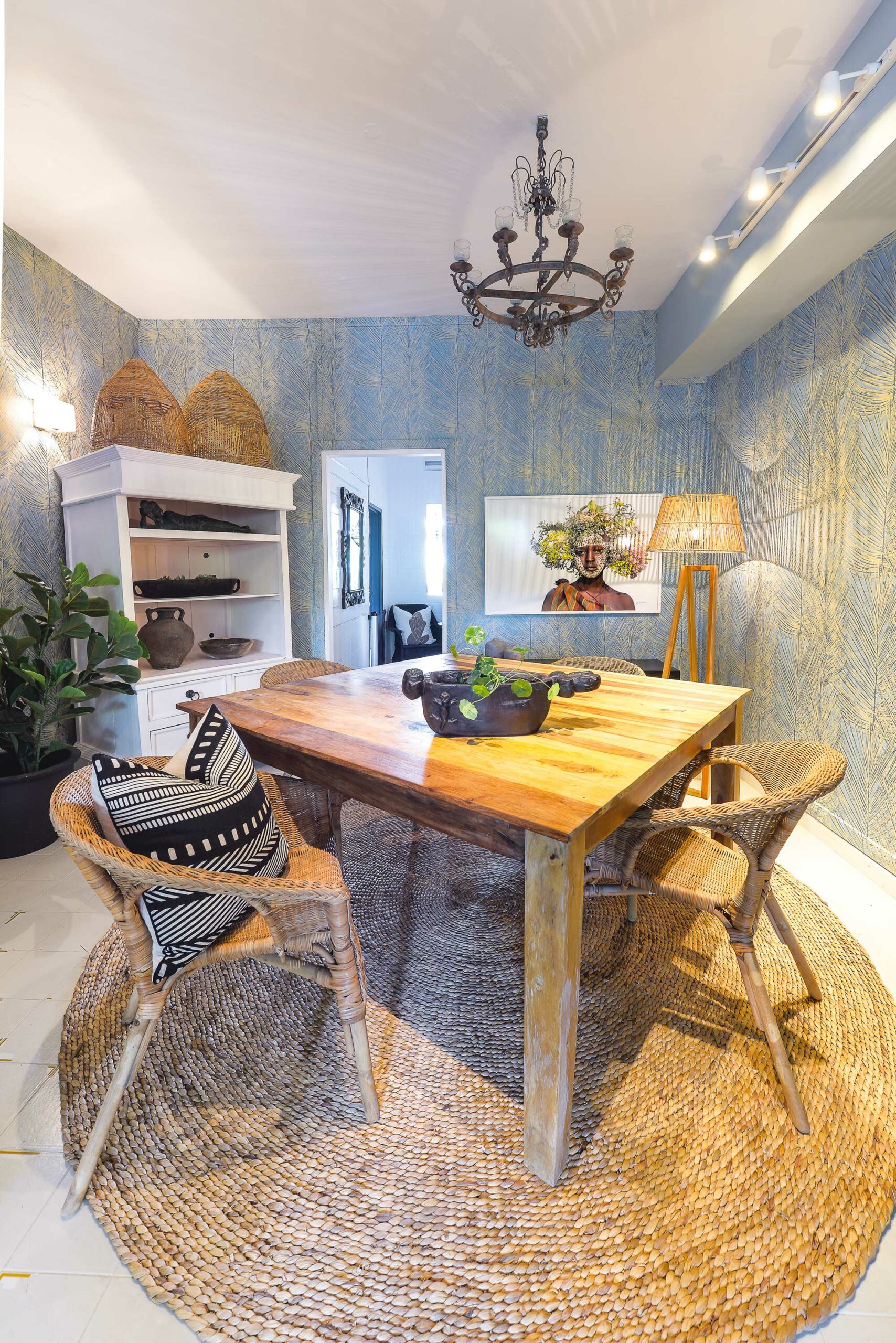 What's something unusual about your home?
The front of the house is completely covered with plants, creating privacy, and when people enter, they have no idea what's inside. I often get comments like; "Wow this is so great, and so much more spacious than it looks from the front". That I used the inside driveway to add a plunge pool is also surprise for visitors.
What is your favourite space?
Hanging out the front on the daybed or cooking in our large open plan kitchen – we love to entertain, hosting lots of Sunday lunches and dinner parties.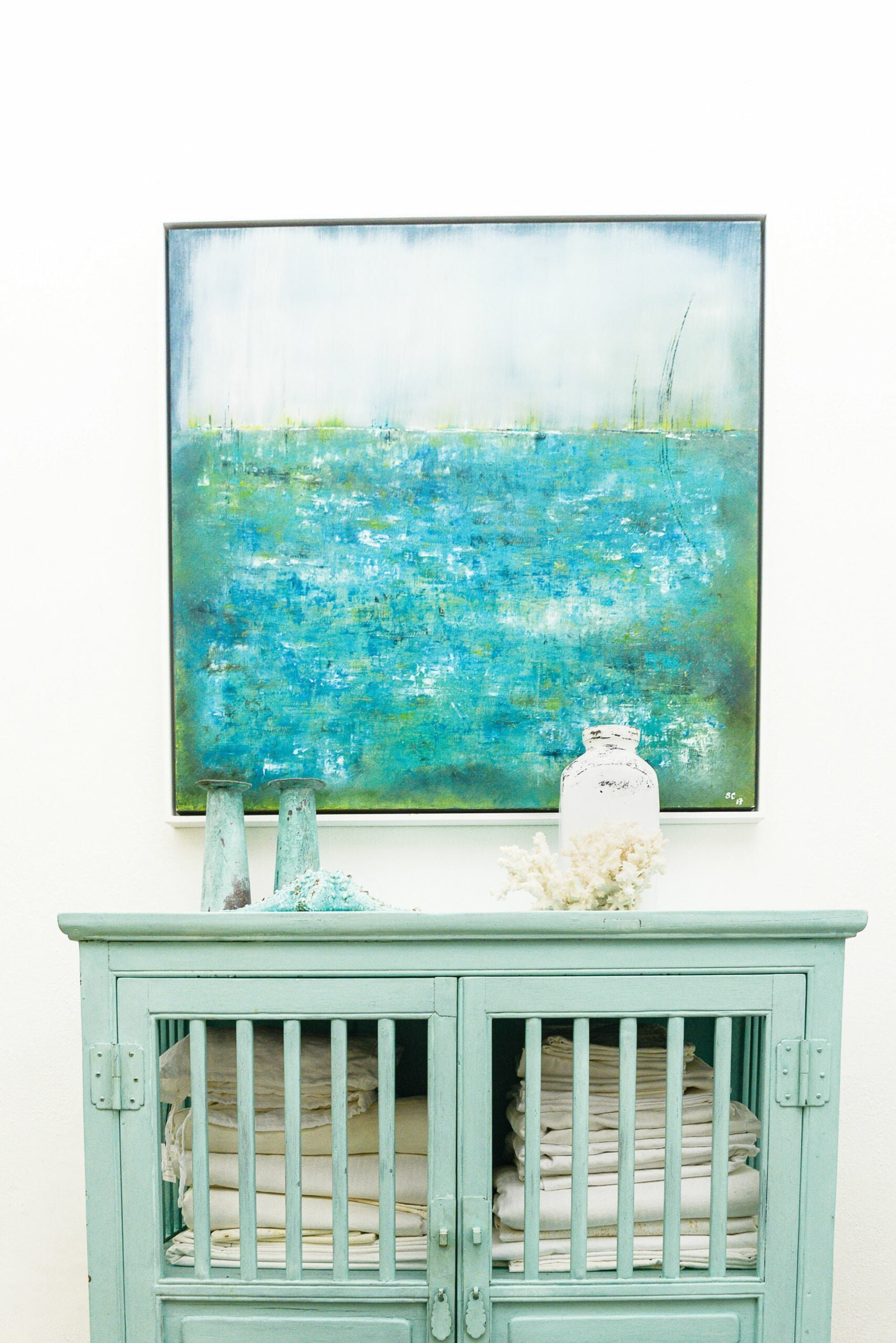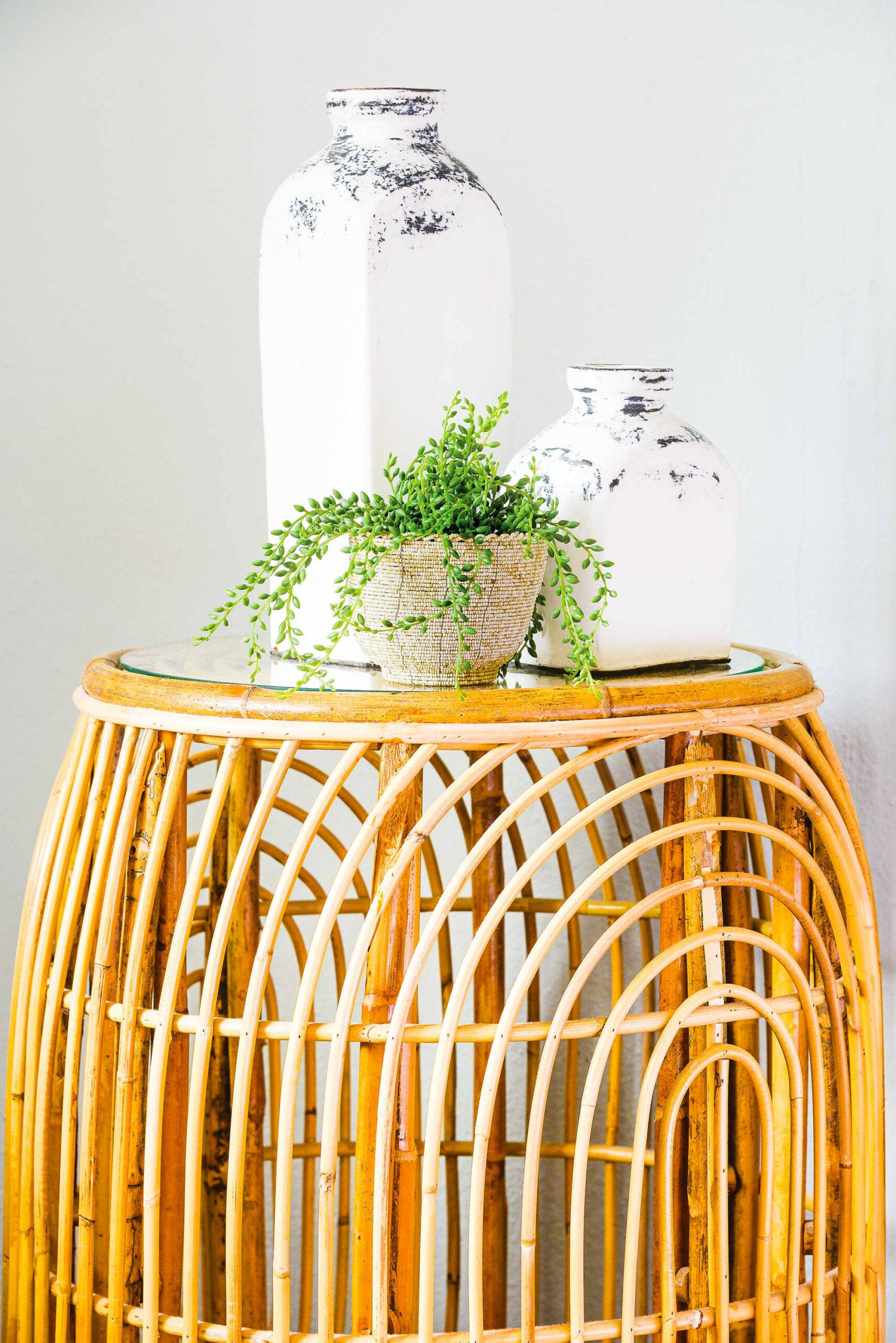 What are your most prized pieces?
The first real piece of art I bought myself a few years ago is a stunning oil on canvas called 'Spring Feeling', by an artist and friend Sandrine Capdouze. Sandrine was a client several years ago; Cocoon Styling renovated her property and we got to know each other quite well. When Sandine held her first exhibition I saw the piece and fell in love with it immediately.
The other piece I love is a sculpture I found on a buying trip in Indonesia when sourcing for Island Living. This gorgeous solid copper Ballerina is just stunning. We only get a couple in at a time into Island Living but they always sell out fast.
What is your personal decorating style?
My personal style changes all the time, but right now it's quite sleek and simple, with elements from nature and layering of textures in neutral tones. I'm also going through a bit of a tribal faze and adding touches of black here and there within the home.
I'm a very tidy person, so each piece is carefully selected, with a place in mind.
I try very hard not to over clutter and often put things away in storage while I try something different. Owning a furniture and homewares store certainly has its advantages, but it's also very tempting to keep buying more things.
What's most important to you in a home?
That my daughter feels comfortable. I think I have achieved this, as over the years I've hosted many large parties with a house full of teenagers. Also, as we love to entertain, making everyone feel special when they visit us is my top priority.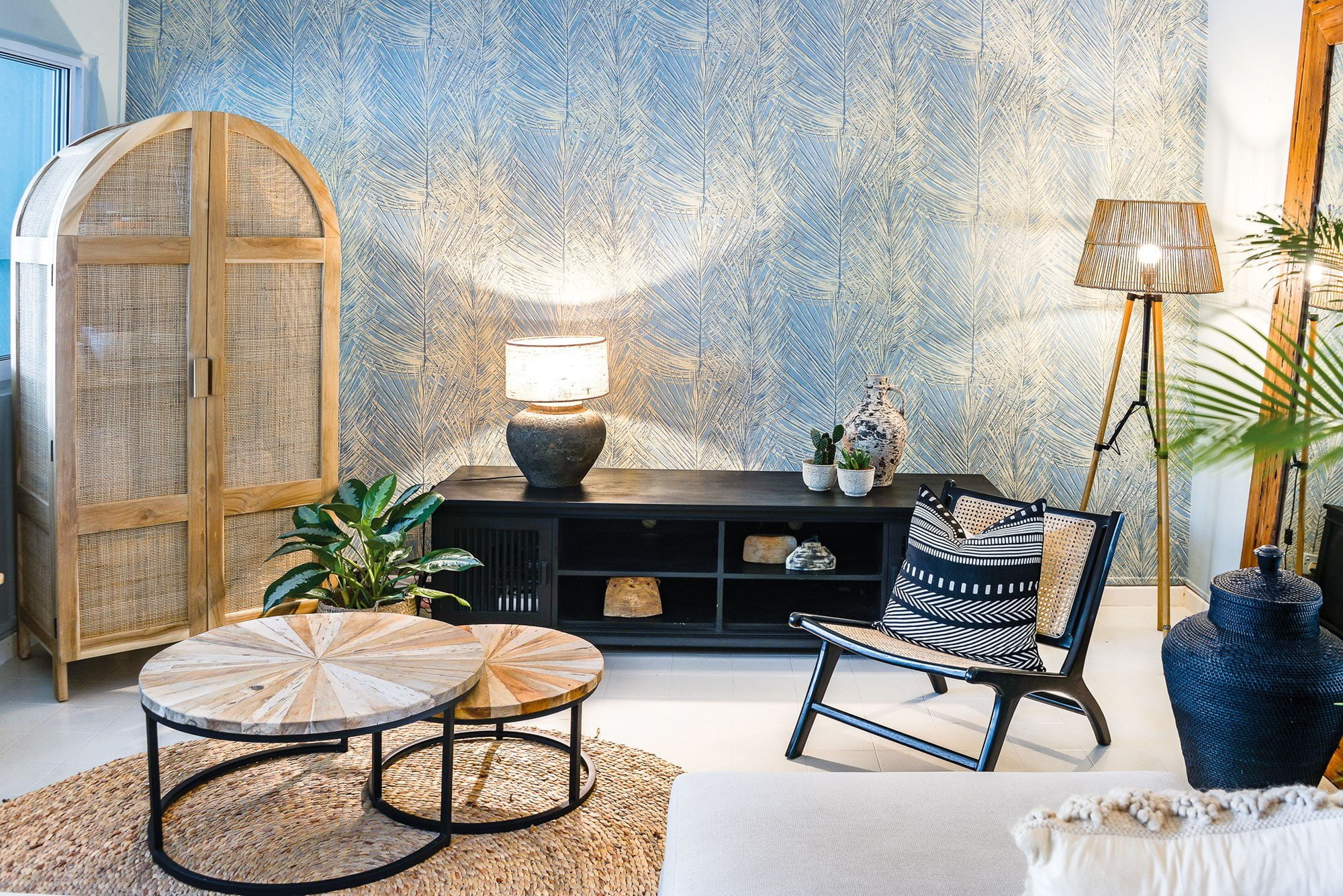 Where did you get the bulk of your furniture?
Island Living of course! I also have several large cabinets that are second hand and I've painted and repainted over the years. I'm a huge believer in upcycling where you can; older homes often lack storage, so these rescued pieces are a real help in the storage department.
What is your work/home life balance?
When you own a business there is always something to do. I have been through stages over the years where burn out has been an issue but I'm making better decisions in managing this. I'm certainly not complaining however, as there are so many small businesses struggling currently and having a business that is expanding and growing at the rate Island Living is, is certainly a blessing indeed.
What brought you to Singapore?
I came to Singapore 15 years ago with my daughters' father's job, we decided to go our separate ways very amicably after the first year here. He has since moved away from Singapore. I then saw a gap in the market for expat renters needing help with styling their properties and making their stay in Singapore feel more like home. This business grew as I connected with a local contractor, and we have worked together for 10 years on many clients.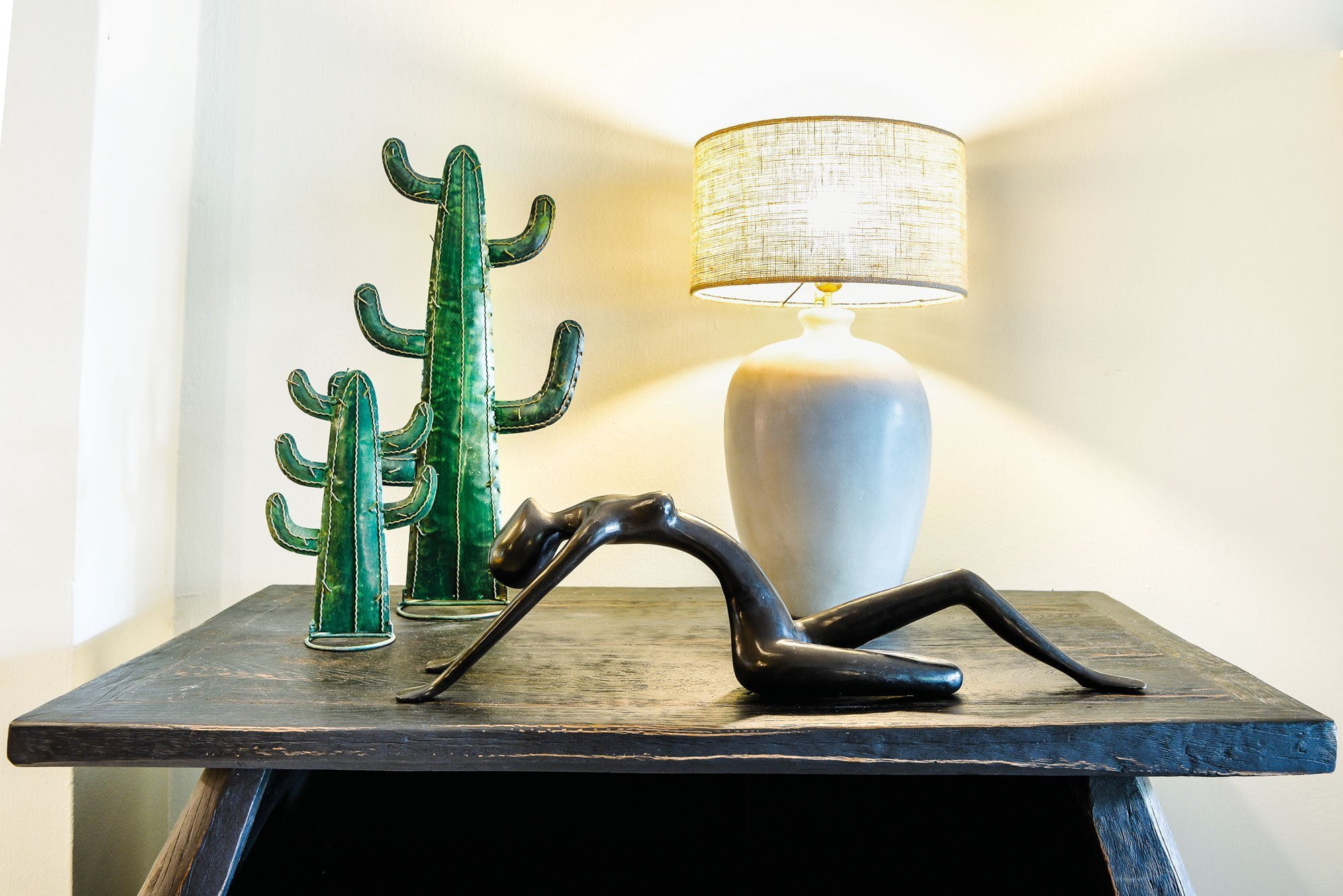 How did Island Living get started?
In November 2018 I got a text unexpectedly from a client I had worked with a few years before. She mentioned she had a friend and neighbour, Denise Vrontos, who had imported a small selection of products from Indonesia and was looking to sell them. She thought my clients might be interested. Denise sent me some images and we started chatting. I was in the middle of some large projects, so taking on anything new late in the year was not my top priority, but I had this strong feeling that somehow, I needed to connect with her. Over the next couple of months, we continued to chat on the phone, brainstorming ideas as to how we could team up, using her great skills from years of PR management and my design knowledge to bring together a range of products for Singapore. We finally met in person in January 2019 and Island Living was born. We cannot believe how far we have come and grown in two short years.