15 February marks the 80th anniversary of the Fall of Singapore to the Japanese in 1942. In the hours beforehand, the British Military Hospital Alexandra on Alexandra Road found itself isolated in a no-man's-land between the Japanese and Allied frontlines and became the site where up to 300 Allied soldier-patients (many of whom were from Australia and the United Kingdom), nurses, orderlies and doctors were killed.
A Bleeding Slaughterhouse – The Outrageous True Story of the Alexandra Hospital Massacres, Singapore, February 1942 is a new book by Stuart Lloyd, a professional storyteller for over 30 years and ex Singapore expat.
It tells the full story of this two-day tsunami of terror, examining the characters and causes behind it. We speak to Stuart about how it took almost three years of research and writing the story-driven narrative which is based on first-hand interviews with survivors, and never-seen unpublished memoir notes. Read on for more insights and for an extract of the book, out now.
How did you get the idea for your latest book, A Bleeding Slaughterhouse?
SL: I first heard of the Alexandra Hospital Massacres reading Noel Barber's novel Tanah Merah. But the idea for the book came in 2009 when I wrote my first war book, The Missing Years (which has just been updated and republished for the 80th anniversary of the Fall of Singapore), because my subject was caught up in the massacre as a part of his whole journey. When I realised no book had been specifically written on this event, the story had to be told.
When did you start researching and how did you go about it? 
SL: I fell into this rabbit-hole from that moment on. My first port-of-call was the Singapore Archives and the Australian War Memorial to see what they had, and there was an excellent collection of oral history interviews with staff and survivors at the former. Then I tracked down two living survivors, British Dick Lee and Australian Fergus Anckorn, who bared their souls to me. It was very humbling. Writing the book took the best part of two to three years.
Please share  some of the things you discovered …
SL: Firstly, although it was a British Military Hospital, there were a lot of Aussies caught up in the Alexandra Hospital Massacres because the 22nd Brigade was active on the west coast nearby,  and all the worst cases ended up here. The other thing that really interested me was who these people were, what had brought them to be in this hospital on that weekend, and what happened to them after that? 
It turned out that the Japanese responsible, 18th Division IJA, had been fighting in China since 1937 so they were tired, homesick and angry, creating 'perfect storm' conditions when they were held up by the last-ditch fighting around Bukit Chandu, Ayer Rajah Road, and so on. Another interesting aspect was the Royal Army Medical Corps doctors who survived went on to become very eminent pioneers of prosthetics and kidney, heart, and thoracic surgery around the world. An incredible collection of people. 
How harrowing was it for you to delve into this subject?
SL: I posed this question to a journalist the other day: Can authors suffer from PTSD? Possibly. Irish Chang, who wrote The Rape of Nanking, committed suicide a few months into starting research on the Bataan Death March, a topic I've also written on, along with the Sandakan Death March and the Thai-Burma Death Railway. It's a morbid fascination I don't fully understand. But in A Bleeding Slaughterhouse the emotional spectrum is balanced up by lots of colourful colonial eccentricity and moments of extreme humanity from both sides.
Please tell us about some of the people you interviewed …
SL: Apart from the two survivors, now both deceased, I managed to find living relatives of four of the five survivors of the Sisters' Quarters Massacre on Sunday 15 February. Two of these families knew nothing of their relatives' very heroic stories of escape and survival. They just knew he was a POW in Singapore, so I had the job of sharing their relative's story with them. It was emotional to say the least, but satisfying to bring them closure.
Another interviewee who stands out was Elsie, now 100, whose brother was in the hospital, and getting recollections about him pre and post-war. She was so sweet – it's not everyday I get a Facebook friend request from a centenarian! Then there is Dr Kathy Petrovsky, whose husband Constantine was a doctor at the Alex but got sent out just days before to set up a makeshift hospital at the Victoria Theatre. She's now 93 and still a registered GP in Tasmania. Also, the daughter of Capt Tom Smiley, the famous surgeon who was operating when the Japanese burst into the theatre, shared his intimate love letters and other memorabilia from those dark days. The list goes on …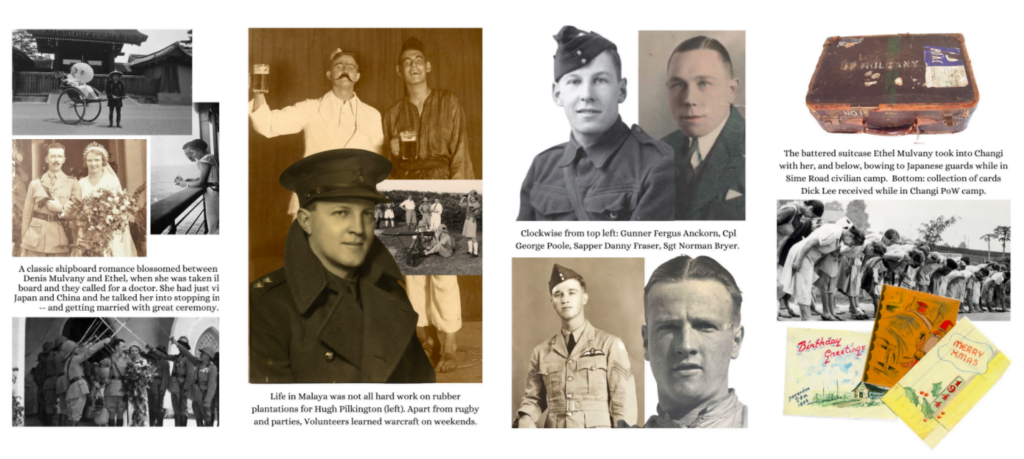 An edited extract from The Bleeding Slaughterhouse – The Outrageous True Story of the Alexandra Hospital Massacres, Singapore, February 1942
'A Very Black Friday.' The Alexandra Hospital Massacre 1942.
Friday 13 February 1942, Singapore. The Federated Malay States Volunteer Force (FMSVF) was heavily engaged in action around the upper Holland Road area. A key part of their force were Armoured Cars, manned mainly by mining and rubber men from the Malayan up-country.
Cpl Robert 'Bob' Veitch was nearing 29, a tall, dark and heavy-set Scottish mining engineer. Veitch came out to Malaya to join his friends for some adventure out east, and got a job with the Hong Kong Mining Company, and subsequently signed up with the Volunteers. He'd recently enjoyed leave in Australia, cutting it short and rushing back to join his unit just three weeks earlier.
Lance Cpl David Alexander was also Scottish, an assistant at the venerable Guthrie's trading firm. He was now 34, and married to a Queenslander, Margot, with a baby daughter, Christine. Margot and daughter had just got away on a ship to South Africa. He had no way of knowing if they'd made it safely yet.
Cpl Leslie 'Len' Best, an Englishman who'd been in Malaya for well over 10 years, was in the tobacco industry in Penang. He was married to Cicely, who had just evacuated. Had she made it safely to India, he wondered?
Cpl Henry Francis De Camborne Lucy was simply known to his mates as Peter. He, Best and Alexander were all the same age, and the trio had all coincidentally been in this part of the world since 1929. Originally from Hertfordshire, just north of London, he loved the colonial life as a rubber planter and estate manager on the Amherst Estate.
Aussie Sergeant John 'Jack' Slater was, like Veitch, a mining engineer. Originally from Bathurst, NSW, the 28-year-old had had stints in the Militia and the RAAF, before marrying Anne and picking up a job with Anglo-Oriental Mining in Perak. Almost immediately he signed on with the Volunteers. On New Year's Day – a rather intense six weeks earlier – he'd dashed to the post office in Kuala Lumpur to send Anne a telegram of well-wishes. What he didn't know was that she and their daughter Patricia had boarded the Narkunda two days earlier and had made it safely to Fremantle, Perth, by the end of January.
'After being bombed and under rifle fire for days, two large shells landed among us and I collected a piece of shrapnel in the thigh,' said Slater. Bob Veitch, who was in a car with Peter Lucy, caught shrapnel in the lower leg, Lucy some in the arm, and Alexander some in the leg. Worst affected was Best.
He died from massive chest wounds en route in the ambulance near Normanton. The rest were lucky enough to be brought back through to The Alex nearby, suffocated as it was by black clouds of acrid smoke from the blazing Normanton oil tanks.
Peter Lucy was X-rayed, the last person to be done before the hospital's precious machines were put out of action by bombs. Adding to his woes was the fact that he'd got married less than a week earlier to Dorothy in the Singapore Cathedral. She was a volunteer nurse at The Alex but had evacuated on the Empire Star the night before he was admitted there. Of course poor Peter knew nothing of this at the time. So much for a honeymoon.
The very next day, Bob Veitch was on the operating table, anesthetized, when the Japanese attacked the theatre and medical team, bayonetting him. But perhaps his death was the 'best' one of all – if such a thing can be said – because he was unconscious and completely oblivious to the manic madness unfolding around him which became infamous as The Alexandra Hospital Massacres in which up to 300 patients, orderlies and doctors were brutally killed. All are commemorated in the Kranji War Memorial.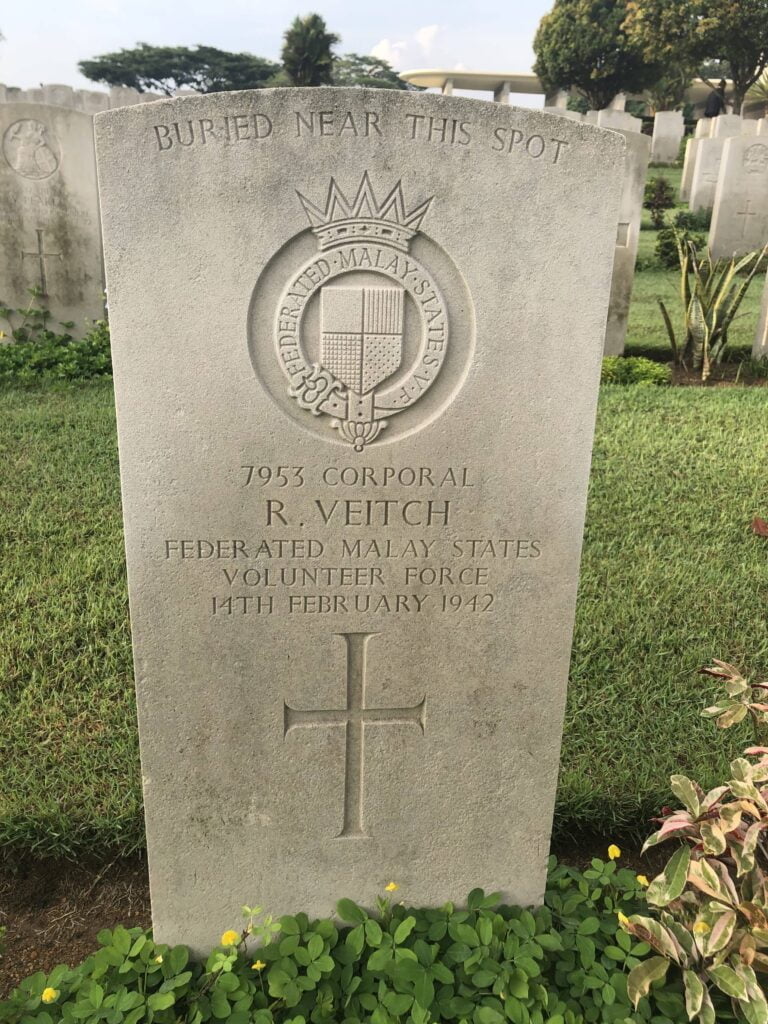 A Bleeding Slaughterhouse – The Outrageous True Story of the Alexandra Hospital Massacres, Singapore, February 1942, is available on Amazon priced $33. Catmatdog.com/ableedingslaughterhouse