Sustainable dining may not be new, but the growing urgency of our fight against climate change and the global target of being carbon zero by 2050 means the solution is a collective one.
Thankfully, like-minded people in the hospitality industry have long been driving the change to more sustainable dining options by making changes in their own communities and connecting with others to tackle concerns: Australia and Singapore are one such pairing.
"Singapore is a bona fide foodie nation that is known for its fantastic multicultural cuisine, with much that the world can learn from," says Penny Rafferty, Head of Sustainability for Tourism Australia. "We see many synergies with Singapore in terms of collaborating on food inspiration and ingredient ideas. Australia prides itself on our diverse range of produce and how our food and wine operators innovate with creative takes on those ingredients. Our farmers and fishermen are passionate about sharing their knowledge and engage in advocacy for the cause."
The exchange of ideas between Singapore's trailblazing chefs and trendsetters is also exciting, especially when it's driven by F&B development and a more sustainable ecosystem. From regenerative farms to coffee roasters, breweries to bakers, everyone is aiming for a more eco-friendly and positive impact together.
"The question businesses and individuals are asking is no longer 'why' do we need to be sustainable, but 'how'," continues Penny. "As the voice for tourism in Australia, we are looking forward to growing and developing together, sharing the evolution of our sustainable food future, and exchanging stories from across the country with Singapore. We also look forward to learning from Singapore, a country that punches way above its weight in terms of food and innovation."
In light of this, we meet top chefs in Singapore who are using their Australian backgrounds to pioneer changes and drive sustainable dining ahead within the F&B industry here on the red dot. Here's our first conversation with Chef Jason Jones, Culinary Director and Co-Owner of Singapore's Super Loco Group.
Sustainable F&B Explained
"Sustainable F&B is about embedding sustainability in the end-to-end conceptualisation, operation and delivery of an F&B concept. This almost always includes sourcing the best produce from local suppliers, often organically grown and with minimal transport; using renewable sources of energy; and finding other creative solutions to encourage regenerative farming and reduce carbon footprint."
Penny Rafferty, Head of Tourism Australia's Sustainability Strategy
'We've made our menus at least 50% plant-based by constantly adding new vegetarian and vegan dishes'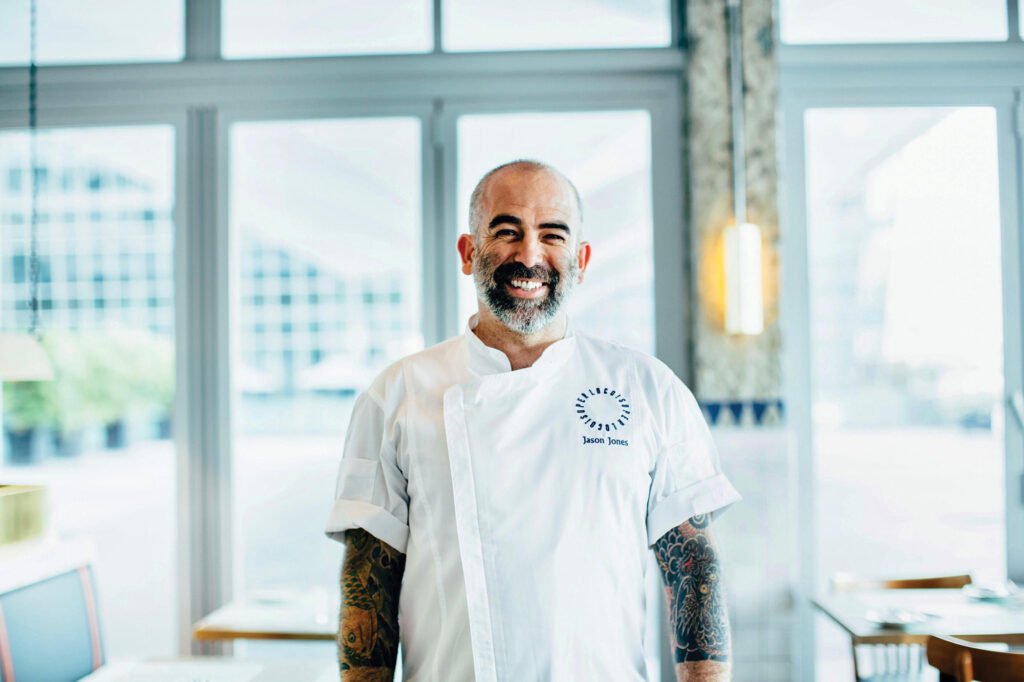 What does sustainability mean to you?
It means providing a great product and experience with as little impact to the environment as possible. At Super Loco Group we use as much local produce as we can, partnering with regional farms recognised as having the 'best practices' – such as our chicken farmers and our sustainably-farmed barramundi supplier. We reduce glass usage through our partnership with ecoSpirits. We've also gone zero-plastic by making our delivery packaging fully compostable thanks to Forest Stewardship Council (FSC).
What sustainable efforts go into your menu?
We try to incorporate under-loved cuts in our carbon-conscious menu to show guests that they are just as delicious as popular cuts, for example, our Ox Tongue Tacos at Super Loco Robertson Quay.
Tell us about some other ways you champion green issues through F&B?
We have a series of sustainability initiatives that each address different aspects of sustainability within our kitchens, bars and delivery experience. In addition, we've partnered with reforestation technology start-up Green Steps Group to aid reforestation in Borneo's endangered rainforests through a tree adoption project at our venues.
How easy is it to run an environmentally responsible F&B businesses in Singapore?
It's not easy at all as most produce in Singapore is imported. The SG Recycling programme could be better. Recycled biodegradable packaging costs more than plastic, making it hard for small businesses to justify the reduced margins. I think food waste needs to go back into the ground to help grow more stuff – every restaurant creates a huge amount of compost that could be used wisely. This being said, vertical farms are starting to help and certain environmental groups are making a solid impact. The government definitely helps these movements with grants and support so I do think the road ahead will see positive changes.
How do your Australian roots influence the dishes you create?
I think the main one is being versatile, and not set in any particular way. In Australia, we don't have a cuisine that dates back centuries; it's made of influences from around the world. In my apprentice training days we learned a lot of basic French techniques along with Thai curry, risotto, tagines, chilli crab, schnitzel, guacamole, and so on. So you can imagine, when it comes to creating new Mexican dishes here, we apply our skills in a versatile way that is also (hopefully) appealing.
Do you see diners making greener choices today?
Guests are starting to be more conscious of where and how ingredients are sourced or produced. There also seems to be a growing interest in including plant-based proteins in their dietary lifestyle choices – whether for health reasons, or simply in the interest of leading a more eco-friendly lifestyle. We've made our menus at least 50% plant-based by constantly adding new vegetarian and vegan dishes.
How do you stay healthy and well yourself?
I do try to balance the eating game. I like to eat vegan, and I like to eat healthy, but not all the time. If I've eaten meat one night, I'll try not to eat it again for a little while, but how good is fried chicken? Exercise is important, as is rest. Can someone please tell my two little children this?!