"Feeling like I can climb a mountain"
ANZA Yogi
Registration
Whether you're a beginner or more advanced, all levels are welcome to join this friendly class, and modifications are provided based on your level. For the more advanced students, we tackle some of the great Hatha traditions including 108 sun salutations, crow, 8 point side crow, bird of paradise, tripod and tripod egg.
Purchase a 5 or 10 class pack – you are always welcome!

Special Announcement
ANZA Wandering Yoga will have no season break – join us when you can!
We will practice 6 days a week until June 2020
2020
Season 1 – Monday 20 January to Saturday 21 March
"You are the sky – everything else – it's just the weather" Pema Chodron
No classes Chinese New Year 25 – 27 January
Season 2 – Monday 6 April to Saturday 6 June
"My body is my temple and asanas are my prayers" BKS Iyengar
No class Good Friday
Season 3 – Monday 22 June to Saturday 15 August
"I am not this hair, I am not this skin, I am the soul that lives within" Rumi
Season 4 – Monday 31 August to Saturday 31 October
"Yoga does not change the way we see things, it transforms the person who sees." BKS Iyengar
Season 5 – Monday 9 November to Wednesday 16 December
"Stop acting so small. You are the universe in ecstatic motion." Rumi
About the ANZA Wandering Yogis
Kissing the ground with our feet, the ANZA Wandering Yogis draw from nature and yoga traditions to nourish the body and soul. Your sanity-saving yoga in the nature of Singapore Botanic Gardens near the Eco-Lake, 5 days a week, in the morning.
Explore different styles of yoga, learn from experienced teachers. From a casual drop in, to a season commitment, you will always be warmly welcome.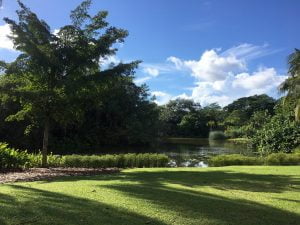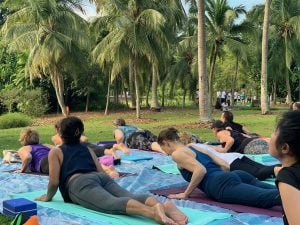 Proud to be part of ANZA Singapore, the Wandering Yogis bring together a diverse group of people reflecting the spirit of our Australian heritage.
"WHAT A WAY TO START THE DAY – THERE IS SOMETHING SPECIAL ABOUT THIS YOGA."
– A VERY HAPPY ANZA WANDERING YOGI
The ANZA WanderingYogis also practice karma yoga – a large part of your class fee is donated to an ANZA endorsed charity every season. All cash payments at time of class are given to the Orangutan Project, a NFP dedicated to helping this now critically endangered species.
NEVER TOO OLD, NEVER TOO TIRED, NEVER TOO LATE TO REGISTER

When, Where and How
2020
Monday 8.30am Flow
Tuesday 8.30am Yin/Yang Yoga
Wednesday 8.30am Everyday Hatha
Thursday 8.30am Everyday Hatha
Friday 8.00am Yin Yay!
Saturday 8.30am Everyday Hatha
Botanic Gardens Location
From the Botanic Gardens MRT, head towards the banks of the Eco Lake.
About Our Teachers:
Lee Carsley is the founder teacher for ANZA Wandering Yoga. Working with 4 other teachers, she brings to the ANZA community yoga with heart and soul, and a little bit of fun. She has muliple Teacher Training credentials in Yin, Hatha and Power yoga and about 3,000 hours of teaching under her belt. She is also a Master Continuing Education Teacher with Yoga Alliance.
For further information, email info@anza.org.sg