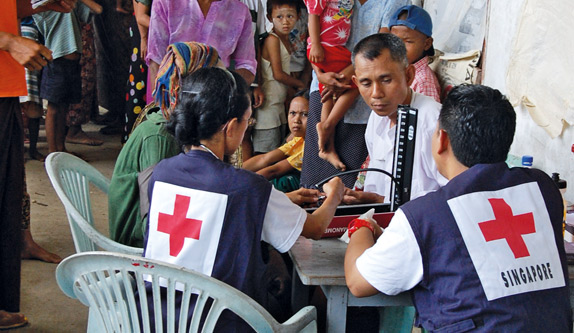 Many of today's trailing spouses come armed with talents, qualifications and experiences that are highly sought after by many volunteer organisations here in Singapore.
Whether they're looking for work in their chosen field, opting for a change of vocation or simply choosing to have a career break, opportunities abound for these talented individuals to use these skills to help others in need.
While ANZA Action continues to actively support our five nominated charities, there are other places around Singapore that can also use a volunteer's helping hand.
We are all familiar with The Red Cross and its commitment to victims of natural disasters and humanitarian crisis relief. Locally, The Red Cross works tirelessly to improve the lives of those most vulnerable within the community and to this end, runs Singapore's only home for the severely disabled.
The home cares for about 100 residents who have a number of disabilities such as Down's Syndrome, Cerebral Palsy and Spastic Quadriplegia. A team of nurses and physiotherapists, supported by volunteers, engage each of the residents in physical, creative and social activities, to keep their bodies and minds engaged.
In 2013, I visited the home to meet the Red Cross Coordinator and to see for myself what the home offers to its residents. Stopping by each of the areas, I could see how much some of the residents enjoy seeing different people come through to the door.
One such gentleman was keen to know what my birth date was – he could tell me straight away that it was a Tuesday in 2013 – I had no idea but he was quite correct, and very pleased that he had gotten yet another day correct.
Others were not quite as outgoing, because strangers upset their equilibrium, but I was told that even the most reserved will come out of their shells given care, compassion and time. And this is where volunteers are so beneficial to the residents. A regular visitor to read, to chat or play games with the residents is a priceless gift of friendship for the residents of The Red Cross Home for the Disabled.
It's not just about giving your time. The Red Cross also offers another service which at some time during our lives we may need to make use of – blood donation. I have a great fear of needles which is why I don't give blood. But it turns out I have a blood type that is not rare but neither is it common. I realised I should not be relying others to donate blood on my behalf, just because I hate needles. It's a bit of community service that just might save a life so get in touch with the Red Cross and see what you can do.
If you would like to know more about the opportunities for volunteering at the Red Cross Home for the Disabled, please email anzaaction@anza.org.sg
This article was originally published in April 2013 and updated for The ANZA Guide to Singapore.