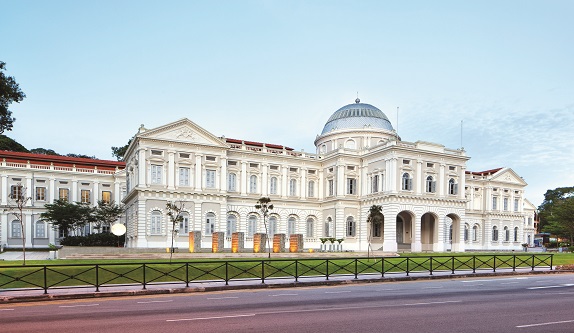 Explore Singapore's culture and heritage without stepping on a train or in a taxi? It can be done. Kieran Nash finds how in a different type of staycation.
Marina Bay Sands. The Singapore Zoo. A Singapore Sling at Raffles. How many times do you have to visit these tourist traps with visitors before you'd rather jump off the bloody skypark than endure another high-priced cocktail overlooking the city?
If you're looking for an interesting staycation, or have some friends in town who aren't keen on tourist cliché's, here's a challenge: don't venture further than a two-kilometre radius and pack your weekend with interesting cultural events. It can be done – if you choose the right location.
Fort Canning Park is the obvious choice: Plenty of history, close to a wealth of entertainment and cultural venues, and a green space amid the concrete. But before the exploring starts, a home base is needed. Again, an obvious choice: Hotel Fort Canning. Hotel Fort Canning is a grand old dame of a hotel, steeped in history. Although the place re-opened as Hotel Fort Canning in 2010, the building was built in 1926 as the administration building of the British Far East Command HQ. Over the last 86 years, it has been occupied by the Japanese military and used as part of the British military administration.
Fort Canning Hill itself has a history stretching even further back, and has been the exclusive address of many of Singapore's rulers and colonial leaders dating back to the 14th century, when it was the site for the palatial resort of former Majapahit kings. In more recent times, colonial governors lived there, including Sir Stamford Raffles.
Relics of these previous residents are on display in the hotel's lobby, a glass floor revealing an archaeological dig showing ceramic cookware from years past. Rather than the palm-beach staycations of Sentosa that most flee to, Hotel Fort Canning makes you feel like you've gone bush. There is lush greenery from every window, and it's hard to believe that just past all the leaves is the CBD. As a boutique hotel it's smaller, and therefore more intimate than most mega-accommodation, and a unique indoor-outdoor flow in the rooms adds to the zenlike nature of the place.
Strolling through the leafy surrounds of Fort Canning Park provides a welcome opportunity to slow down and relax. Those interested can follow the Fort Canning Spice Trail, which contains a collection of more than a hundred species of plants, including herbs, spices, and some with medicinal properties. The trail pays homage to the original spice gardens at the park, which used to spread over hectares.
From there, the National Museum of Singapore is the logical next stop. Even for those who may have already visited the museum when they first arrived, it's worth going back there for another look. The place itself is an impressive feat of architecture, the original neo-classical building joined by a modernist glass extension, bringing light and space to the design.
There are plenty of informative, entertaining exhibits – the Living Galleries food exhibit in particular a delightful blend of history, culture, sights, sounds and smells, taking the visitor through the rich culinary history of the Lion City.
Another highlight is a video display of ANZA's very own Raelene Tan, explaining the ups and downs of being in a cross-culture marriage decades ago, back when attitudes were a lot different.
As the afternoon melts into evening, it's back to the hotel for free Prosecco and red and white wine, topped off with some canapés for the guests at the private lounge. It's not a special event – it's just something that the hotel puts on for guests for two hours every day.
Just around the corner on Armenian St, French restaurant Le Bistrot du Somellier beckons. Its rustic setting and top-quality menu is European dining at its best, and although not cheap, is certainly not the most expensive venue in Singapore for fine French fare.
Those wanting to kick on after that can head virtually next door to The Substation, home to some of Singapore's best live original music.
Wake up the next morning for a swim in the pool, surrounded again by greenery, hidden from the concrete jungle which lurks beyond.
A stroll alongside the Singapore River reaches Toby's Estate café in Robertson Quay, and this far up the river the tacky tourism of Clarke Quay gives way to a more sedate, relaxing setting. Some super-strong coffee injects some life into the morning; why not check out the Singapore Art Museum, showcasing the best Singapore and Asian contemporary art, housed in a restored 19th century mission school. The Learning Gallery is a great way to nurture an appreciation for art and discuss broader issues, and exhibitions like People and Places are a way to explore issues like identity, society and culture through the works.
Once you've flexed your mind muscles, top the weekend off with bak kut teh (meat bone tea) a herby, spiced broth containing meaty pork ribs. A short walk from Fort Canning is Song Fa Bak Kut on New Bridge Rd – a humble family stall which expanded over decades and passed from father to son. There, guests can try everything from premium loin ribs to pig's stomach and braised pig's trotter.
As the weekend draws to a close, why not top it all off in style at 28 Hong Kong Street, an innocuous door with no signage which opens to a stylish, high-end cocktail bar with some of the best drinks around. Whether you're there with locals or visitors, the "secret" location is sure to make anyone feel like part of some hip underground community.
So there you have it, there is a way to explore Singapore without venturing near the usual tourist traps. Who knows: you might just learn something new.
This article was originally published in September 2013.