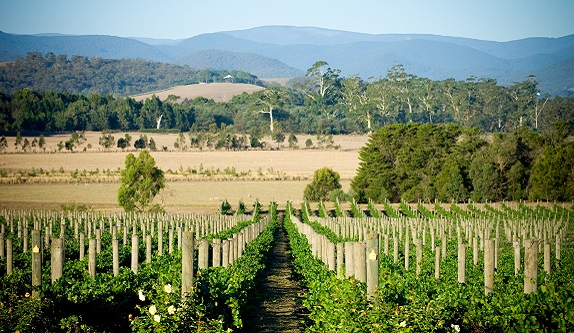 The wine harvest season in the Southern Hemisphere in 2013 was a classic case of less is more: hot dry weather meant lower yields but expectations of higher flavour intensity, particularly for McLaren Vale and Barossa Valley reds. The expectations were looking like an exciting vintage all round, with Hunter Valley winemaker Andrew Cruickshank of Callatoota estate saying, "It had been fantastic year".
I thought we'd take a brief retrospective through the recent vintages and some of their best wines, starting with Stella Bella Sangiovese Cabernet 2008 When a young vineyard has such strong branding my natural reaction is (I'm almost ashamed to admit) skeptical. Perhaps it's my European side, but I tend to think that a winery needs to have consistently proved itself before it becomes a familiar name, whereas Stella Bella seems to have inserted itself into the common vernacular alongside veterans such as Howard Park. As if that wasn't enough of a challenge for this robust red wine from Western Australia, I'm also not keen on progressive blends. Well, this wine breaks both of those rules. The mix of the earthy tannins and dry cherry fruit in the Sangiovese is subtly enhanced with a sweeter dark red berry Cabernet Sauvignon that manages to add to the palate whilst staying discretely in the background. A delightful example of a year that split the country in two, with eastern wine regions suffering from blistering heat, but a classis vintage in the west.
Rolling the clock forward to 2009 and travelling south and east to McLaren Vale. The crew at Brick Kiln have discovered the secret of ageing – not, as most of us would like to discover, how to stay eternally youthful, but instead how to produce mature, complex wines despite only being planted in 1996. Perhaps the secret is finding what you're good at and sticking to it, and at Brick Kiln that's Shiraz. This is the kind of wine that makes you want to dive into the glass. The sheer depth of flavours and aromas without becoming an overpoweringly strong red, is stunning. Drink it while you can, since cool weather dramatically affected yields of 2009 Shiraz from McLaren Vale.
Dialling our compass north, just briefly, to Napa and a vineyard that sits in the centre of that great wine growing region, Predator Old Vines Zinfandel 2010 is a perfect example of why vineyards shouldn't be afraid to sacrifice yield for complexity. Harvested from 40 year old vines, this deep purple wine is rich, with mocha notes and Christmas spices. 2010 was a cool summer in Napa, producing elegant and restrained reds, while for Australia it marked the first vintage since 2004 to be consistently good across all regions.
Our first white of the day is Highfield Sauvignon Blanc 2011, from Marlborough NZ. For a young wine, this is a remarkably intelligent tipple. Classically herbaceous aromas combine with an acidic palate that never approached sharp. Five months ageing on yeast lees adds to the complexity in this wine, making it a surprisingly multi-layered youthful drop.
Soul Growers Riesling 2012 from Australia's Eden Valley is a great example of a dry Riesling: fresh, almost tart, with citrus notes and a lingering finish. 2012 was a challenging vintage for reds in the Eden Valley, due to cooler weather, but whites were abundant, so fill your boots (or fridges).
This article was originally published in April 2013 and modified for The ANZA Guide to Singapore.