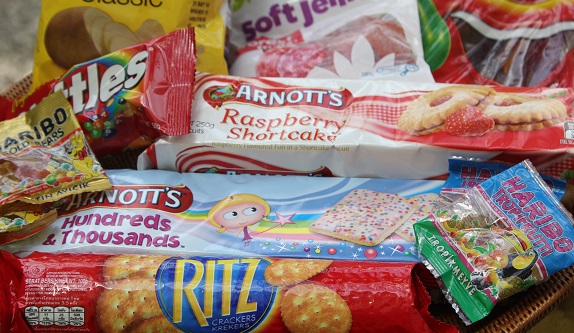 With allergies so common in kids, there is a good chance you will encounter a little guest with an allergy or intolerance. Stock up on these readily available treats for parties to be sure that you have something for everyone.
Potato chips are a party staple. To avoid gluten, egg, dairy and nuts, buy plain salted potato chips or plain Pringles. Many flavoured potato chips contain milk or cheese powder, Kettle Honey Dijon or Backyard Barbeque are good flavoured options.
Orgran Cookies are also soy free. My kids' favourites are the Essential Fibre Rotondo Biscuits and the Outback Animals chocolate cookies. The Dinosaur Wholefruit Cookes in Wildberry are less popular with fruit-phobes. There is also a gluten-free pasta in farm animal shapes in the range.
When it comes to sweets there are plenty of options. For severe dairy allergy avoid those containing Lactic Acid (eg Haribo and Yupi). Our favourites are marshmallows, The Natural Confectionery Company (not gluten free), Skittles, Mentos and Allens.
If wheat and soy are tolerated, Arnotts Raspberry Shortcake, Ginger Nuts and Hundreds and Thousands biscuits are a great treats. Merba Apple Pie Cookies are also a delicious option. Oreos are also an option, except the ones manufactured in Japan that are sold in pharmacies, they contain milk.
Many of these products state that they may contain traces of allergens. To be safe, keep the packets and have the child's parent check the ingredients.
Stockists:
Kettle: available in most supermarkets
Orgran: available from Fairprice Finest (Bukit Timah), Unity Pharmacy in Tanglin Mall
The Natural Confectionary Company, Skittles, Mentos: available in most supermarkets
Allens: available in Cold Storage (Albert Park)
Arnotts: Cold Storage and Fairprice Finest, Hundreds and Thousands only in Cold Storage
Merba: most supermarkets