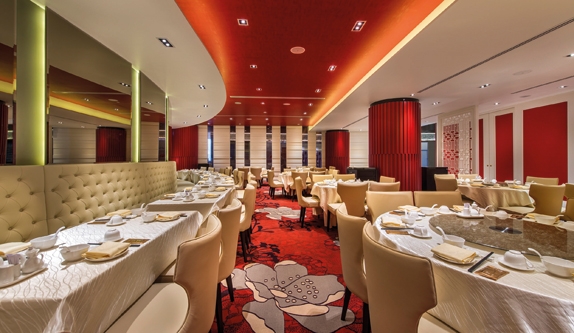 CITY: Long-term residents might be familiar with Thai Village Restaurants, well-known for Thai-Teochew cuisine. The founding chef retired in 2012, but inspired his son Adrian Lee to open his own restaurant, Tao Seafood Asia, last December.
Asia Square, near Shenton Way, is home to the 108-seat restaurant, including two private rooms, with vibrant red and gold décor, chandeliers and welcoming ambience.
Seafood takes centre-stage, such as Australian abalone, mud-crabs from Sri Lanka and Vietnam, with fresh fish, prawns and lobsters from the region.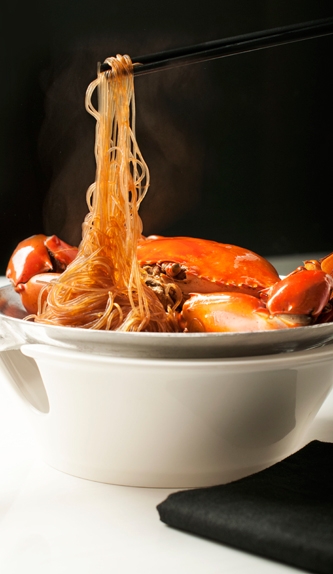 Signature dishes of Singapore chilli crab ($6/100g) and pot-roasted crab with glass-noodles ($45) are packed full of flavour. The former, with deliciously tangy tomato and chilli based sauce, tastes even better paired with steamed or deep-fried buns (mantou) to mop up the irresistible sauce.
Pot-roasted items such as crab, or chicken caramelised in rice-wine ($20), are, says Mr Lee, 'Cooked over an open fire stove and served in the very same pot to retain the fragrant aroma all the way to the customer at the table.' My party and I found the tender chicken redolent with aromatic rice-wine.
We also enjoyed succulent poached live prawns, as well as steamed soon hock, a highly regarded local fish. My sister-in-law requested crab coated in salted egg; to my delight the meaty pincers were served sans shells, making them easy to eat. Stewed rice vermicelli ($24) was prepared with generous portions of prawns, squid and crabmeat.
Soups, vegetables and bean curd help make the menu a good representation of Singapore-style favourites. The restaurant's home-made green chilli sauce is not only attractive with its pistachio-green-apple hue, but is also addictive with its tart, hot taste.
For a light finale, try snow fungus with red dates and gingko nuts for the dessert's health-giving properties. As an added bonus, this dish is reputed to enhance one's beauty due to being high in collagen.
The restaurant's logo says it all: 'Where gourmets gather.'
Tao Seafood Asia
Asia Square Tower 2, #02-10,
12 Marina View
Tel 6844 9969
Born in Adelaide, Raelene Tan is an etiquette consultant and food & travel writer. She has authored four books and has been a regular guest on radio and television.
View our listings for Bars, Restaurants and Cafes in the City