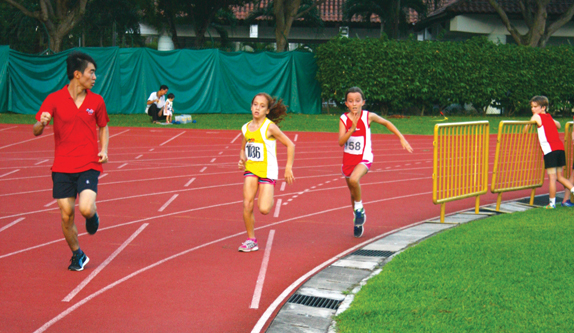 ANZA Athletics has been enjoying a successful season so far – Kathy Campbell hears what ANZA athletes have to say about their experiences.
Anza Athletics is continuing to roll along through the sunshine and the rain.
In spite of a few of the meets being forced to cancel due to terrible weather, the children really seem to be having a fun time during ANZA Athletics's weekly Friday night meets at Hougang Stadium.
After months of meets, the athletes have become well versed in each of their age group events.
From hurdles to high jump and long jump to middle distance races, the athletes receive coaching and advice as to the best way to tackle each event.
In addition to the encouragement that the children receive from their age group managers, it is particularly delightful to see the older children advising the younger ones, and the more seasoned athletes advising those who are new to ANZA Athletics.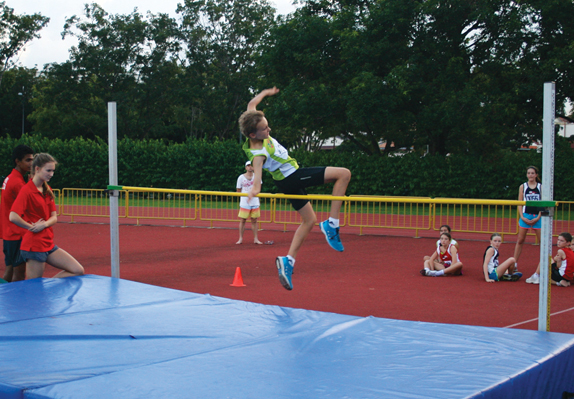 As many of the volunteers for ANZA sports would appreciate, it is always encouraging to hear words of thanks from parents, and to see the enjoyment that the children receive from participating in the wide range of sports that ANZA offers. Athletics is no different.
So what do some of the ANZA Athletes think of Athletics?
Scarlett (U7G) says that her favourite event is the 300 metres, and she enjoys coming along to Athletics to play with her friends, and she always looks forward to the next meet because she can run and play with her friend Lucy, and because she gets to drink a sports drink when she is finished. Scarlett's advice to other Athletes is to practise.
Hugo (U8B) has been participating in ANZA Athletics for three seasons and says this is the best one so far, as he is getting faster every year, and soon will be able to beat his big brother, Jackson!
Tom (U11B) enjoys the long distance races and wants to improve his sprinting.
Dominic (U9B) likes the hurdles: 'I used to run and jump, now I sprint and jump,' he says.
The social aspect of ANZA Athletics is just as important as the competitive aspect, with many of the athletes making friends over the season, and maintaining those friendships as they come along to Athletics over successive seasons.
Natasha (U10G) and Charlotte (U11G) both enjoy competing in the high jump, and catching up and competing against old friends from AIS.
Jackson (U12B) wishes that there were more boys in his age group. His favourite events are the 1500m and the high jump, and he makes the suggestion that next season 'we should be allowed to try pole vaulting.'
ANZA Athletics is held Friday evenings at the Kallang Practice Track (KPT), which is the home of the Singapore Athletics Association, and which is located adjacent to the new Singapore Sports Hub on Stadium Road. To find out more or to register, please visit the Athletics Homepage.