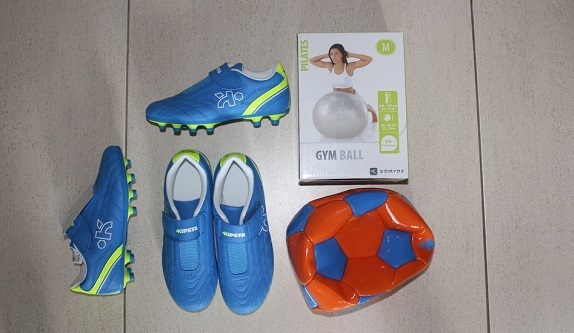 French discount sporting brand, Decathlon, established their online store in Singapore a couple of years ago. I visited one of their stores in London some time back and it could only be described as the sporting and outdoor equivalent of Bunnings.
I ordered two pairs of kids' soccer boots ($18.90 each) and a fit ball for me ($16.90) and I added a soccer ball ($8.90) to bring my order above $60 to qualify for free shipping. I received email updates every few hours with status updates, tracking options and information about the ezyReturn service.
The parcel was dispatched the following day and delivered by Speedpost less than 48 hours after ordering. I wasn't home to receive it, so a slip with a barcode was left and I was able to retrieve my parcel from a POPStation locker at my local post office, using a code that was sent to my mobile phone.
The goods arrived boxed in perfect condition and I was thrilled to find that the soccer boots were had velcro rather than laces, which will hopefully speed up our Saturday mornings. The fit ball is made of less sturdy material than the type used in gyms and although I ordered the size that matched my height, I would have preferred a larger size to enable use at a desk. Only time will tell if the boots last the distance, but if Decathlon have kept up the quality of the items I bought back in London I expect my kids to outgrow them before they wear out.
If you are looking for kids gifts, tennis sets (2 rackets and 2 balls for $29.90), hopper balls ($12.90) or folding soccer goals ($39.90) are good buys. There are also bikes, scooters, skateboards, skates and accessories.
For adults there is clothing, equipment and accessories for fitness and a large range of sports including Cycling, Golf, Tennis, Soccer and Rugby.