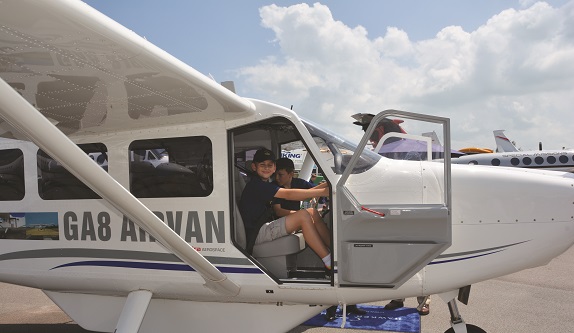 Scouting inspired 2nd ANZA Scouts to take on more responsibilities, like working together to help direct a pilot to fly light aircraft.
ANZA Scouts is a self-development platform for youth that emphasises on having fun as they expand their self-confidence, leadership skills and life skills in a largely hands-on and outdoor context. 2nd ANZA Scouts is for boys aged 10-14.
The 2014 calendar was organised around outdoor experiences, community and service, and personal development activities – with an overarching theme for the year of 'Flight'. 2015's theme is 'Water'.
During the year we ran overnight or two-night camps on Pulau Ubin, Pulau Hantu and at the Sarimbun Scout Camp. Camps are a fun platform that help develop independence and practice skills such as first aid, outdoor cooking, campfire lighting, construction and knots, navigation and orientation. Camps are also a fun opportunity to develop friendships and leadership skills.
Scouts is not just about camping, however. During 2014 we conducted a range of activities – from archery, abseiling, water safety training, paddle boards at Sentosa and night hikes in the jungle. We visited the Singapore Airshow and the Singapore Air Force Museum, joined the ANZAC Day Dawn Service, and met up with other international Scouts and Guides at the Founders Day Celebration. The highlight for many were the flight activities – with exclusive access to Wings over Asia and Hawker Pacific at Seletar Airport – where the Scouts learned about flight, inspected various aircraft, and then created their own flight plan and directed the pilot in light aircraft to Tioman Island and back.
Leadership in Scouting is achieved primarily through the Patrol system. Baden-Powell, the founder of Scouting, recognised that young people delight at forming themselves into small gangs or cliques each under its own leader – whether for work, fun or mischief. He made use of this natural organisation and called it the Patrol System. Patrols of four to eight members are encouraged by the adult Scout leaders to increasingly shape and take ownership and self-responsibility for the agenda setting, training and development goals of the Patrol, and fostering the group life and well-being of the Patrol.
The principal methods used by Scouts to achieve its aims are:
• Voluntary membership of a uniformed group which, guided by adults, is increasingly self-governing in its successive age groups.
• Commitment to a code of living as expressed in the Promise and Law, the meaning of which is expanded as the member grows towards maturity.
• The provision of a wide range of attractive, constructive and challenging activities, including opportunities for adventure and exploration, both indoors and outdoors
• The provision of opportunities for leadership and responsibility.
• Learning by doing.
• Encouragement of activities in small groups.
• An award scheme that encourages participation in the full range of activities – and provides recognition of individual achievements.
The 2nd ANZA Scouts meet on Saturdays from 2 pm – 4 pm at Australian International School. For further details please contact Anne Thomas on 8157 2163 or by email at 2ndanzascouts@anza.org.sg.