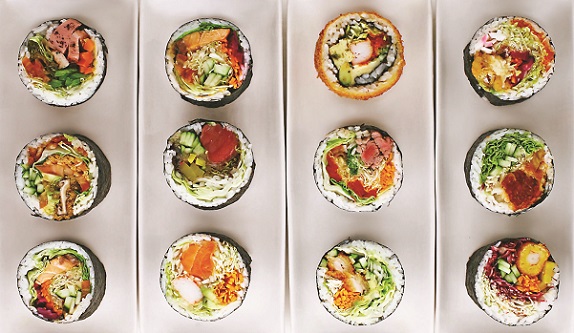 This fast food fusion restaurant in the 100 AM Shopping Mall near the Amara Hotel doesn't mess around – you're not dealing with a sushi roll wrapped in a pita wrap, but a burrito-sized sushi roll. By using less rice than a normal sushi roll and stuffing a lot more vegetables, there are fewer calories to worry about.
The seaweed wrap is strong enough to contain the contents without bursting. It doesn't feel immediately like a healthy lunch when you can't wrap your whole hand around it, but each selection on the menu has a calorie count. You can also order a half, making it less of a hard choice if you wanted to try two.
The Hot Chick ($5.50 half, $9.90 full) – with a fiery kick from the spicy Togarashi powder – contains pan-fried chicken, sliced red cabbage, cucumber slices and carrot. The Salmon Rumba ($5.50 half, $9.90 full) – with flavourful grilled salmon, with lettuce, tomato, carrots, pickles and mayo – oddly has vegetarian bacon bits in it, and tastes almost like a BLT roll.
Sushi Burrito #01-06 100 Tras Street 100 AM Shopping Mall
www.facebook.com/Sushiburritosg/