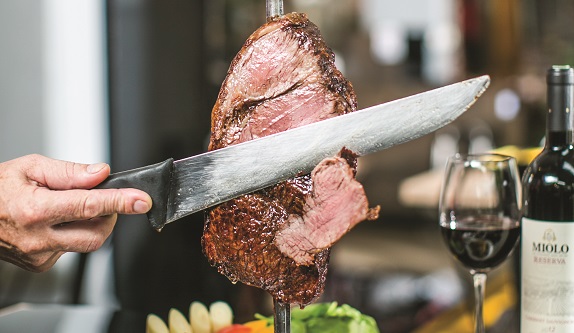 There's no better way to describe this smörgåsbord of all-you-can-eat meats than the choice for indecisive carnivores.
The first Brazilian churrascaria (barbecue) in Singapore to use charcoal fire to cook up various cuts, this meaty steakhouse in Sunset Way embraces the traditional way of cooking. Head Chef Britto comes with 36 years of experience as a chef and an actual gaucho – a South American cowboy.
The restaurant's drawing point is the choice of different meats on offer – all imported from Brazil. Among the more well-known cuts like pork ham, pork rib and chicken thigh, you have rarer cuts to choose from too. The beef rump cap slices were tender, and with a light shade of pink. The fish, cut into cubes, was cooked golden brown and had an incredible
juiciness to it.
One specialty you may not have tried are chicken hearts. Apparently quite nutritious, the hearts are a huge hit in South America. You most likely won't try these elsewhere, so it's worth giving it a shot just for the experience.
The two-sided disc you're given as you sit down has a green and red side to indicate whether you're still keen to be part of the Rodizio cycle – a type of service where the passadors (meat-holding waiters) rotate the different cuts and meats. If you flinched and didn't grab a piece of that pork belly when they came over to you, you'll have to wait a little while to get what you want.
The salad bar, which offers rice and salad dishes – including a Brazilian feijoada stew with black beans and pork – helps give a little colour to the plate. You'll be tempted to go for as much meat as possible given the atmosphere, but the sweet roast pineapple on rotation gives a break from all the savoury flavours.
It's outdoor dining, so you might feel the heat a little more. To drink, of course there's the cachaça-based Caipirinha cocktail with lime and sugar, and a Brazilian guaraná-flavoured soft drink called Guaraná Antarctica – a sweet, rare to find treat in Singapore.
CLOSED
Carne & Caipirinha
Blk 106, Clementi Street 12, #01-50
Tel 6464 0478
Image/courtesy Carne & Caipirinha