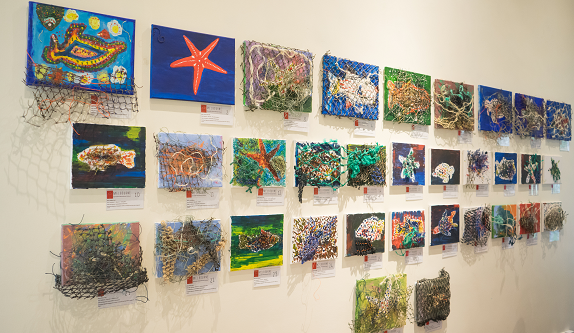 Melbourne Specialist International School have launched a campaign to fundraise for their Aspire Vocational Centre which will focus on preparing their students for their lives after their time at school. The word 'Aspire' was selected as the name of the vocational centre, as it highlights the key value of personal ambition and achievement. The centre will also be available for use by other groups, making it a resource for the whole community.
On 28th October 2015, an Art Exhibition for Melbourne Specialist International School was held at the Australian High Commission to raise funds for the Aspire Vocational Training Centre.
Giorgio Pilla, from ReDot Fine Art Gallery, kindly agreed to work with the children to inspire and assist them into making the wonderful masterpieces that were sold at the event. The theme of their artwork was influenced by a community art centre known as Erub Arts, which has become famous for their production of Ghost Net sculptures and artefacts made from debris collected from the oceans around Darnley Island, Australia.
A whole variety of artists within Singapore donated their beautiful artwork to this event for a silent auction to raise money for this worthy cause. Ryan Clift of Tippling Club and his staff helped the students to prepare canapes at the event.
The event was hugely successful raising almost $10,000 in funds. MSIS are looking forward to developing the Aspire Vocational Centre with further fund raising and watching the students evolve from the benefits the centre will offer.
For more information on how to become a Friend of Melbourne Specialist International School, volunteering at the school or to keep up to date with news and developments at the school then please email parentsassociation@msis.edu.sg.
About Melbourne Specialist International School (MSIS):
Situated in the Loewen Cluster in the Dempsey area of Singapore, Melbourne Specialist International School (MSIS) opened its doors to students in November 2014. Jayne Nadarajoo, Founding Director of MSIS and White Lodge Education Group Services, established the school because she felt there was a lack of availability in Singapore of schools that embraced the concept of Special Needs integration.
MSIS partners with a truly unique school in Melbourne, Australia called Port Phillip Specialist School to collaboratively meet the needs of their students with special needs. The school directs learning by using dance, drama, music and the visual arts to teach functional English, functional Mathematics and daily living skills. MSIS combines education, therapy and wellbeing to plan and deliver learning on an individual student basis.
Melbourne Specialist International School
msis.edu.sg
75C Loewen Road
Singapore 248853
Tel:+65 6634 8891