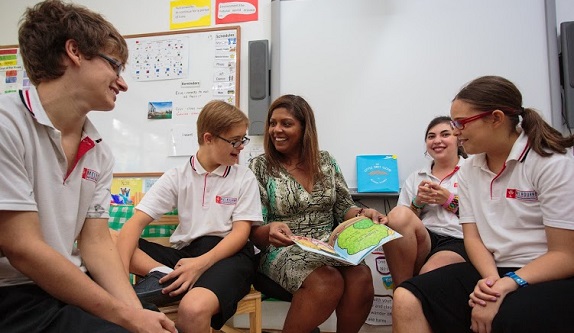 Jayne Nadarajoo is the Founding Director of White Lodge Education Group Services which has eight Kindergartens in Singapore, Melbourne Specialist International School, ASPIRE vocational centre for special needs education and The Pantry at Loewen Gardens.
Jayne opened the first White Lodge Kindergarten in 1999 inspired by the feeling that other pre-schools in Singapore did not provide the learning environment that she was so passionate about. Having a wealth of knowledge from being a highly experienced Early Childhood professional, Jayne decided to start her own kindergarten for her children, Saktish and Kenisha.
At White Lodge, the learning ethic focuses on an interactive curriculum where the children learn by the experiences they encounter. White Lodge recognizes that each child is individual and encompasses diversity and internationalism within their teaching practice.
With Jayne being an advocate for special needs integration and realizing there were not many options for special needs education in Singapore, she made it her vision to open a special needs school.
Through tremendous research and hard graft she achieved her dream and Melbourne Specialist International School was opened in November 2014. Catering for children aged 3-18 years old, it focuses on a model used at Port Philip Specialist School in Melbourne.
The curriculum at MSIS is continuously evolving and is tailored to meet the needs of each individual child. The curriculum combines education, therapy and well-being for each pupil. MSIS uses a collaborative approach and has specialists from Kaleidoscope Therapy Centre, STRAVANTIS Speech and Oral Motor Centre, Centre Stage, Act 3 Theatre , SWISH Swim School and Tanglin Arts Studio visiting the school each week to provide specialist programmes at no extra costs. This is done during school hours and uniquely available at MSIS only.
Jayne is constantly improving the school for the consideration of the students. She has recognised that there is a need to prepare pupils for their life after school. Recently, she completed her Masters in Teaching to complement her work at the schools.
The 'Aspire Vocational Centre' is currently in the development stages with funds still being raised but it will give both students and people in the community an opportunity to gain skills in areas such as hospitality and catering, leisure and retail. It is located next to MSIS giving students easy access and includes a 2500 sq ft gym where children extend their gross motor and perceptual motor skills. The use the outstanding SPIDERFIT fitness programme from the United States at MSIS and White Lodge elevates its curriculum and makes learning at these schools truly unique.
Currently, students are acquiring work experience at The Pantry every Monday, Wednesday and Friday from 9am to 11am. Please come to support MSIS's vocational and life skills programme during these times. Our sincere thanks in advance as the patrons at the Pantry will help our students from MSIS gain more confidence and enhance their skills.
White Lodge has 8 kindergartens islandwide www.whitelodge.com.sg
Melbourne Specialist International School 75C Loewen Road www.msis.edu.sg
The Pantry Cookery School 75E Loewen Road www.thepantry.com.sg