The scientist-turned-explorer is next in the series of talks run by National Geographic. Albert talks about how he stumbled on one of the most significant figures in history.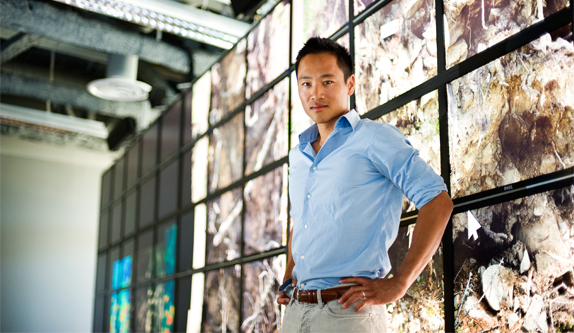 Your education is in Materials Science and Engineering, but how did you bring yourself over to something like anthropology?
I think we are all anthropologists, trying to make sense of this human experience. Science and Engineering have always been important to me because it is the combination of curiosity with problem-solving. But after finishing my last degree I realised that what I was most curious about was existential. That's why I started searching for answers in the exploration of the past, present and future but applying an engineering mindset to how I go about it.
How did you come across the story of Genghis Khan, and what interested you about his life?
Many years ago I travelled alone to Mongolia on the Trans-Siberian Railway in search of some connection to my deep ancestral past. There I became friends with an amazing Mongolian man who agreed to show me the countryside by car and horse. Throughout our journey small things that we would come across would trigger stories of Genghis Khan, and quickly I realised his history is very much alive in the everyday experiences of any Mongolian. Subsequently, when I started diving into the literature I was hooked.
Here was a person who changed the course of human history, but from the position of an outcaste nomad amidst the turbulent waters of tribal warfare. And although he created the largest contiguous empire in human history – in landmass and population – we know partially nothing about him.
Having grown up in the West, where you learn about Alexander the Great or Julius Caesar, but not Genghis Khan…I wanted to change that.
What kind of research went into digging into the backstory of this historical figure?
My team and I scoured through every piece of historical literature I could find. I also spent a lot of time with a few key Mongolian historians, Professor Shagdaryn Bira and Professor Tsogt Ishdorj – heroes of a nation that was emerged from decades of cultural repression with a strong sense of self-identify.
Did you come across any obstacles along the way?
Too many to recount, from politics to wolves to flash floods to suffocating swarms of flies. We were entering into a land that has not been open to exploration for over 800 years.
You've travelled far and wide in your adventures. Where have you been recently that took your breath away?
I just returned from a new project in Xian, at the burial site of First Emperor of China. This is home to the iconic Terracotta Army warriors, but so much more.
What's one piece of equipment you can't live without at work?
Tabasco sauce!
Chasing Ancient Mysteries With Albert Lin is on 30 August at Esplanade Theatres on the Bay.