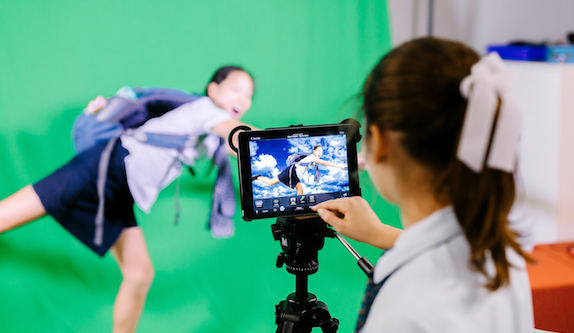 GEMS World Academy (Singapore) is pleased to announce the launch of its "Future School" initiative, built around 3 key pillars, to prepare students for the realities of future life.
BLENDED LEARNING
The first pillar is Blended Learning. This Asia-first approach to teaching and learning accomplishes two goals:
To provide students with a learning model which gives them greater opportunity for success
To 'future-proof' GWA students by guiding them now for what their futures will require
The blended learning model is built atop Pamoja Education, the only certified online learning platform for the International Baccalaureate Diploma Programme (IBDP).This is a co-teaching model, and as such the global teacher is supported by a local GWA teacher.
Our method enhances Pamoja's offerings in two key areas:
The students are members of global virtual classrooms among other GEMS students around the world in their chosen IBDP courses.
They are co-taught by global and local GWA teachers.
Through a model of blended online and face-to-face learning, our DP students are provided with significant opportunities for success.
STEM (Science, Technology, Engineering and Mathematics)
The second pillar is STEM. GWA has a unique approach to STEM: teachers integrate specific STEM elements and thinking into everyday learning for every student from Pre-Kindergarten onwards. Using a STEM approach deepens the reinforcement of key concepts.
GEMS Education has recently formalised a partnership with Carnegie Mellon University and its Community, Robotics, Education and Technology Empowerment (CREATE) Lab, a world-leader in STEM innovations.
Through this partnership, GWA will be one of only five CMU CREATE Lab Satellite Schools globally. Students, staff and parents at GWA will gain access to current and emerging technologies, as well as research from within the CREATE Lab.
Our team will connect with CMU professors, researchers and educators and partner with CMU in the development of projects specific to the school.
ENTREPRENEURSHIP
In its' third pillar, GWA is launching an entrepreneurship programme with the fundamental goal of creating a culture of entrepreneurship on campus and to encourage our students to 'think big'.
Our programme has three components:
The Innovation and Entrepreneurship Center
Internships G6-11: Students will be required to experience the 'real-world' through workplace experience
Summer programme: Students will undertake boot camps with our external partners
To further our ambitions, we are launching a $1 million fund for entrepreneurship. This fund will provide seed investments for selected startups and coworking space, IT support and access to the GEMS network. In return, the startups will be available to mentor student initiatives and share their journey with the GWA community.
At GWA, entrepreneurship is part of our DNA.