After a whirlwind of a year, we have a quick reflection on 2016's tours – all volunteer-run by an amazing group of people.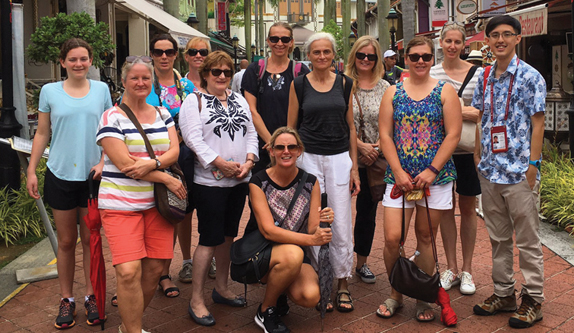 During 2016, the volunteer-run ANZA tour committee has been pleased to present to you the diversity of the small city country of Singapore, with tours that embrace history, culture, arts and nature. With each tour we have explored a different facet of Singapore with our knowledgeable local guides, and have enjoyed sharing these experiences with new members and old friends.
Some of the highlights of this year included the ANZA tour where participants were the only group of visitors to share in the breaking of the fast at the Sultan Mosque during Ramadan. Our tours also ventured back stage at the Chinese Opera, into the back streets of Geylang at night, across the causeway to Johor Bahru and into a Black and White house.
The favourite tours also included the Raffles Hotel tour and the Singapore festivals – and we spent a morning learning how to capture the perfect holiday photo.
We look forward to sharing even more of Singapore with you in 2017.
– Sue, Dot, Lyn, Ailsa, Sarah, Melanie, Leanne and Wendy (The ANZA Tours committee)
Image courtesy Betel Box